Seeking "opertunity?" Look no further than Edmonton.
@doniveson looks bad when we spell things wrong on our own signs.... Doesn't shout confidence pic.twitter.com/m8MLNZnDbD

— Teej (@teej_85) September 25, 2015
This glaring typo was spotted on a land development sign in Alberta's capital city earlier this week. Someone on Twitter helpfully brought it to Mayor Don Iveson's attention.
Sigh. @CityofEdmonton please address. https://t.co/IoWA81j7S2

— Don Iveson (@doniveson) September 25, 2015
To make matters worse, the incorrect website address ends in .ab when it should be .ca, and the phone number is missing the area code. It's only been seven years since Alberta has required 10 digit-dialling.
City workers were swiftly dispatched to correct the five signs on Friday, according to CTV Edmonton.
@teej_85 @doniveson we are already in the process of removing this sign and addressing these errors with the vendor.

— City of Edmonton (@CityofEdmonton) September 25, 2015
CTV also reported that the city is examining its proofreading procedures.
But hey, it happens to the best of us. Wayne Gretzky — arguably Edmonton's favourite adopted son — received a soccer jersey in London, England this week from the Tottenham Hotspurs football club, with his name spelled wrong.
NHL legend Wayne Gretzky is at White Hart Lane tonight pic.twitter.com/13aBFECq6R

— 101 Great Goals (@101greatgoals) September 23, 2015
The club tweeted its apologies to the Great One, who was gracious in his response, telling them, "It happens all the time!"
Spoken like someone who's spent a lot of time in the great City of Champignons.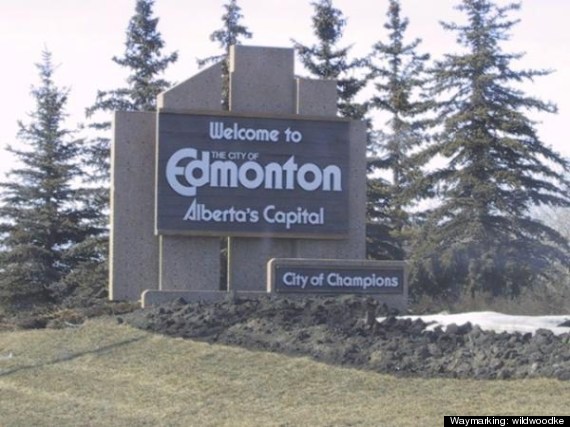 #Edmonton, City of Champignons and #opertunity

— Julie Chambers (@Chantastic403) September 26, 2015
Like Us On Facebook

Follow Us On Twitter
Also on HuffPost
Most Ridiculous Newspaper Typos