OTTAWA — The Liberals released a fiscal plan Saturday that was praised by external experts as prudent and transparent, but which also opened the door to new tax hikes, larger deficits and cuts to public sector spending.
The Liberals project a $9.9 billion deficit next year, followed by a $9.5 billion deficit in 2017-2018, $5.7 billion deficit in 2018-2019 and a $1 billion surplus in 2019-2020.
Attaining that $1-billion surplus, however, is contingent on Justin Trudeau's Liberals finding $3 billion in savings in 2019-2020, and $6.5 billion in savings over a four-year mandate.
Ontario incumbent candidate John McCallum told reporters he is confident the Grits will be able to find the savings.
"It's my experience from having worked in a bank, a university and the government that there are always savings to be found; that there are always ways to do things more efficiently," the former Liberal cabinet minister, Royal Bank chief economist and dean of McGill's faculty of arts said.
"I'm confident that not every penny spent on external consultants is a penny well spent for the taxpayer of Canada," he added, by way of example.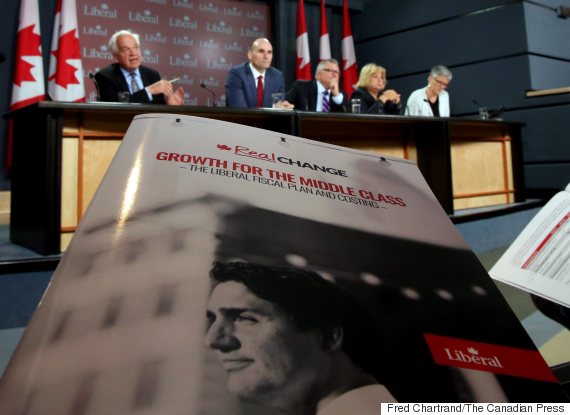 A booklet containing the Federal Liberal Party fiscal plan and costing is shown as Liberal candidates hold a press conference in Ottawa.
The Liberals said they would find the savings by ending partisan government ads, reducing the use of expensive external consultants, and going after tax evaders and tax loopholes used by high-income earners.
Like the NDP, the Liberals would ensure that small businesses are not used to reduce personal income tax obligations. The Grits would also set a cap on stock-option deductions for very high income earners.
Nothing is off the table, top Liberal says
More controversial, perhaps, is a review of government spending looking at the tax code and changes the Conservatives brought in, such as the plethora of boutique tax cuts.
McCallum said they could all be on the chopping block.
"I would say nothing is totally off the table to begin with," McCallum responded when asked if everything, including the children's fitness tax credit, could be scrapped. He suggested that maybe the children's fitness tax-credit would be spared since the Liberals plan to focus on measures that disproportionately favour higher income earners.
Conservative incumbent Pierre Poilievre jumped on the comments, suggesting that the Liberals won't be able to balance their books without eliminating income splitting for seniors.
"All taxpayers, but especially seniors and families, should be worried whenever a politician says they are going to raise $6.5 billion in new taxes and won't give any of the details until after the election," Poilievre said.
The Liberals have promised — and they repeated their promise again Saturday afternoon — that they will not touch income splitting for seniors.
McCallum and Manitoba candidate MaryAnn Mihychuk also suggested during the Liberals' press conference that if their forecast — based on the latest numbers from the Bank of Canada and the Parliamentary Budget Officer's calculations from July when oil was at $60 a barrel — proved to be too rosy, the Grits might run larger than expected deficits.
"If oil doesn't bounce back to what we projected, we will be open and honest to Canadians about that," said Mihychuk, a former Manitoba NDP industry minister.
The priority for leader Justin Trudeau, the Liberals said, is to implement the Grits' $65-billion infrastructure plan for jobs and growth.
Deficits are necessary to boost a "very tepid" Canadian economy, said Ralph Goodale, Saskatchewan incumbent and former Liberal finance minister — even though Bank of Canada growth projections indicate a steady rise.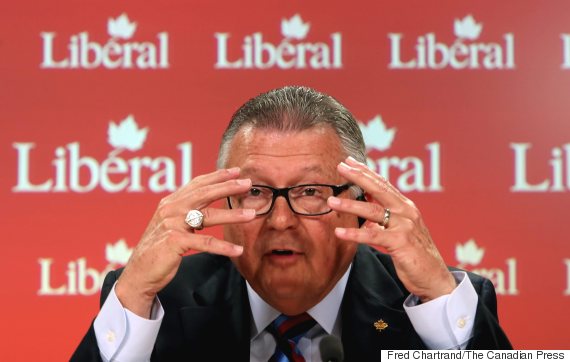 Liberal candidate Ralph Goodale gestures as he takes part in a press conference in Ottawa, Saturday, September 26, 2015.
"We need to invest in people, and we need to invest in growth that will lift the well-being of the middle class and all those working so hard just to get there," Goodale said.
Only a little more than $5 billion of the nearly $10-billion deficits in 2016-2017 and 2017-2018 will actually be spent each year on public infrastructure, green infrastructure and social infrastructure.
And although the Liberals have identified spending areas, Quebec Liberal candidate Jean-Yves Duclos, an economist at Laval University, noted that the party can't give a dollar figure on their promises for affordable housing or daycare spaces because their plan depends on provincial input.
The remainder of the Liberals' deficits are related to increases in spending on jobs and training, green energy, veterans, arts and culture, immigration and refugee settlement, as well as First Nations education.
Liberals using code words for 'cuts': NDP candidate
Ontario NDP candidate Andrew Thomson, a former Saskatchewan NDP finance minister, said the Liberals' plan was based on "austerity, unfunded and broken promises and, very simply, bad math."
"The admission that the Liberals will undertake a program expenditure review is a substantially coded word for cuts," Thomson said. "We know that this is what they are looking [at]. This is what John McCallum has done before in government [in 2005 under Paul Martin's Liberal government]. We have every reason to believe this is what they will do again."
Thomson warned that the Grits' plan would lead to layoffs in the public sector, and he accused his opponents of shortchanging their promise to Canada's First Nations.
In August, Trudeau announced $2.6-billion to boost First Nations education spending. On Saturday, however, despite a promise for "an initial, immediate new investment of $515 million per year in core annual funding for kindergarten through grade 12 education for First Nations," the Grits' total plan accounted for only $900 million in new money for this envelope.
The Liberals' small print failed to mention the party was taking into account $1.679 billion the Conservatives had budgeted in 2014 for First Nations education but had never spent.
Quebec NDP incumbent Sadia Groguhé accused the Liberals of not being prudent because their plan would generate deficits.
But former parliamentary budget officer Kevin Page disagreed.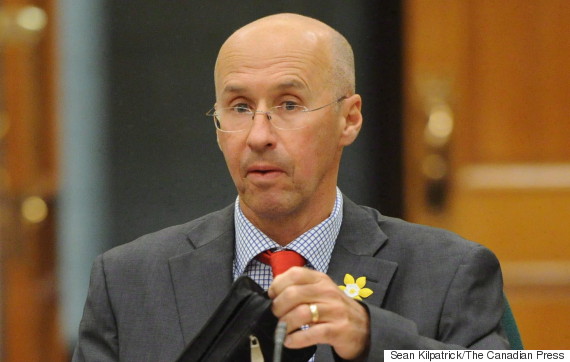 Former Parliamentary Budget Officer Kevin Page appears at Commons finance committee in 2012.
The Liberals deserve credit, he said, for a trying to update the fiscal outlook and taking into account a weaker economy. By running deficits, the Grits were making "prudent" investment in a weak economy while ensuring that the debt-to-GDP ratio was declining, Page said.
The former parliamentary budget officer said the Liberals could benefit from a sustainability study of its program spending since projected new spending outpaces new revenue streams. The Liberals' four-year plan projects $139 billion in new spending and $108.56 billion in new revenue.
He noted that the Liberals had not budgeted for the economic impact of their infrastructure spending and its likely effect on economic growth and government revenue.
"That's like a cushion that they could play with in outer years that could go to prudence, or it could go to getting back to budget balance sooner rather than later," Page said.
The Liberals' plan includes no contingency fund, but it also doesn't include any projected revenue from legalizing and taxing marijuana, any possible revenue growth from its $16.95-billion infrastructure boost or increased revenues from any yet unannounced carbon pricing initiatives. (The Liberals have coming announcements on health care and the environment).
McCallum told reporters the Grits deserve credit for being prudent.
Green Party Leader Elizabeth May included $5 billion in new revenue from marijuana in her party's costed platform, McCallum noted. "We could have easily said it was $1 or $2 billion and nobody would have blinked an eye, but we were not confident that we knew enough about it yet, not having consulted provinces, so we thought it was more prudent to book zero."
McCallum said he is "confident," especially because the party is not counting the "billions of extra dollars" that would accrue from his infrastructure plan, that a Trudeau government will meet its targets.
Ex-PBO unsure what kind of cheese this is
Page said he hopes the Conservatives will release their own fiscal framework soon. The Tories have made several announcements during the campaign trail but are thought to be using as their economic baseline the outdated April budget numbers.
Two days after the Oct. 19 election, the Bank of Canada is expected to release its monetary report with new economic growth forecasts that could throw the all the parties' fiscal and costing assumptions out the window.
Nevertheless, Page said he was pleased to see parties — the Greens, the NDP and the Liberals — try to outdo themselves regarding the transparency of their fiscal plans.
"This creates energy that the NDP might come back a week from now and say, 'well, here's more details, here is what our fiscal chart is going to look like,'" Page said.
Last week, he told HuffPost that the NDP's plan — based on the Conservatives' outdated April budget projections — was full of holes, like "Swiss cheese."
Page declined to compare the Liberals' plan to any type of cheese.
"I don't know what kind of cheese this is," he told The Huffington Post Canada.
Also on HuffPost
In Photos: Canada Election 2015