Look out, here comes Spider-Mable!
Thanks to the Children's Wish Foundation, and a small army of Edmonton volunteers, Mable spent the day living out her dream of being a superhero, just like Spider-Man.
Mabel began reading 1960s-era Spiderman comics after she was diagnosed with leukemia, said her family.
She took a liking to the character because he was the closest superhero to a human being, and because they both had radioactive blood, a side effect of cancer treatment.
Mabel's special day came with her own theme song, naturally.
Mable's morning was interrupted with some breaking news — Edmonton Oilers' captain Andrew Ference had gone missing. Uh oh. Edmoton police issued an urgent call for Spider-Mable's help.
Time for her to get in costume (designed by her mom) and get ready to save the city.
Ference's kids and Alberta Premier Rachel Notley echoed the plea for Spider-Mable to save the day.
After a trip in a white limousine, Spider-Mable arrived at City Hall, ready to meet with Mayor Don Iveson about the crisis.
Spider-Mable was met by Spider-Man himself, who told Mable that he had flown in from New York to help her on the case.
The duo sat down to meet with the mayor, who told them that the kidnapper was last seen wearing a purple cape. He gave Spider-Mable some new web-slinging equipment, and granted her full access to the city.
Hundreds of Edmontonians came out to cheer Mable on, and wish her luck in her quest to save Ference.
Edmonton police updated Mable on some clues they had found in the case. After a tête-à-tête with the officers, Spider-Mable released a photo of the suspected kidnapper — Mysterio!
The clues led Mable to West Edmonton Mall, where the villain had been sighted.
Once inside, Mable headed to the water park, where she heard Black Cat calling for her help.
The only way to get to Black Cat? The zipline!
The brave superhero did not hesitate, flying across the pool in front of hundreds of cheering fans as her theme song played.
Meanwhile, the Oilers were missing their captain. Forward Connor McDavid left practice to lend Spider-Mable a hand.
Mable updated the media on the situation, telling reporters that she wasn't scared to face off with Mysterio.
Even Stephen Harper took time out of election campaigning to wish Spider-Mable luck on her quest.
After the media scrum, Spider-Man gave Spider-Mable a piggyback ride over to West Edmonton Mall's Galaxyland to complete some further superhero training on the ropes course.
But who did she spy from the top? Mysterio!
He managed to get away, but with some clever detective skills, Spider-Mable deduced his next location... Edmonton Valley Zoo!
At the zoo, Lucy the elephant handed over Mable's final clue.
Mysterio appeared at the zoo, with Ference in tow. The crowd began to chant "Spider-Mable, Spider-Mable."
Spider-Mable aimed her web-shooters at Mysterio, while Spider-Man and Black Cat helped her out with a net. Ference was finally free!
The Oilers star and the Edmonton police were grateful, but it was all in a day's work for Spider-Mable and the Children's Wish Foundation.
The foundation says the elaborate event is easily the most complicated wish they've ever tried to fulfill.
It's similar to one that was done for Batkid, a five-year-old leukemia patient named Miles Scott, whose mission to save San Francisco in 2013 touched hearts around the world.
With files from The Canadian Press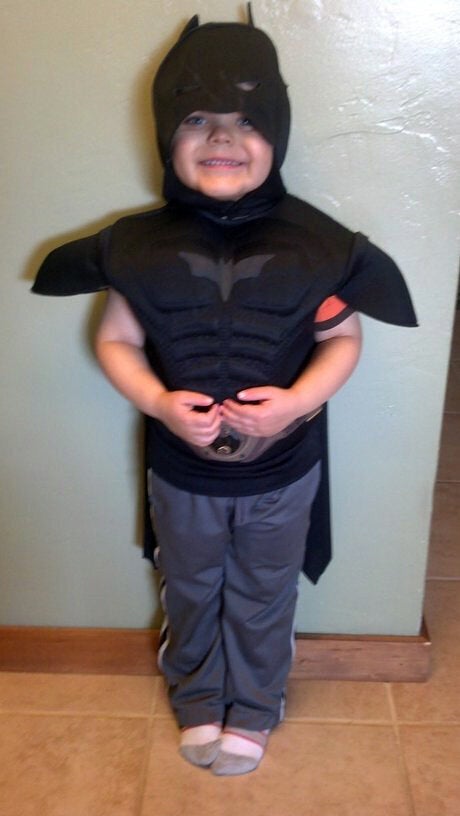 San Francisco Is Gotham City For Batkid!