For the Toronto Blue Jays, the past is emerging to salute the future as the AL East champions enter their first playoff season in 22 years.
The Jays have a long list of excellent former players. And just a few of them emerged on social media in recent days to cheer them on — or at least offer some kind words.
There was Roberto Alomar ...
Here we GO!!! A BIG Congrats on clinching the division @BlueJays! #ClinchDay #ComeTogether pic.twitter.com/T8I9AhBByg

— Roberto Alomar (@Robbiealomar) September 30, 2015
Who hit dingers like this.
There was Roy Halladay ...
Congrats to the Blue Jays and their fans! It gives me goose bumps to imagine October baseball in Toronto! Very Proud! pic.twitter.com/ZSE4J0Ruu4

— Roy Halladay (@RoyHalladay) September 27, 2015
Who could pitch a whole game and only give up one hit.
(And even a perfect game.)
There was Joe Carter.
I'm gonna go out on a limb and congratulate the Blue Jays on winning the AL EAST!!! It is just starting. #ComeTogether

— Joe Carter (@JoeCarter_29) September 30, 2015
A World Series hero.
And Vernon Wells.
Great day in Jays Country. Congrats to a special team and city! Can't wait to come see this team in the postseason. #ALEastChamps #Bluejays

— Vernon Wells (@VernonWells10) September 30, 2015
Just look how far he hits that ball!
There was Carlos Delgado.
Congrats to my former teams @BlueJays and @Mets both going into the playoffs #MLB Looking forward to October

— Carlos Delgado (@carlosdelgado21) September 26, 2015
The "greatest slugger in Blue Jays history."
There was Jose Reyes.
Congratulations to my boys in Toronto securing their spot in the playoffs. Best of luck to ya'll #LoveAndRespect

— Jose Reyes (@lamelaza_7) September 26, 2015
Who was only traded away this season.
(What a sport.)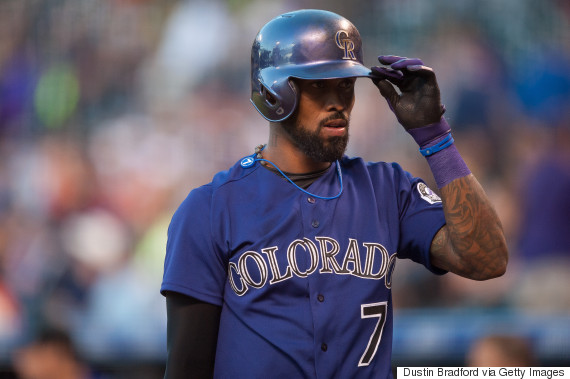 There was Ed Sprague.
Ordered THE SIX shirts for the fam. Ready for some playoff baseball! pic.twitter.com/CEo7fHDqVD

— Ed Sprague (@EdSprague) September 27, 2015
Who put the Jays ahead with this homer against the Braves in 1992.
There was Todd Stottlemyre.
September 30, 2015
A fiery player if ever there was one.
And finally, there was J.P. Arencibia.
Grateful to be back in such a beautiful City and country who gave me my first opportunity to live my dream. #AlwaysGrateful #TO

— jp arencibia (@jparencibia9) September 25, 2015
Who showed us how tough it is to catch R.A. Dickey's knuckleball.
LET'S PLAY BALL!
Like Us On Facebook

Follow Us On Twitter

Also on HuffPost