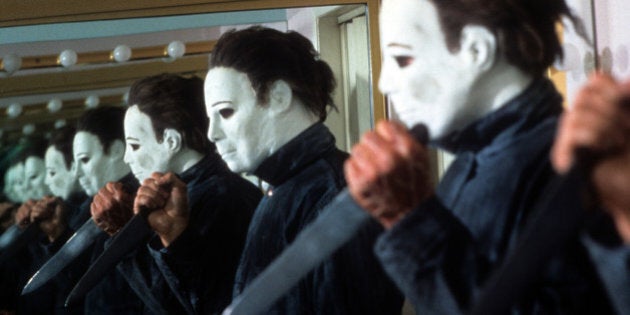 A Prince George teen who pleaded guilty to attempting to murder his sister after repeatedly watching the stabbing scenes from the movie Halloween will get no jail time.
The youth, known as B.E.N., is at the heart of a family tragedy laid out in a B.C. provincial court judgment. His sister was gravely wounded and his parents are struggling to ultimately reconcile the siblings.
The boy's age is not included in the ruling.
He has shown remorse for the attack, which has stumped the various psychologists called upon by the court to examine him. He intended to stab his father, but when he wasn't home, acted against his sister instead.
Judge Michael Brecknell gave the boy a three-year intensive rehabilitative custody and supervision order which will see him remain in the community under a tight leash.
Troubled youth or sociopath?
Still, Brecknell said the case raises a "troubling question."
"Is he just a confused and troubled youth who acted on a fantasy induced by watching and rewatching a movie," Brecknell asked.
"Or is he a yet-to-be diagnosed sociopath who will act violently again if the opportunity presents itself?"
On the morning of the attack on Sept. 20, 2013, B.E.N was home alone with his sister getting ready for school when B.E.N. suddenly "picked up a large chef's knife" and started stabbing her in the back.
The girl ran from room to room with her brother pursuing her. She ultimately made it outside, where she flagged down a school bus. B.E.N. called 911 to say he had tried to kill his sister.
The children's parents are separated. According to the judgment, B.E.N. told investigators he was angry with his father because he wouldn't let him visit his mother and denied him internet access.
He said he "watched the movie Halloween, and particularly the stabbing scenes, over and over again in the previous months and got the idea to stab" his father and sister.
The sister was seriously injured in the attack, suffering multiple stab wounds, a collapsed lung and some permanent scarring. She did not provide a victim impact statement.
B.E.N. witnessed verbal and physical abuse before his parents separated when he was seven, but he was described as a "good and happy child" and a "loving and considerate person" by family.
He was suspended for fighting in middle school and has been both the victim of and the instigator of bullying.
But Brecknell said the youth presented a puzzle for counsellors and clinicians who subjected him to a battery of tests.
"Despite the numerous meetings B.E.N. had with various experts, the tests he performed, the analysis of those tests and the best clinical expertise and experience of everyone who wrote reports for the court, none of the reports or assessments presented any plausible explanation as to why B.E.N. committed the terrifying attack," the judge said.
B.E.N. has shown remorse, telling interviewers that he is worried he may have ruined his sister's life and would like to eventually apologize to her in person. He's forbidden from having any contact with her.
Brecknell said the children's parents have taken steps to have as little discussion about the attack as possible with either child; they hope to put the attack behind them in the hopes the two can begin to rebuild their relationship.
But the various experts disagree with that strategy, saying any contact should only happen with the agreement of B.E.N.'s supervisor and his sister's counsellor.
Brecknell admitted members of the public might have difficulty understanding "how a person, no matter their age, who came within moments of killing another person, could even be considered to receive punishment that does not include a term of imprisonment."
But he said B.E.N.'s remorse, combined with his co-operation since his arrest mean that jail is not necessary.
The supervision order includes 28 conditions with which the youth must comply.