KAMLOOPS, B.C. - A sobbing Damien Taylor recounted to RCMP, hours after his girlfriend CJ Fowler was found dead, how the two were brought to Kamloops, B.C., to deal drugs.
On Thursday in B.C. Supreme Court in Kamloops, Crown prosecutors showed an 11-person jury a video recording taken in the Prince George RCMP detachment on the evening of Dec. 5, 2012.
Dog walkers had found CJ's body in the Guerin Creek area in Kamloops seven hours earlier.
On the video, Taylor, who is on trial for second-degree murder, told RCMP Sgt. Todd Wiebe he had last seen Fowler at the hospital in Kamloops in the late evening of Dec. 4 or in the early-morning hours of Dec. 5.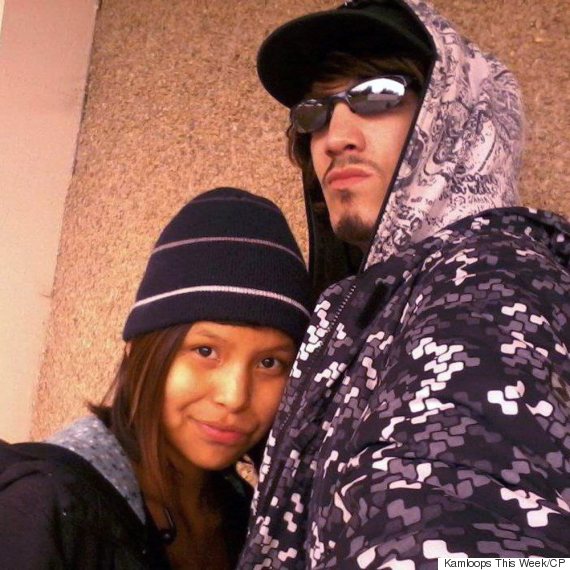 Damien Taylor is charged in the death of CJ Fowler. (Photo: Kamloops This Week/CP)
Taylor was intercepted at the Prince George Greyhound bus depot that evening and agreed to go to the detachment for questioning about an investigation in Kamloops.
"I really don't know what's going on," Taylor told Wiebe.
The RCMP member then told him Fowler was dead.
"No way — what happened?" Taylor blurted out.
Several times in the next 10 minutes on the recording, Taylor choked and broke down in tears. When Wiebe left the interview room to get a calendar, Taylor rocked in his chair and shook his head back and forth.
"She's the love of my life," he told Wiebe.
At that point, Taylor was treated as a witness by police. He wasn't arrested and charged with Fowler's murder until a year later.
In its opening when the trial began on Monday, the Crown said Fowler was last seen in the early morning hours of Dec. 5 with Taylor at the hospital. The two were told she was pregnant. Tests later showed Taylor was the father.
They were seen arguing as they left the hospital.
On Thursday, a forensic pathologist told the jury Fowler died of asphyxiation, likely from her tongue being pushed back and trapped in her airway. She suffered a crushed skull and facial damage. A concrete block was found on top of her body.
The Crown also suggested one of her facial injuries could have come from a mechanic's tool found in Taylor's backpack. That tool had Fowler's DNA signature on it.
Wiebe asked Taylor, now 24, to recount the four or five days the pair had been in Kamloops.
"Everything was going wrong," Taylor said as he sobbed.
Taylor said a man he identified as "James" bought the pair bus tickets to come to Kamloops from Terrace, where they were staying with CJ's stepfather.
Taylor said James and his girlfriend soon began to pressure them to sell drugs, claiming the girlfriend forced Fowler to do crystal meth.
"She wanted us to hustle and we didn't want to do it," Taylor said.
The trial continues. (Kamloops This Week)