via LinkedIn
For the rest of his life, Sanmay Ved will be known as the man who owned Google for a minute.
The former Google employee was tooling around with the Google Domains interface late Monday night when he decided to check on the status of the "Google.com" domain.
To his utter surprise, it was available for sale: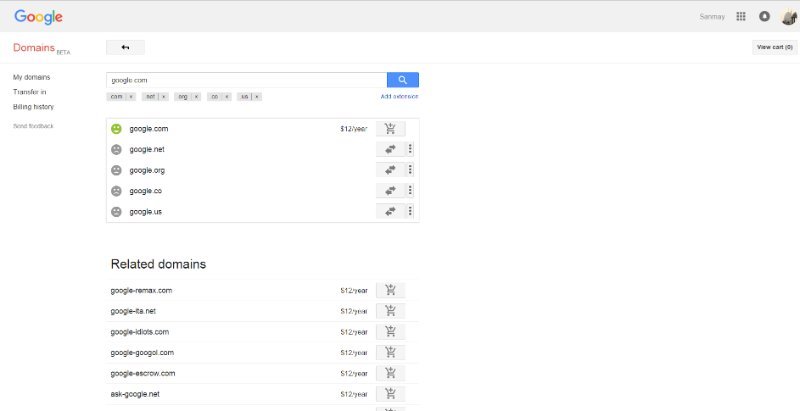 He decided to shell out $12 and try to buy it.
"I was hoping I would get an error at sometime saying transaction did not go through, but I was able to complete purchase, and my credit card was actually charged!" he wrote in a post on LinkedIn.
"Additionally, my Google Search Console (aka Google Webmaster Tools) was auto-updated with webmaster related messages for the Google.com domain which actually means ownership was transferred to me!"
Once the system recognized him as the owner of the site, Google Domains began sending him emails containing possibly confidential information about Google-owned websites. We can't be sure, because Ved has chosen to keep that data out of public view.
But Ved's ownership of the most-visited domain in the world only lasted a minute or so before Google Domains sent him an email cancelling the purchase order.

He's taking it all humorously.
"The Indian Prime Minister's visit did work wonders," Ved wrote, referring to Prime Minister Narendra Modi's visit to Google and Tesla Motors last week.
"It ended up convincing Google to sell the most visited domain on the internet to a person from the Kutch region of the Indian Prime Minister's home state … albeit just for a minute or so."
Ved says he doesn't know what may have happened that would have left the "Google.com" domain available for purchase, adding he reported the incident to Google Security.
The media are calling Ved a very lucky guy, but clearly he's a little bit brilliant, too.