ST. PETERSBURG, Fla. – Mark Buehrle didn't get his milestone as the Toronto Blue Jays' desperate attempt to get the left-hander to 200 innings went horribly wrong, and they lost to the Tampa Bay Rays 12-3 Sunday in their regular-season finale.
Buehrle, starting for the second time in three days in an effort to get him two more innings to reach 200 for the 15th consecutive season, got only two outs before manager John Gibbons pulled him.
Only four pitchers in major-league history have thrown 200 or more innings in 15 or more consecutive seasons: Hall of Famers Cy Young (19), Warren Spahn(17), Don Sutton (15) and Gaylord Perry (15). They'll remain that as Buehrle finished the season at 198 2/3 innings, just four outs from the record books.
Errors by second baseman Ryan Goins and first baseman Edwin Encarnacion contributed to the meltdown that led to eight runs, none of them charged to Buehrle. The veteran left-hander gave up a grand slam to Tampa Bay Rays designated hitter Joey Butler on a day he simply didn't have his stuff.
It was the shortest start of Buehrle's career, which very well could be over.
Right-hander Ryan Tepera replaced Buehrle with two outs in the first inning and gave up a two-run home run to Mikie Mahtook as the Blue Jays fell behind 9-0.
Buehrle won't be part of Toronto's four-man playoff rotation, which will include David Price, Marcus Stroman, Marco Estrada and R.A. Dickey. It's unlikely, though not impossible, that the 36-year-old will be on the post-season roster, though he hasn't pitched in relief since his rookie year in 2000.
Teammates voiced their support for Buehrle getting one final chance in recent days. Gibbons said after the Blue Jays lost 4-3 on Saturday that Buehrle would get the chance as long as he felt good.
Buehrle was excellent in his 6 2/3 innings Friday night but just wasn't at his best in his quest for history. In addition to the errors, he gave up five hits.
The Blue Jays had a chance to claim the top seed in the American League and home-field advantage throughout the playoffs. But that would have required a victory and a loss by the Kansas City Royals, who took a big lead early in their game against the Minnesota Twins.
As the AL East champion and second seed, Toronto would face the winner of the AL West, either the Texas Rangers or Houston Astros. The Blue Jays host Game 1 of the AL Division Series on Thursday at Rogers Centre.
Chris Colabello and Darwin Barney homered for the Blue Jays, who needed a win and a Kansas City loss to finish with the AL's best record.
David Price is scheduled to start Game 1 of the Blue Jays' AL Division series Thursday at home against AL West champion Texas. Toronto ended the regular season at 93-69, a 10-game improvement over last season.
Joey Butler homered twice and had six RBIs for Rays.
Tampa Bay's first run off Buehrle scored when first baseman Edwin Encarnacion dropped Steven Souza Jr's soft liner for the Blue Jays' second error in a span of five batters.
Tim Beckham drew a two-out bases-loaded walk and Butler hit a grand slam on an 85 mph offering _ the fastest of Buehrle's 45 pitches _ to make it 6-0. The slam came after a close call by plate umpire Alfonso Marquez went against Buehrle on a 2-2 pitch.
Manager John Gibbons took Buehrle out after Brandon Guyer's RBI single.
Mikie Mahtook completed the Rays' nine-run first with a two-run homer off Ryan Tepera. Butler had a two-run shot during a three-run fifth.
Colabello hit a solo drive in the fourth, and Barney had a two-run ninth-inning drive.
Matt Moore (3-4) gave up one run and four hits over six innings for the Rays, who went 80-82 under first-year manager Kevin Cash. Tampa Bay was 77-85 last year with current Chicago Cubs manager Joe Maddon.
The Rays finished with an MLB-low home attendance of 1,247,668 after drawing 15,815 on Sunday. Tampa Bay drew 1,446,464 last season.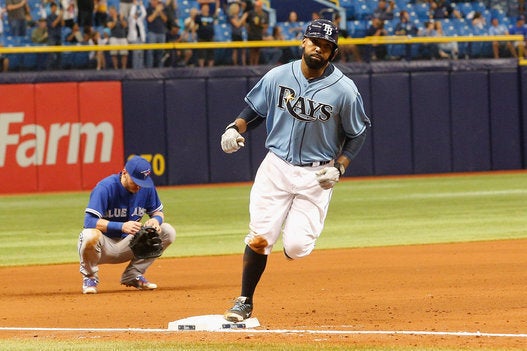 Blue Jays vs. Tampa Bay Rays