CTV
On Monday, a 9-year-old Etobicoke, Ontario, boy, who previously lost his dad, was surprised by two of his heroes at school: Toronto Blue Jays players Ryan Goins and Kevin Pillar.
Jack Blunt, a grade four student at Warren Park Public School, lost his father when he was just a kindergartener and last year, he was diagnosed with diabetes. As a result, baseball and the Blue Jays have helped him cope.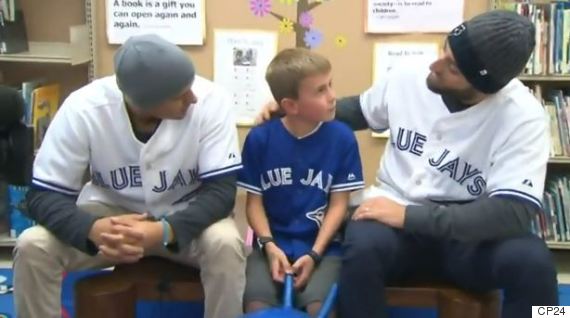 "One of the biggest things for him has been staying involved with athletics — running and playing and living and breathing baseball," his mom Jenn told CP24.
Blunt was nominated by a teacher to meet his two favourite Jays. Referring to the boy's hardships, Principal Mary Gyemi-Schulze said: "I think, like any child, there are good days and bad days, but on the whole, he's really just trooping along."
On Monday afternoon, Jays' players Goins and Pillar not only surprised Blunt at his school, but presented him with hats, shirts and four tickets to the Jays' first post-season game on Thursday.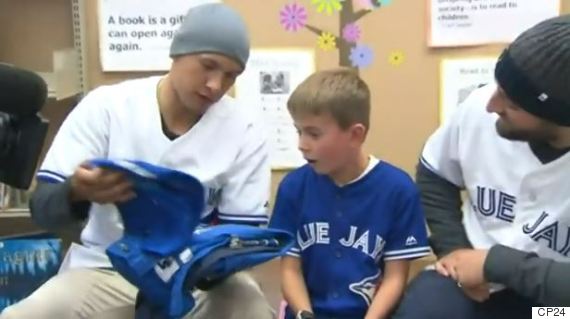 After their meeting, Goins said: "That was awesome. I think he was kind of in shock, but I was probably as nervous to give him the tickets as he was to see us here at his school."
Pillar added: "Sometimes you're just so excited you're at a loss for words. I'd imagine that's what he's feeling. He'll go home tonight and once it sinks in, it'll be pretty special for him."
ALSO ON HUFFPOST: