KAMLOOPS, B.C. — A man accused of murdering his pregnant girlfriend says the week leading up to her death was a blur of using crystal meth, cocaine, heroin and marijuana.
Damien Taylor, now 24, told B.C. Supreme Court that an associate brought him and 16-year-old CJ Fowler to Kamloops from Terrace to sell drugs.
Taylor said the associate bought their tickets on a Greyhound bus.
"Me and CJ did lines in the back of the bus and I sold coke to someone on the bus,'' Taylor testified Monday.
He is accused of second-degree murder in the death of Fowler on Dec. 5, 2012.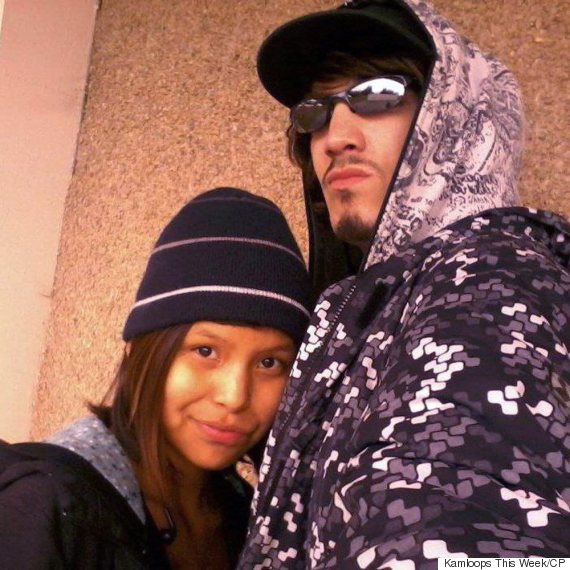 CJ Fowler, left, and then-boyfriend Damien Taylor. Fowler was found dead in 2012, and Taylor has since been charged with second-degree murder.

Taylor said the pair also smoked crystal meth en route and once they were Kamloops. He said he was loaded up with crystal meth and was told to sell it downtown.
The drug-taking continued at Royal Inland Hospital, Taylor said, adding he was so high he got stuck in a washroom.
An emergency room doctor has testified that Taylor was with Fowler when she came to the hospital in the early hours of Dec. 5, 2012, complaining of chest pain from crystal meth use for the second day in a row.
Dr. Lykke Williamson told court that a routine pregnancy test before X-rays are taken showed Fowler was pregnant and that both she and Taylor seemed calm when he delivered the news.
The trial has already heard from Fowler's stepfather, who said he bought the couple Greyhound bus tickets to Terrace.
Dog walkers found Fowler's body near a creek a few hours after she'd left the hospital. A concrete block was on her chest, and her skull and jaw were smashed.
RCMP in Prince George interviewed Taylor as a witness, and court has heard police found a ripped-up Greyhound bus ticket in the toilet of a hotel where he'd stayed.
Mounties also seized a pair of socks in the garbage, with Fowler's blood on them, and the SD card from her cell phone in his backpack.
Taylor was charged a year later.
Defence lawyer Don Campbell told the 11-person jury that he intends to call a toxicologist who will testify to the effect of drugs.
Related On HuffPost: