Canadian spoken-word poet Shane Koyczan made his case for political change last week, reminding voters they can "fire" leaders from office every few years in a new poem titled "The Cut."
Delivering a melodic and searing review of Stephen Harper's leadership record on Thursday, the B.C.-born artist delivered verses criticizing politicians for thinking Canadians have "short memories."
In a video uploaded to YouTube Sunday, Koyczan went through a laundry list of political grievances before the Vancouver crowd. (Watch above.)
"You are the pallbearer of our rights and freedoms," said Koyczan about the prime minister. "You cut the brakes on our environment so you could fast-track a pipeline, then forged our signatures so you could sign away our future."
The poet touched on a wide array of subjects, ranging from cuts made to employment insurance premiums, the CBC, veterans benefits, and to other budget slashes that are "still bleeding."
"You talk about terrorism, but declare war on Canadians who live and work abroad," he said of amendments made to the Canada Elections Act.
"You are vampire versus goodwill, going through non-profit charities with a fang-toothed comb auditing anyone against you," the award-winning poet continued, reminding the audience of the Canada Revenue Agency's audit "chill" to limit political activities.
But there's a silver lining he said, mockingly, because Harper "brought us pandas."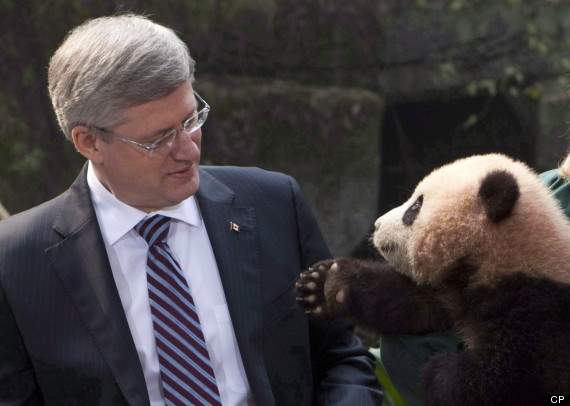 A panda reaches for Stephen Harper during a photo at the Chongqing Zoo in Chongqing, China on Feb. 11, 2012. The Toronto Zoo welcomed two giant pandas from China for a 10-year stay starting in 2013. (Adrian Wyld/Canadian Press)
Koyczan then touched on the attention devoted to the niqab debate, blasting the Conservative leader once more:
"There are women waiting for you to care less about what they wear, and care more about the fact that so many have gone missing."
During a campaign stop on Tuesday, Harper repeated that a re-elected Conservative government would not open a federal inquiry into the 1,181 police-recorded deaths and missing persons cases related to aboriginal women in the country.
"We have moved forward with a whole series of criminal justice reforms to deal with the problems of violence against people generally, violence against women in particular," Harper said in Whitby, Ont.
He then referenced a RCMP report concluding that nearly 90 per cent of all female murder cases are closed.
"Most of these murders, sad as they are, are in fact solved," Harper said.
With files from The Canadian Press
Like Us On Facebook

Follow Us On Twitter

Follow Us On Instagram
Also on HuffPost
Canada Election: 31 Swing Ridings