It may not be Halloween yet, but the celebrity costume faux pas have already started.
"Pretty Little Liars" star, Ashley Benson, upset her fans on Tuesday after posting a photo of herself on Instagram wearing a Cecil the Lion costume from Yandy.com.
The 25-year-old actress originally captioned the photo, "Help! Can't decide on my Halloween costume this year! What do you guys thing of this Cecil the Lion costume?", before removing the reference to the 13-year-old animal that made headlines this summer after he was killed in Zimbabwe by a Minnesota dentist.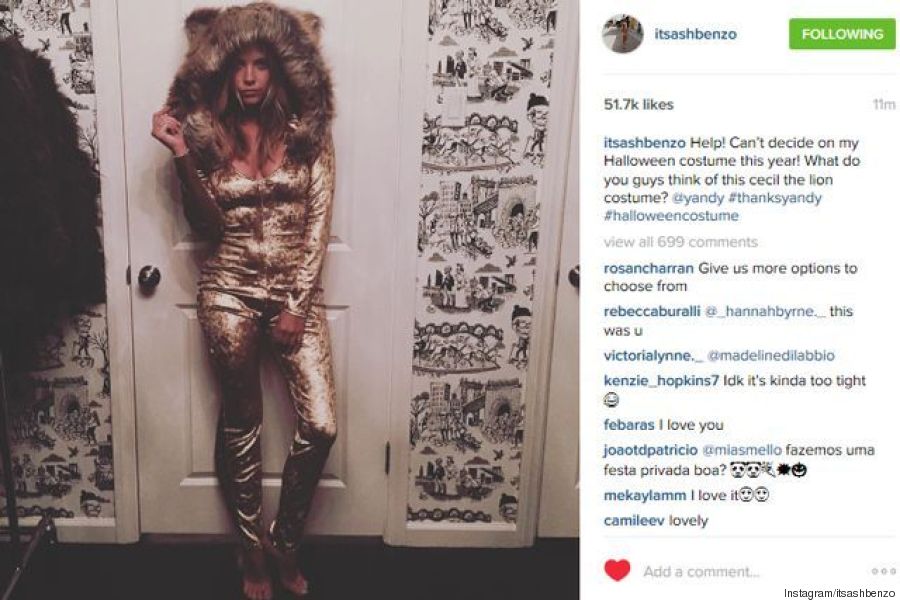 Instagram users were quick to call the reference "offensive" and in "bad taste," with some even calling out Benson for changing her caption. One follower wrote, "you called it 'Cecil the Lion'' #clueless #smh #insensitive," and another added, "It's a shame lions can't wear dead ignorant humans as costumes. Totally unaware douche."
The "Deluxe Lion" costume modelled by Ashley retails for $149.95, while another version actually called "Cecil the Lion" retails for $118.95. Yandy encourages buyers to "show your support for all wildlife," claiming 20 per cent of the proceeds from the costume will be given to a Global Conservation Organization to support global conservation initiatives.
And to make things worse, Yandy's PR supposedly sent a release alerting the media of Benson's post, noting the costume features "a cheeky cut back and a deluxe, faux-fur trimmed hood with lion ears."
Groan.
Follow Huffington Post Canada Style on Pinterest, Facebook and Twitter!
Also on HuffPost
Stupid 'Sexy' Halloween Costumes