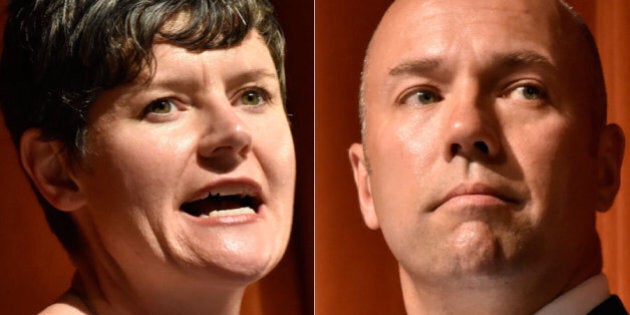 Jane Davis has been rotating the political signs on her Halifax front lawn every few days.
Like many voters in the downtown riding, she wants to get rid of Conservative Leader Stephen Harper but was initially unsure where to park her ballot — with popular NDP incumbent Megan Leslie or the Liberals' well-known candidate, city planner Andy Fillmore.
So Davis started rotating the signs. She thought it was funny. The neighbours noticed and came by to discuss. The local CBC station did a profile on her.
"I'm in the same boat, I am thinking, that they are," she told The Huffington Post Canada.
"This just brings it forward, that we are all going back and forth between two of the candidates. Not the third one. Not the Conservatives. Not Stephen Harper, no."
"After two or three days," Davis said, "we switch them back. Back and forth, back and forth."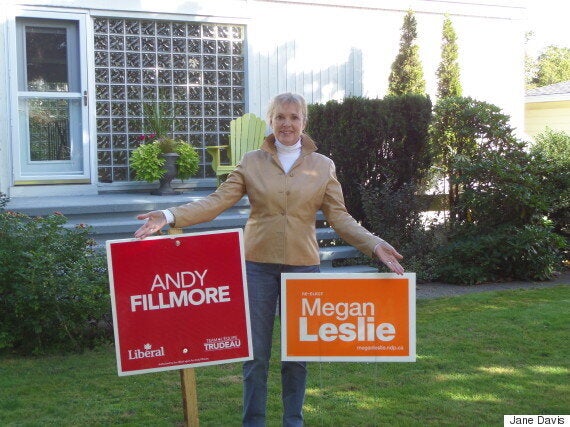 Jane Davis shows off the NDP and Liberal signs in front of her house. (Jane Davis)
This Tuesday, though, the "re-elect Megan Leslie" orange sign came down and the red Andy Fillmore/Trudeau Liberal sign went up — and it is likely staying up for the rest of the campaign.
"Megan Leslie is a substantial person and we all like her," Davis said. "But Andy Fillmore, the Liberal candidate, he's the most worthwhile Liberal we've had here in awhile. He's a Harvard-trained city planner. He's been to my door twice. And we've had a couple of chats."
After the CBC piece ran in early September and described her as an undecided voter, Fillmore arrived at Davis' darkened doorstep — it was 9 p.m. — pamphlets in hand, trying to win her over for the second time.
"That guy he is working so hard, and he is so upbeat and smart and committed. I really like him a lot, and I hope he gets in. I'd really love to send him to Ottawa."
Leslie has been the MP for Halifax since former NDP leader Alexa McDonough stepped down in 2008. Before McDonough's four-term run, the riding had alternated between Liberals and Conservatives, being held most famously by former Progressive Conservative party leader Robert Stanfield and by Canada's eighth prime minister, Conservative leader Robert Borden.
Leslie is a well-regarded, very present and active representative.
"She's been an absolutely fabulous MP over the years," said Jason Haslam, an English professor at Dalhousie University. "She is a deeply committed and concerned individual who really cares about the community.
"She's one of those rare people that always has a smile on her face, always willing to talk to people."
Haslam went to McGill University with Trudeau and his principal adviser, Gerald Butts.
"I like Justin. I respect him. I know one of his campaign managers, and I respect him," he said. "But the Liberal track record has not been good. I want a party that will work for working people."
The Liberals are talking about deficits and infrastructure investments, he said, but all he sees from the party is a plan to tax the super rich to support the "well-to-do." "I want a party that is bringing in progressive policies like the $15-a-day daycare, like prescription drug benefits that will really help the average person."
Leslie, who spoke to HuffPost at the beginning of the summer, said she has seen some polls suggesting the Liberals might defeat her. The Laurier Institute for the Study of Public Opinion and Policy current lists Halifax as "too close to call."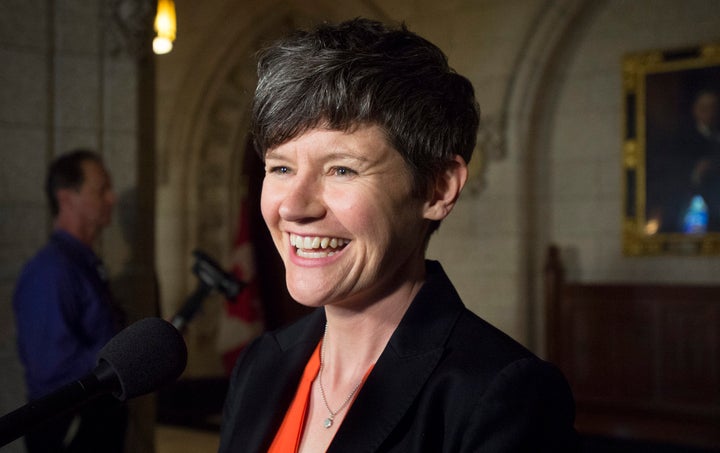 Megan Leslie laughs while talking with media in Ottawa. (CP)
"Some of those exact same predictors said that I would lose last time around and, in fact, I won by even more votes than in 2008. So it's a tricky thing," she said.
Leslie won in 2011 with more than 51 per cent of the vote.
"I do think that the Liberals have a good candidate. I know him. We certainly crossed paths a lot in the community, and he's a credible candidate. But, I've got to say, when I'm going door to door, like I have been every week, it feels pretty good out there…. People like the kind of representation that I have been giving the riding."
'This post has won my vote'
In a touching Facebook post last week, Leslie demonstrated just why people like her. She wrote about how she had had a hard time getting to sleep after hearing about the woman in Montreal who was attacked by teenagers trying to rip off her hijab.
She imagined how she would feel if some men or boys tried to rip her skirt higher. Her chest tightened, tears sprang to her eyes, and she glimpsed terror, she wrote.
She said she had gone to a local mosque, not as a politician but to stand with her neighbours and say that she condemned such bigoted acts. Muslim women shared their fears with her, she said, and she wrote about how she rejected the Conservative government's policies on the niqab and perceptions of refugees as carriers of terrorism.
She compared what was being said about Muslims to what was said about the Irish when they arrived in Canada. Her post had been "liked," at the time of this writing, 1,320 times. Several commentators said they were proud to have Leslie as their representative. One woman, Alyssa Richardson, said Leslie's post had won her over.
"I had not decided who I was going to vote for … not because I don't have tremendous respect for your work and the impact you have on our community but because I hate our first past the post government and was considering Trudeau. This post has won my vote," she wrote.
Fillmore, who also spoke to HuffPost before the campaign officially began, said he doesn't view himself as running against Leslie.
"I'm not running against anybody or anything. I'm running for the city, I'm running for the work that needs to be done here," he said.
Leslie is someone with "really great energy" and insight into bigger causes, such as the environment and human rights, which he said are admirable positions that he shares. "But Halifax doesn't need a champion of causes right now, it needs a champion for Halifax."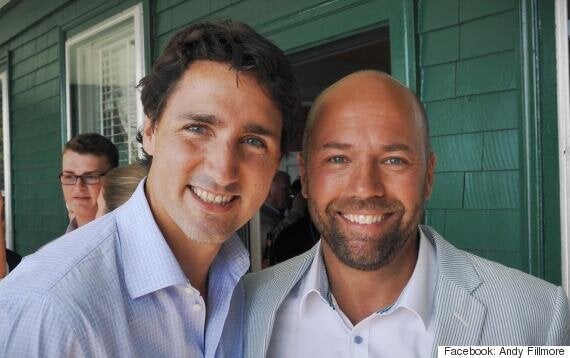 Justin Trudeau poses for a photo with Andy Fillmore. (Facebook)
Fillmore, a nationally recognized award-winning planner, said he decided to run — his first try at elected office — because he wanted his eight-year-old daughter "to have a future in Halifax."
Like many Haligonians, Fillmore left the city he grew up in to pursue studies and employment. Unlike many of his cohort, however, he found his way back. His two sisters, he said, weren't so lucky — they chose to live elsewhere because that's where the jobs are.
Nova Scotia faces serious economic challenges, Fillmore told HuffPost.
He said the province's debt load of $15 billion for one million people is excruciating. The city needs to become an economic engine, he said. It needs more infrastructure, new economic opportunities through fostering innovation with the city's five universities and concrete efforts to capitalize on the ocean through the ocean-tech sector, shipbuilding, energy exploration and a focus on the East Coast navy, he added. "That work, hasn't been done well enough over the last 10 to 20 years."
Fillmore's last job was as the vice-president of planning and development for the Waterfront Development Corporation, a provincial Crown corporation. Before that, he worked as a manager of urban design at the Halifax Regional Municipality, where he led the city's revitalization plans, known as the HRMbyDesign. He points to the creation of Halifax's new public library and the development of the Halifax Convention Centre as some of his accomplishments.
"I have a record of delivering what this community needs," he told HuffPost.
'That is the work of a city builder'
After working a decade at the city, Fillmore said, he felt Halifax was on its way, the downtown renaissance was happening and construction cranes where dotting the skyline.
The province's Liberal government was making tough but necessary decisions, he said, but the federal government was missing as a partner.
About a year ago, after discussing the matter extensively with his wife — she's the chief curator at the Art Gallery of Nova Scotia — and friends, he said he decided to try to make the jump. He liked Trudeau, the Liberals' philosophy and platform. He won the Grits' contested nomination in November.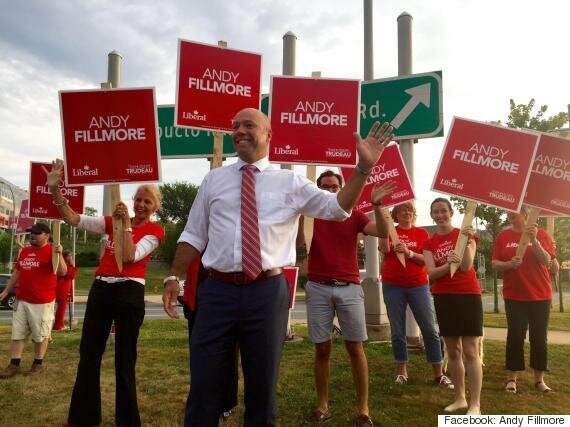 Andy Fillmore campaigns in Halifax (Facebook)
"Candidates have different strengths," he said. "They bring different skills to the table, and, right now, the skills that my city needs are those around city building, community building, public engagement, and bringing people together to find a stronger way forward to position our city to be able to keep our young talented graduates here, to draw immigrants here.
"That is the work of a city builder, and a city planner, and that is the work that I have been doing for my career for 25 years here in Halifax."
Fillmore said people are appreciative of the representation Leslie has given a broad range of issues, but he sees few tangible results to show for a long period of NDP representation.
"And by tangible, I mean, in our community, on the ground, what has changed here. That's the question we are asking themselves heading into this election."
Halifax has been left out of Ottawa's priorities because the city doesn't have federal representation within the governing party, he added. Federal infrastructure investment is at a historic low, he said. "We really need strong representation to be back in the national discussion.
"We haven't had representation… interested in the issues that matter to the residents of my riding on the ground every day."
Leslie says she gets things done
Leslie defended her record, pointing to her efforts to save the Sambro Island Lighthouse, to help establish Sable Island National Park, to work on suicide prevention strategies and to her work on the environment — she's the NDP's environment critic and one of its deputy leaders.
"I think if you knocked on a random door in Halifax, most people would have a pretty good idea of what I've been doing in province."
The NDP incumbent said her Liberal opponents have often tried to make the case that Halifax needs an MP in government to "get things" for the city — which, she thinks, "is a really cynical way of looking at politics" that is steeped in the past, when patronage was "a huge deal."
"Look at Halifax, we just got a multimillion dollar gorgeous award-winning library, we have a shipbuilding deal that is transforming the ship industry in Nova Scotia. We're doing OK with an opposition MP. I don't see Halifax being passed up because there's an opposition MP here," Leslie added.
Leslie, who is from Ontario, came to Halifax to pursue a law degree. She was working at the Dalhousie legal aid, fighting for low-income people and welfare rights, when a search committee was struck to find an NDP candidate to replace McDonough.
"I wouldn't have run if I had not been asked. It wasn't on my radar … but the reason I ultimately ran was: I thought this would be another way to work on social justice, economic justice and environmental justice issue."
Her first few years in Ottawa were difficult, she said. The coalition crisis, prorogations and the constant threat of another election eft her "sort of staggering through day by day."
The 2011 breakthrough in Quebec was an incredible gift, she said, that was also difficult to manage. There were "so many MPs who didn't know where the washrooms were, let alone how to legislate, and then Jack Layton got sick, and then Jack died, and we had a leadership race and we lost our front bench."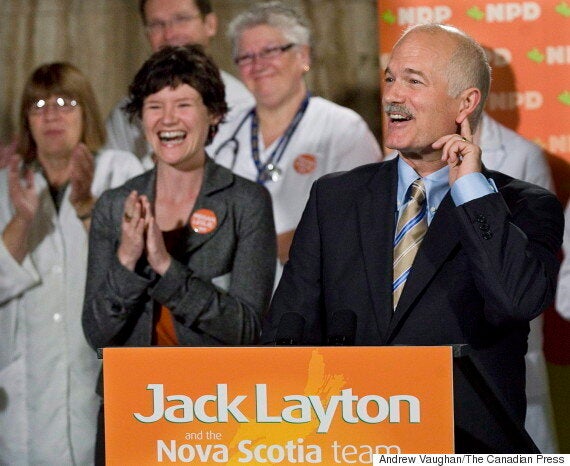 Megan Leslie stands behind Jack Layton as he jokes with the crowd during a 2008 campaign event in Halifax. (CP)
She said she didn't enjoy the past few years, but did find them valuable. "Now, we've had a period of stability, and I've gotten to know my portfolio, I feel really good about the work I'm doing."
Leslie said she doesn't want to do this job forever, but she plans to work hard and hopes Haligonians give her another mandate.
Like Fillmore, Leslie has been knocking on doors for months. About February, she said, people started bringing up NDP Leader Thomas Mulcair and telling her they thought he was doing a good job. They often talked about him when mentioning C-51, the anti-terrorism bill, she said.
"I don't know that I ever had doorstep conversations with people where they could name a bill by the letter and number," she said. "The conversation at the doorstep changed dramatically then."
C-51 was a bill, now law, that was heavily criticized by experts for encroaching on Canadians' rights and privacy. The NDP opposed it in the House, while the Liberals voted in favour, although they pledged to bring in amendments if they were elected.
The No. 1 thing Leslie said she hears about, however, is a deep desire to get rid of Harper.
"The safest thing to say on the doorstep is 'I'm working to defeat Stephen Harper'," she said. People want change, she said, and Nova Scotians don't recognize Harper's brand of conservatism.
The Conservatives won less than 20 per cent of the vote in Halifax in 2011. Since 2000, the party has placed a distant third. Conservative candidate Irvine Carvery did not respond to an interview request.
Undecided voter won over by Trudeau
Leslie hasn't knocked on Davis' door. But the Halifax woman said she likes Mulcair. She thinks he is smart, principled and a "tough guy," but Trudeau has won her over.
"I like Justin Trudeau's stimulus spending, a lot. You know, when he differentiated himself like that, he certainly got my attention and got me thinking about it, and reading about it, and I realized that the deficits he is calling for are modest."
Mulcair is, like the rest of the country, "hypnotized" by the need to balance the books, she said. "I feel quite strongly about the idea of stimulating our economy and investing in our much needed infrastructure. It just makes good sense to me.
"When I compare the two of them, aside from the stimulus thing, it seems to me that Mulcair, there is some sort of ideology there, and I like Justin Trudeau's more pragmatic approach to the problems this country is facing."
Davis said she fears Harper has no vision for growth and that he thinks Canadians are "stupid." "Honestly, he's shameless."
"I'm pretty sure I'm going to vote for Andy, but I might have to vote strategically," she added, noting the possibility that the NDP might still rise in the polls.
"We really need the windows to be swung open in Ottawa and a nice fresh brazen breeze to blow through."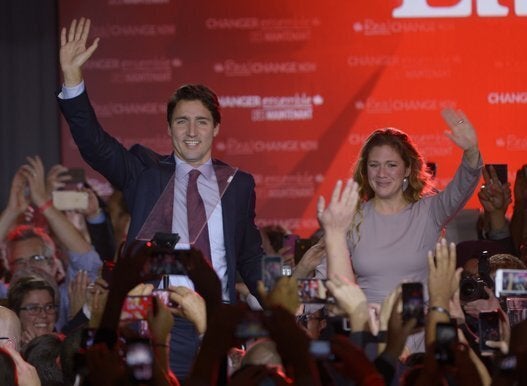 In Photos: Canada Election 2015