Is Meryl Streep's "I'd rather be a rebel than a slave" t-shirt being taken out of context? Or is it just insensitive?
The quote comes from a 1913 speech by women's rights activist Emmeline Pankhurst, the character Streep will be playing in Sarah Gavron's new film, "Suffragette." During an interview with Time Out London, Streep, as well three other cast members, were asked to wear the shirts as part of a photo shoot to document the film.
"It is a rallying cry, and absolutely not intended to criticize those who have no choice but to submit to oppression, or to reference the Confederacy, as some people who saw the quote and photo out of context have surmised."
Time Out said that the message was clear for people "who read the piece," claiming that out of at least a half a million readers from the U.K., they'd received no complaints.
But unfortunately for Time Out, their concept for the slogan didn't reach many social media users.
Protesters "occupied" the red carpet Wednesday during the premiere of "Suffragette" chanting, "We are the Suffragettes."
Pankhurst's full quote read as follows: "I know that women, once convinced that they are doing what is right, that their rebellion is just, will go on, no matter what the difficulties, no matter what the dangers, so long as there is a woman alive to hold up the flag of rebellion. I would rather be a rebel than a slave."
The film is set to be released in theaters on Oct. 23.
What do you think? Let us know in the comments below.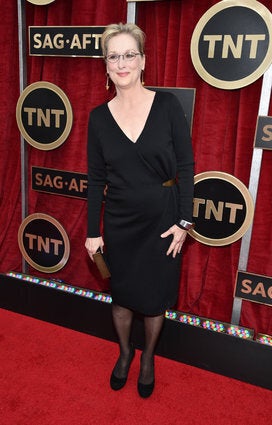 Meryl Streep's Red Carpet Style