Residents in an upscale Toronto neighbourhood were enraged, with some in tears, when they learned that a homeless shelter was going to be located in the area.
But it was all just a setup ... and a novel way to start a discussion about homelessness.
The Leaside neighbourhood in midtown Toronto has been recognized as having some of the city's most expensive real estate.
Housing prices there jumped by almost nine per cent over the past year, according to Toronto Life, which ranked it 10th in its 2015 neighbourhood rankings.
Residents there were shocked on Friday when they saw that construction boards had been erected around a former furniture store, with a sign on the front indicating that a shelter with 62 beds would be situated there, Metro News reported.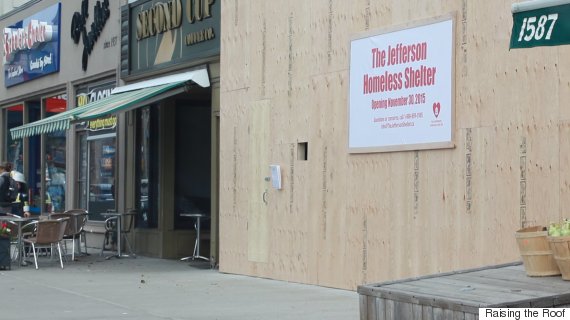 The boards were placed by Raising the Roof, a national non-profit that looks for "long-term solutions to homelessness."
And they were placed there, along with hidden cameras, as part of a video project that is set for release on Oct. 12, just a week shy of the federal election. Advertising agency Leo Burnett came up with the campaign as a pro bono project.
Raising the Roof initially planned on capturing reactions from Friday to Sunday. But the "Jefferson Homeless Shelter" generated such a strong response that they posted the following sign on Saturday.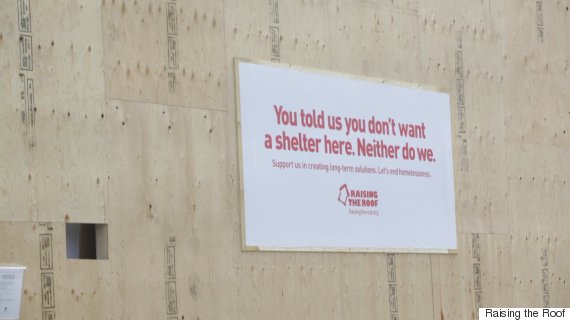 The point of the stunt was to raise awareness of NIMBYism, said Caitlin Boros, Raising the Roof's marketing and communications manager.
"Our goal with this activation was to pick a neighbourhood that really could be any neighbourhood in communities across Canada," she told The Huffington Post Canada.
Raising the Roof chose the Leaside location for a number of reasons: one is that there was an empty storefront that used to be a Sleep Country store. Another is that homelessness is "less visible" there than other areas, Boros said.
The non-profit never set out to shame people with this project. Faces will be blurred out and voices will be changed in the video so that no one can be recognized.
But it did intend to engage people in a conversation about homelessness before the election, and help them by "looking into roles they can play in providing better support for that issue."
The project has nevertheless drawn criticism from The South Bayview Bulldog, a local news service.
It called the fake shelter a "colossal failure of judgment" and lamented that there was "no expression of regret" over its installation.
Like Us On Facebook

Follow Us On Twitter

ALSO ON HUFFPOST:
Haunting Photos Of Vets On The Street Underscores Homelessness Issue