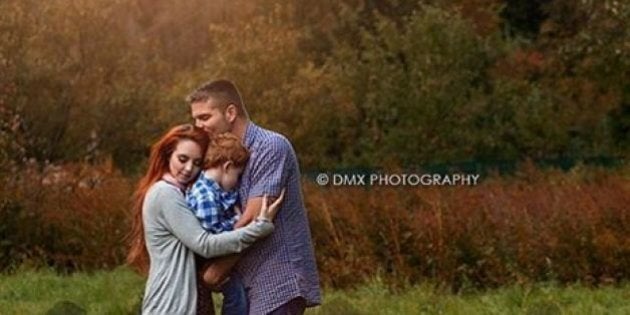 A family portrait of a couple, their son and their five lost babies has us all choked up.
Posted to DMX Photography's Facebook page, the image caption explains that mom Kathryn Bailey and her husband wanted a portrait of their whole family of eight to "[preserve] the precious memories of the five babies they'd lost due to miscarriage."
"This is the final image I put together for her," photographer Deanndra M Xaynhachack wrote. "It took me a few days, this image weighed heavy on my heart, I can only imagine the suffering they endure on a day to day basis. My heart breaks for her and her family."
Noting that October is pregnancy and infant loss awareness month, photographer Xaynhachack stressed in her post that we should all take a moment for families who have suffered the loss of a child. "Send them all your good thoughts and well wishes, your hugs and encouragement," she wrote. "They shouldn't have to suffer alone."
Many viewers were touched by the family photo. A fellow mom wrote: "This brings tears to my eyes. I too have suffered through this loss and have struggled to find a way to commemorate them. This is by far, the most beautiful and touching for me."
Another said, "The portrait literally took my breath away and by the time I'd read half a dozen comments I was crying. I've never lost a child, I have two grown children, and there's not a day goes by that I don't realize how blessed I am. My heart goes out to all of you who have suffered this loss, I wish you peace."
Miscarriages are more common than people think, with about 10 to 20 per cent of known pregnancies ending in loss. While talking about pregnancy loss can be difficult, a new line of empathy cards has been created to help open up the conversation. Just take a look below.