Toronto Blue Jays sluggers Josh Donaldson and Jose Bautista left Thursday's opening game of their American League Division Series against the Texas Rangers.
Donaldson collided with infielder Rougned Odor while trying to break up a double play, taking a knee to the head.
The news got more troubling in the ninth inning, when slugger Jose Bautista was replaced by Dalton Pompey in right field. Bautista started to leave the dugout at the top of the ninth, but appeared to double-over in pain and was taken out of the game.
Donaldson cleared concussion tests and will be re-evaluated Friday while Bautista had cramping in his right hamstring, a team spokesman said. Bautista is not expected to miss any time.
The Rangers won the game 5-3.
Donaldson, who was hurt in the fourth inning, reached on a walk and sprinted for second base when Bautista hit a grounder to third baseman Hanser Alberto, who fired the ball to Odor for the forceout.
Odor jumped in the air as the hard-charging Donaldson came barrelling in underneath him. Donaldson's helmet flew off as his head hit the inside of Odor's left leg.
The Toronto third baseman stayed down on the ground for a few seconds before walking off under his own power. He returned to the dugout but was later removed from the game as a precaution, a team spokesman said.
Odor, who was not hurt, didn't bother with a throw to first. Ben Revere moved to third base on the play and later scored on an infield single by Edwin Encarnacion, giving Toronto its first run of the game.
Donaldson came out to play third base for the top of the fifth before being replaced in the bottom of the inning.
"I think he got a little lightheaded, felt that something wasn't right," Toronto manager John Gibbonds said. "But he did pass all the tests so that's a good sign."
Ezequiel Carrera replaced Donaldson in the No. 2 spot in the order but grounded out in his lone at-bat. Utility infielder Cliff Pennington later replaced Carrera at third base.
Donaldson, a top contender for the American League's most valuable player award, batted .297 this past season with 41 homers and 123 RBIs. Bautista, who hit a solo home run in the sixth inning, also had a strong campaign with 40 homers and 114 RBIs.
The Rangers also lost one of their star players earlier in the game. Adrian Beltre left in the third inning due to lower back stiffness.
Game 2 in the best-of-five series is scheduled for Friday afternoon.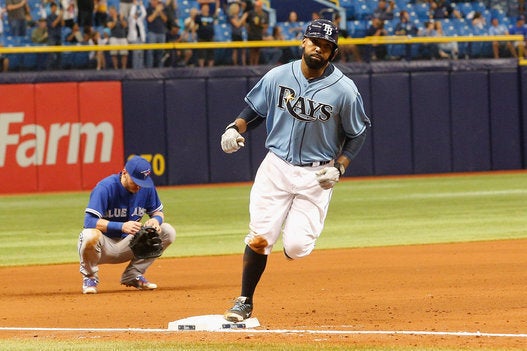 Blue Jays vs. Tampa Bay Rays