Kardinal Offishall is an iconic rapper, social activist and Blue Jays super fan.
The Toronto MC is no newcomer either, having dubbed his record label and production squad "Black Jays" back in the early 2000s. But his love for the playoff-bound baseball team goes back further still.
"I was just a little kid in school that last time when we won so I remember skipping school, and participating in the whole thing down by the Skydome, back when it was still called the Skydome. That's showing my age," Kardi laughs backstage at We Day in Toronto.
"It's just like everything else Toronto, they catch up eventually. Everybody is, 'Ohmigod! The Blue Jays! The Blue Jays.' You got to support them when they're not doing so well — a.k.a when they suck — and when they're doing amazing... It's just funny, everyone else who has on like Dodgers or Yankees, all of a sudden [they're] running to the store to get Blue Jays jerseys."
But don't worry, you guys.
"It's just like the Raptors, we accept all bandwagoners."
But as much as fans are enjoying the Blue Jays' dominance, Kardinal sees it as a boon to the city as a whole, one that builds on the civic pride it has historically lacked. (Yes, rest of Canada, Toronto has had an inferiority complex, too.)
"For a long time, many, many moons, Toronto has needed jumper cables every few years. But the last five to seven years, there's been a semi-steady climb in terms of our city's popularity internationally," said Offishall, pointing out the people and groups responsible.
"Myself, Melanie Fiona, Justin Bieber, The Weeknd and, of course, Drake... the Raptors finally starting to do well — thank god... the Blue Jays.
"The Leafs will get there eventually," he says, letting loose a deep sigh.
"With all those things constantly happening... it's not 20 years until we can have pride. Sometimes, every month it seems like there's something Torontocentric to be proud of."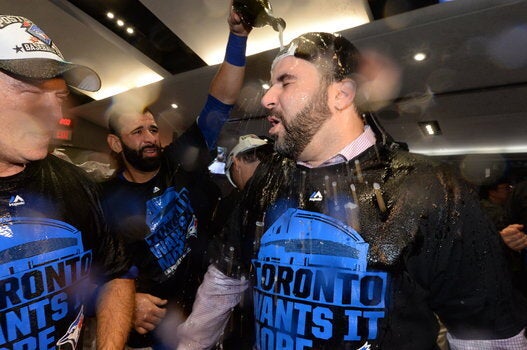 Blue Jays vs. Rangers Game 5