Bloomberg via Getty Images
Canada's election prediction market has turned on the Tories and now expects a Liberal minority government after the Oct. 19 election.
The Sauder School of Business at the University of British Columbia has been running a market where "investors" can place between $25 and $1,000 on the outcome of Canada's federal election.
As of the Tuesday trading day, the market was giving the Liberals a 59-per-cent chance of winning the election, compared to a 45-per-cent chance for the Conservatives and only a 1.5-per-cent chance for the NDP.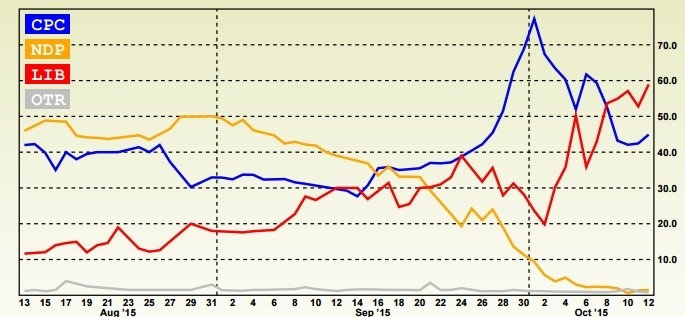 Odds of winning the Oct. 19 election.
The traders forecast the Liberals will win around 38 per cent of the seats in Parliament, with the Conservatives coming in second with 35.5 per cent of seats. The NDP, which the market had favoured to win the election back in August, is now projected to win just 19 per cent of seats.

Seat share projections for the Oct. 19 election.
But a majority government seems out of reach for any party. The market gives the Liberals an 18.5-per-cent chance of taking a majority of seats in Parliament, while the Conservatives have an 18-per-cent chance of doing the same. There is a nearly 76-per-cent chance of "any outcome" other than a majority government.

Odds of a majority government.
As recently as the end of September, the prediction market had Stephen Harper's Conservatives winning the seat count but losing the popular vote to Justin Trudeau's Liberals.
The results seem to reflect the overall trend line in opinion polls over the election period, which showed a three-way tie for weeks before the NDP began sliding in the polls, largely in Quebec, and the Liberals began to nudge into minority-government territory.
But Sauder School of Business associate professor of business Werner Antweiler, who runs the market, says the results are "often more accurate than public opinion polls."
Markets "are very good at reflecting all available information and can often reflect information faster than opinion polls that take several days to complete and process," he writes.
Antweiler has also argued that people are more truthful when money is involved, and in a prediction market they "vote for who they think will win rather than who they want to win."
Check out all the data from the election prediction market here.