Rick Kern via Getty Images
Could Drake do what countless public campaigns have not?
A Vancouver voter is hoping the Canadian rapper can inspire the younger generation to cast a ballot in the federal election.
Karilynn Ming Ho, 32, started a petition two weeks ago asking Drake to make a video public service announcement urging Canadians between the ages of 18 and 24 to vote.
"The video need only be 30 seconds and could be easily recorded with an iPhone, computer or next to that very nice Bugatti. Because Drake, only you can make Canadian civil liberty sexy!" says the campaign on Change.org.
The message would be breezy for Drizzy, but the underlying problem is a serious one.
"Our demographic has the worst turnout," the artist and filmmaker told The Huffington Post B.C. on Tuesday. "I asked myself, who could get their attention, what do Canadians ages 18-34 like? At the time I was in Toronto, and everywhere I went, I heard Drake."
As her petition states, "Many young Canadians understand the language of Drake better than their own political system."
According to Elections Canada, 38.8 per cent of 18 to 24 year olds and 45.1 per cent of 25 to 34 year olds voted in the last federal election four years ago.
"Media personalities such as Drake hold our attention, and often young people need to hear the message from someone who they identify with, and who speaks to them," she wrote in an email. "For a first-time voter, heading to the polls can be an intimidating process."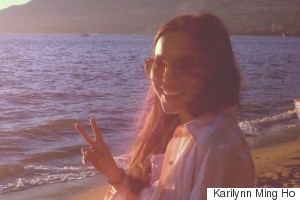 Ming Ho said she was frustrated with politicians not addressing the issues of specific interest to her demographic: student debt, lack of affordable housing, scarce jobs, and climate change — but then she realized they were speaking only to those who had shown up to vote.
While she grew up with parents who are "militant voters," she feels not all young people are exposed to that kind of encouragement to participate in the democratic process.
She acknowledges getting Drake onboard is a long shot — especially with less than a week until the Oct. 19 election — but she believes her campaign alone will help boost voter enthusiasm.
"Statistically when a person votes once, they're likely to vote again," said Ming Ho. "Of course the goal is to encourage voters to make an informed choice, but voting and democracy is a process. As we become more comfortable with the process, we become more attuned to the nuances of our decision making, we gain confidence, we begin to ask for more."
The petition has collected more than 8,300 supporters, with an ultimate goal of 10,000.
Advance ballots are pointing to a more encouraging voter turnout. More than 3.6 million Canadians voted at advance polls over the Thanksgiving long weekend, Elections Canada said Monday.
That's an increase of 71 per cent over the number of advance ballots that were cast in the 2011 election. The spike can be at least partly attributed to the fact that in the previous campaign there were only three days of advance polling.
With files from The Canadian Press
Like Us On Facebook

Follow Us On Twitter

Follow Us On Instagram
Also on HuffPost: