Those hoping for a quick recovery in Canada's oil patch got bad news Tuesday from the International Energy Agency, which now says the global oil glut will likely last through 2016.
In its latest market report, the IEA said it expects a "marked slowdown" in global oil demand growth next year, from an increase of 1.8 million barrels per day in 2015, to an increase of 1.2 million barrels per day in 2016.
If the IEA's forecast is right, it means the oil glut will continue next year, making any bounceback in oil prices unlikely.
The IEA noted that the slowdown in demand for oil comes in part from the very countries that produce oil, as their economies have suffered in the low oil price environment. It noted the IMF recently downgraded its economic forecasts for Canada, Brazil, Venezuela, Russia and Saudi Arabia.
"Lower commodity prices, with all else held equal, eventually equate to lower public spending and a potential dampening in consumer expenditure in many of these countries," the IEA report said.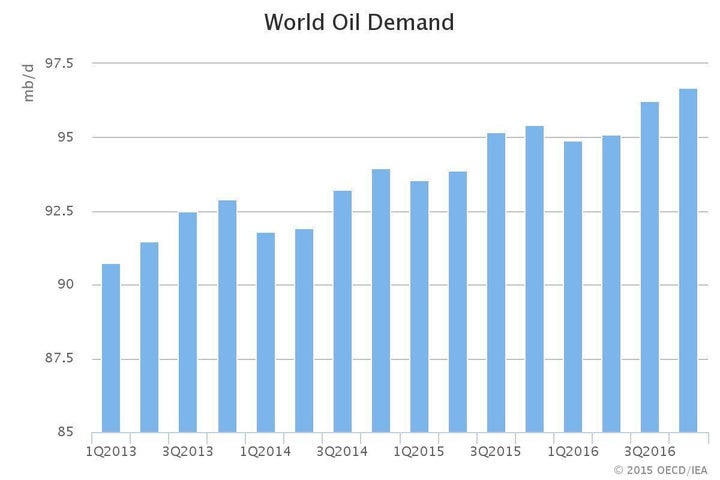 The IEA sees a drop in oil demand in the first half of next year, which would ensure the world oil oversupply continues.
Despite a slowdown in oil production in the U.S., the IEA still sees supply growing next year, thanks in part to two factors: Record oil production in Iraq, and the possibility of Iranian oil flooding the market when sanctions are lifted.
That is "likely to keep the market oversupplied through 2016," the IEA said.
West Texas Intermediate, the benchmark North American oil price, was up 1.4 per cent Tuesday, trading at US$47.76 as of mid-day. It had fallen 5 per cent Monday, after a report that OPEC had ramped up oil production.
The IEA forecast puts a damper on hopes that Western Canada's economy will recover next year from the oil price collapse.
TD Bank economists estimated last week that Alberta's economy will shrink by 1.4 per cent in 2015-2016, returning to growth in 2016-2017, albeit at a slow pace of 1.4 per cent.
TD had more bad news for Alberta's workers. While it expects the number of jobs in Alberta to grow by 1.1 per cent this year (down from a growth rate of 2.2 per cent last year), it sees the province losing 0.7 per cent of its jobs next year.
The oil price collapse is expected to have an effect on the province's housing market as well. TD Bank predicts home sales will fall by 22.3 per cent in Alberta this year and another 6.8 per cent next year.