If you've been eating bistro boxes at Starbucks as an excuse for lunch all these years, things are about to get more green (and filling).
With so many changes to the company's menu over the past few months (you'll remember the addition of new pastries by bakery La Boulange), the coffee giant has now released two new salad bowls for lunch — the zesty chicken and black bean bowl and a hearty veggie and brown rice version.
The chicken bowl, which weighs in at 370 calories, 13 grams of fat and 19 grams of protein, is made with chicken, black beans, roasted corn, jicama, tomatoes, feta, spring greens and quinoa all topped with a mild chili vinaigrette.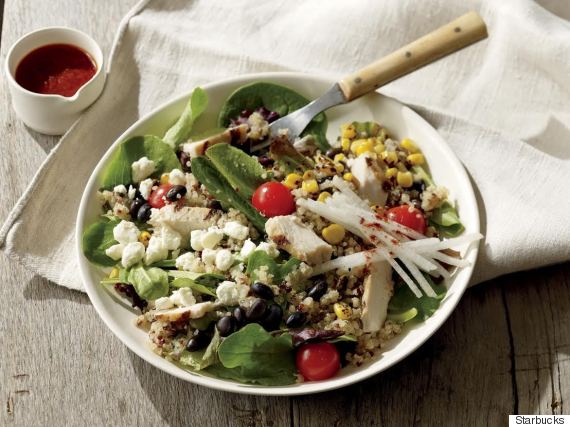 The vegetarian bowl, on the other hand, is a blend of roasted butternut squash, beets, kale, red cabbage, steamed broccoli florets, garden peas and brown rice. At 420 calories, this salad has 23 grams of fat and 10 grams of protein.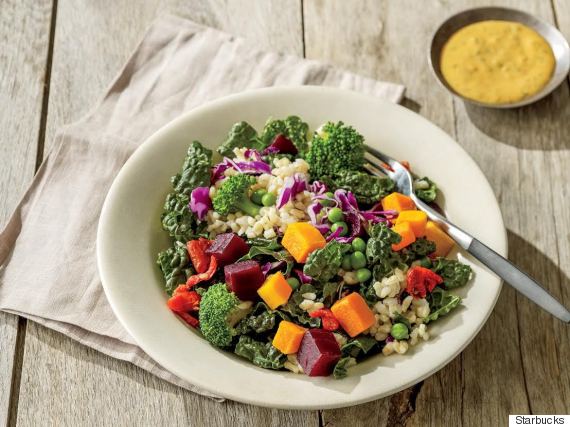 Typically, for lunch, you want to portion your meal to carbs, protein and healthy fats, Popsugar notes. For calories, you want to aim between 450 to 600 (depending how active you are) and choose meals that are wholesome and won't put you to sleep at your desk.
On top of these two additions, the chain also has several new sandwiches, including a chicken artichoke panini, chicken BLT salad sandwich and a limited time PB&J bisto box. Honestly, we can't keep up.
Both salads will cost $8.95 and will be available at locations across Canada on starting Tuesday.
Also on HuffPost