What on earth is going on with this "poutine"?
For a limited time, Wendy's across North America — so yes, even on Canadian soil — will be offering a hickory-smoked pulled pork poutine with a customized sauce, red onions and cheese curds (as well as fries and gravy).
It's not like we haven't seen pulled pork poutines (or other meaty variations) in the past, but there's something about the picture below that just doesn't sit right with our stomachs. From comments like "lose the onions," to "legit the most depressing thing I've seen," to "Onions on a poutine.. Please die," it's pretty clear most people are not happy about this so-called poutine.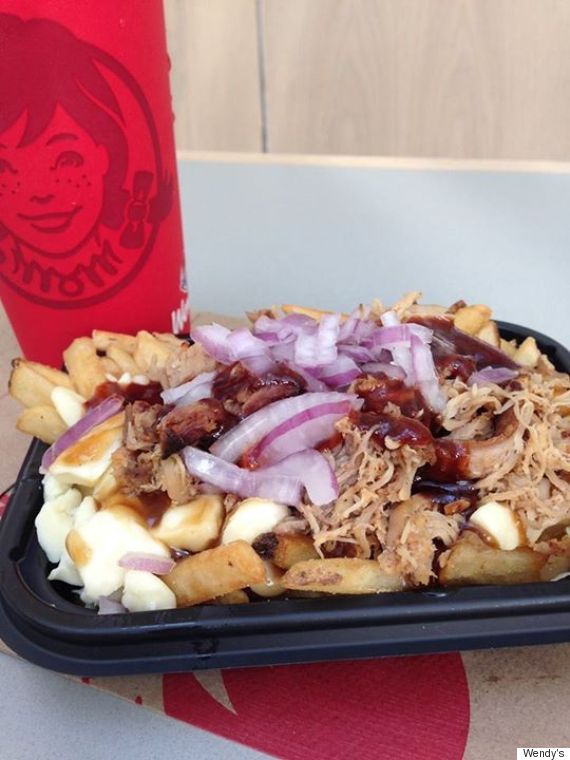 The poutine, which is 760 calories and has 1,860 mg of sodium, is also offered with a limited time pulled pork sandwich (we're not so bothered by this one). And besides just these generic toppings, you can further customize your poutine with smoky, sweet or spicy sauce ... as well as more red onions and pulled pork.
Some people took their offense (and love) to Twitter:
Dear Wendy's, poutine served with a pulled pork sandwich probably doesn't need additional pulled pork. #WendysHatesAllThatLives

— Eric Trautmann (@mercuryeric) October 8, 2015
I had Wendy's pulled pork BBQ fries the other day and they were the perfect trash food. I may have a future with poutine after all.

— Rizi Pili (@rizipili) October 7, 2015
That pulled pork poutine from Wendy's has got my stomach feeling ways man

— Portista (@MyNameIsEdison) October 6, 2015
Watching the Wendy's pulled pork poutine commercial while doing cardio and I'm not sure if its sweat or a teardrop that dripped down my face

— karie balon (@keepcalmKARIEon) September 15, 2015
facebook keeps showing me a wendy's ad for pulled pork poutine with fucking raw onions on it. it looks absolutely revolting. #doingitwrong

— Sarah (@sarahs0da) October 12, 2015
So why can't we look at this poutine? Is it the onions? The pork? The BBQ sauce? Would you eat it? Let us know in the comments below.
Also on HuffPost