Chinese airlines have some pretty strict requirements for their flight attendants.
Hong Kong Airlines requires them to be martial artists.
China Southern Airlines requires flight crew to have "nice legs, be no older than 24 and be taller than average."
At Kunming Airlines, female flight attendants are forced into the overhead bins in a bizarre hazing ritual.
The Washington Post reports that a "Civil Aviation Tabloid" on the WeChat app has released photos of Kunming Airlines flight attendants lying in the luggage compartments.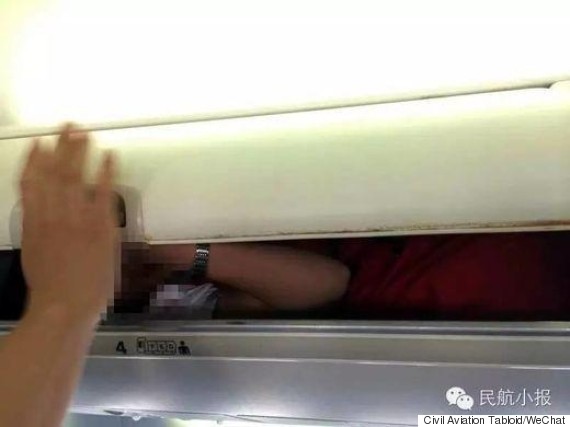 The initiation reportedly happens after the female flight crew complete their first 30 to 50 hours of flight service.
The article says that only women are subjected, by male colleagues, to the hazing ritual. Some of the women have the compartments closed on them.
In a statement, Kungming Airlines said that they were unaware of the hazing and do not approve, the Daily Telegraph reports.
"The company attaches great importance to the incident, the parties will carry out criticism and education, to prevent the recurrence of such incidents," the statement read.
Many flight attendants went through with the hazing because they were afraid of future bullying by staff, Chinese media outlet CCTV News posted to Facebook.
"Multiple stewardesses have consistently filed complaints to the company. However, their request for further investigations was ignored, and the ritual continued to exist for nearly five years."
Notably, the practice of cramming flight crew into overhead luggage bins has become a trend in North America recently.
Also on HuffPost
Airlines With Rudest Flight Attendants