KANSAS CITY, Mo. — Edinson Volquez held Toronto to two hits over six scoreless innings and the Kansas City Royals took their chances for a 5-0 win Friday night over the Blue Jays in Game 1 of the American League Championship Series.
Unlike Game 5 of Toronto's American League Division Series victory over Texas, there was no controversy on this night. And no bat flip or winning blast from Jose Bautista.
Instead the Royals chipped away at the Blue Jays en route to the win, outhitting Toronto 8-3. The free-swinging Jays were shut out just five times during the regular season.
Salvador Perez homered for the Royals on a 12-degree Celsius night before a sellout of 39,753 in picturesque Kauffman Stadium, where fountains danced in the outfield and a sea of Kansas City blue filled the stands.
It was classic Royals baseball. Punish mistakes, spray balls around the big outfield and use team speed to accelerate the offence.
There was more bad news for the Jays when designated hitter Edwin Encarnacion couldn't finish the game after reinjuring his hand during an earlier at-bat. He's listed as day-to-day with a ligament sprain in his left middle finger.
"He's been battling this thing, I don't know how long it's been now," Toronto manager John Gibbons said. "X-rays were negative but it swelled up a little more than we've seen it in the past. So we'll see how he is tomorrow."
Volquez (1-1) struck out five and walked four in a 111-pitch performance highlighted by a memorable sixth inning.
He dug himself a hole in the sixth by opening with back-to-back walks to Josh Donaldson and Bautista, who both worked nine-pitch at bats. But he struck out Encarnacion, induced Chris Colabello to fly out after an eight-pitch at bat, before needing seven deliveries to strike out Tulo Tulowitzki in a 37-pitch inning.
Toronto did not get past second base in the game. Relievers Kelvin Herrera, Ryan Madson and Luke Hochevar held the Jays to one hit over three innings.
How good was the Kansas City bullpen? Herrera threw nine pitches, all strikes, in his one inning.
Madson gave up a single and walk with one in the eighth but escaped further damage.
Jays ace David Price goes against Yordano Ventura in Game 2 Saturday.
Toronto starter Marco Estrada (1-1) led the majors by holding opposition batters to hitting .183 after the all-star break. But Volquez was the stingy one on this night.
The Dominican right-hander limited the Jays to two walks in the first three innings and retired 11 of 13 before Colabello singled with two outs in the fourth. Ryan Goins, with his first hit of the post-season, added a two-out single in the fifth but was also stranded and the Jays trailed 3-0.
Volquez came into the game 0-4 with a 6.46 ERA in his career against the Blue Jays. And he was heavily involved in the team's last meeting, an ill-tempered affair Aug. 2 in Toronto that saw three ejections in a 5-2 Jays' win.
Toronto managed just a Bautista walk in the first inning but made Volquez throw 24 pitches. Things evened up in the second when Volquez needed just six pitches for a 1-2-3 inning.
Both teams got a man on second early - in the first inning for Kansas City and third for Toronto - but could not make anything of it.
But the Royals cashed in when Alex Gordon opened the bottom of the third with a double and, one out later, Alcides Escobar drove him in with another double to right. Escobar moved to third on a groundout and scored on Lorenzo Cain's single.
Cain extended his post-season hit streak to 10 games, one off the franchise record (Amos Otis, 1978-80).
Estrada got two strikeouts in the fourth before Perez hit a 392-foot homer over the left-field wall. It was the third home run of the post-season for the star catcher.
The Royals put men on first and third with one out in the bottom of the sixth after a Donaldson fielding error put Eric Hosmer on and Kendrys Morales singled. That was it for Estrada, who was replaced by Aaron Loup. A slick Goins-Tulowitzki double play ended the threat.
Estrada gave up three runs on six hits with six strikeouts and no walks. He threw 90 pitches, 64 for strikes.
"He was pretty good,'' Gibbons said of his starter. "They battled him up top, Escobar got the big double, Cain had a good at-bat and of course the solo homer by Salvy. But overall he didn't give up a lot of hits.
"Early on I thought he was especially sharp, then he looked like he lost a little bit but he knows how to survive. He kept us in the game but we just got shut out, really."
LaTroy Hawkins hit Escobar to open the eighth but, unlike the game in August, there were no fireworks. Ben Zobrist then got on via an infield hit before Hosmer's double off the wall scored Escobar and Morales' sacrifice fly made it 5-0.
The Royals paid close attention to Bautista, who struck out once and walked three times.
The series matches the American League's top teams, with the Royals (95-67) and Jays (93-69) finishing 1-2 in the standings. The difference came at the close of the regular season when Toronto went 1-4 and Kansas City won five straight.
Both teams showed character in getting to the ALCS.
Against Texas in the ALDS, the Blue Jays became only the third team to win a best-of-five series after losing the first two games at home. The Royals trailed in all five of their ALDS series games against Houston and seemed poised for elimination own 6-2 after seven innings in Game 4, only to rally for a 9-6 win.
The Jays outscored the Royals by 167 runs during the regular season (891 to 724), which is the largest margin ever by one team over its LCS opponent according to Elias Sports.
Toronto won four of seven (3-1 at home & 1-2 on the road) against the Royals in the regular season, outscoring them 39-33.
The last time the two teams met in the playoffs was in the 1985 AL Championship Series, when the Royals rallied from a 3-1 series deficit to win in seven. Kansas City went on to defeat St. Louis for its only World Series title.
The Royals lost 4-3 to San Francisco in the 2014 World Series. The Jays have not been in the championship series since winning it in 1993.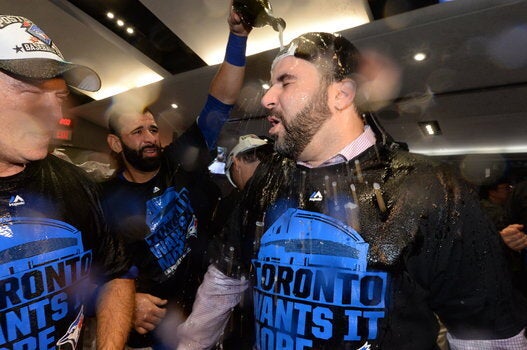 Blue Jays vs. Rangers Game 5