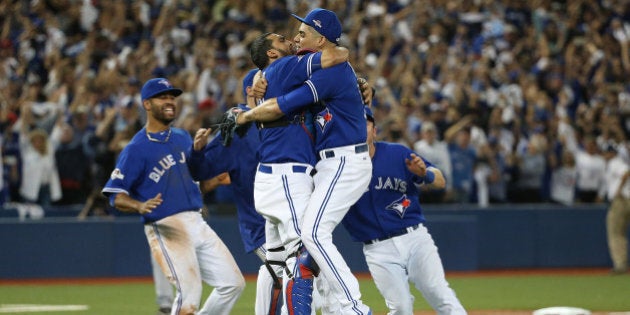 You might think that the Blue Jays' winning streak this year has been good for the economy, as excitement around the team pushes up ticket and sports-bar sales.
But a new note from CIBC World Markets says it's "not likely" that the Jays are doing much for the economy — and they might, in fact, be hurting it.
Presumably, CIBC isn't too concerned about Jays fans taking their business to other banks.
"Sports events that bring in fans from outside a region, including Olympic games or even the Super Bowl, draw in spending that would otherwise not flow to the local economy," economist Avery Shenfeld wrote. "That's much less the case for baseball playoffs, where the bulk of the spending comes from existing residents."
Shenfeld says when it comes to excitement around a winning team, the economics are a zero-sum game. What sports bars make in added revenue, other venues lose. High ratings for broadcast games bring in cash for the broadcaster, but ratings suffer at competing channels.
Finally, Shenfeld suggests one way that the Jays might actually be hurting the economy: People skipping work to go to games.
"Recent games scheduled during working hours may have cut into productivity in Toronto office towers, not to point a finger at anyone I know."
(Here at HuffPost's Toronto office, we too are not pointing any fingers at anyone we know.)
And finally, Shenfeld argues that since no one got a raise just because the Blue Jays are winning, all that spending on the Jays is just eating into people's savings. And that means people will have to spend less on other things.
So there you have it. Jays mania isn't doing anybody any good. Apparently.
Figuring out exactly what the Jays are worth to the economy isn't easy, but here are some indicators:
Blue Jays' annual revenue, as of earlier this year, stood at US$227 million, according to Forbes. Cash collected from ticket sales amounted to $48 million.
Despite the Jays operating in the third-largest city with a major league baseball team, they only rank 22nd among most valuable baseball teams. Their market value is only two-thirds of the MLB team average of US$1.2 billion.
Still, there's one entity for whom the Jays are a major economic benefit: Their owner, Rogers Communications.
And then of course there is the cultural and emotional benefit of having a winning team, which — as Torontonians can avow — might just be priceless.