Kent Hehr/Facebook, Joan Crockatt/Facebook
With only three days to go before the federal election, Calgary Centre is shaping up to be a neck-and-neck race between the Tories and Liberals.
Conservative incumbent Joan Crockatt and Liberal candidate Kent Hehr are statistically tied, according to a poll from Mainstreet Research/Postmedia.
Results show Crockatt trailing slightly behind at 37 per cent, while Hehr leads with 38 per cent of the vote. The margin of error is set at 3.72 per cent.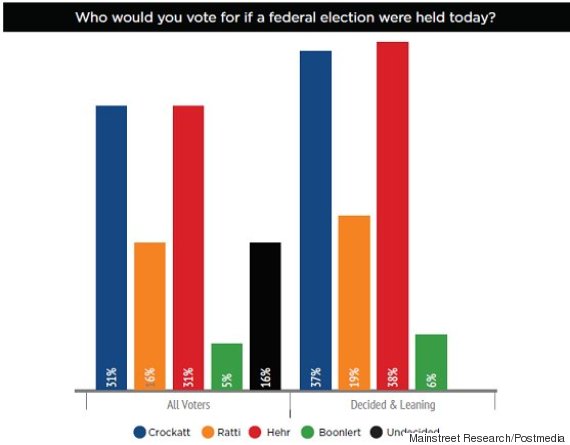 "It's down to the wire in Calgary Centre," said Quito Maggi, President of Mainstreet Research. "This has been the highest profile race of Alberta, but even so, we have a found a deadlock between the Liberals and Conservatives. This is definitely a race to watch on election night."
Lethbridge, St. Albert still Conservative strongholds
While a Liberal upset in Calgary Centre seems to be a possibility, other Postmedia polls say the Tories are still leading in two of the province's biggest cities.
Conservative Rachael Harder has a 51 per cent lead among decided voters in Lethbridge, even though the NDP had high hopes of a win in the southern city after the party's provincial victory.
Saint Albert-Edmonton is also showing a Conservative lead, but it's a slightly more interesting race between Independent candidate Brent Rathgeber and Conservative candidate Michael Cooper.
Cooper is currently in the lead at 43 per cent of the vote, against the former Tory MP's 28 per cent.
The polls surveyed 688 Calgary Centre residents, 657 Lethbridge residents and 681 Saint Albert-Edmonton on Tuesday.
Mainstreet - Alberta Riding Polls
Like Us On Facebook

Follow Us On Twitter
Also on HuffPost:
In Photos: Canada Election 2015