Cleese commented via Twitter Oct. 16, saying: "A wave at my Canadian friends … Could we have another Trudeau please?"
While it may not be technically legal, nothing is stopping the wry advice sent with a tip of Cleese's bowler hat to the ghost of Trudeaumania from clogging Canadian Facebook accounts.
Cleese is not the only celebrity to urge a vote for one party or another.
Barack Obama campaign adviser David Axelrod also tweeted support for Trudeau.
Not everybody was thrilled, with reactions telling him to keep out of Canadian politics.
Earlier in October, U.S. celebrity comic Sarah Silverman waded into Canuck politics, tweeting her support for the NDP's Tom Mulcair. Her outspoken endorsement caused a tempest.
Then there were all the ex-pat celebrities. Pamela Anderson, Wayne Gretzky and Donald Sutherland also endorsed both a party and a candidate.
As for Cleese, his comment spawned many replies to the British icon who is known for his affection for Canada, once calling it "the sanest nation there is."
Cleese never specifies which Trudeau he likes in his tweet, or whether he is serious or just missing the drama of Trudeaumania.
One follower reacts: "Do you mean Maggie?"
Another quotes Pierre Trudeau's iconic line, "Just watch us."
Others decry Cleese's request, saying the current Trudeau is a "twit."​
Perhaps Cleese has some nostalgia over that famous pirouette behind Queen Elizabeth's back, a move that endeared former Prime Minister Pierre Elliott Trudeau to the comedian with a penchant for a good "silly walk."
Liberal Party leader Justin Trudeau has shown up a lot in the British media lately.
The U.K. Independent featured an image of Trudeau in a Habs jersey, noting that he is no Pierre Elliott:
"Observers agree while his intellect and temperament differ from his father's, Mr. Trudeau has inherited the late Prime Minister's grit and determination … His rivals may have realised too late."
Other British media have done an about-turn on the Liberals' prospects.
The Guardian went from headlines three months ago that warned of a bleak future for the Liberals to a piece last week entitled "Will Trudeaumania sweep Canada's Liberals into power?"​
Some see celebrity tweets — especially non-Canadian ones — as potentially illegal.
Section 331 of the Canada Elections Act says:
"No person who does not reside in Canada shall, during an election period, in any way induce electors to vote or refrain from voting or vote or refrain from voting for a particular candidate."
But, according to legal experts, this rule is not usually enforced, and it is difficult to claw back a tweet in the new digital world.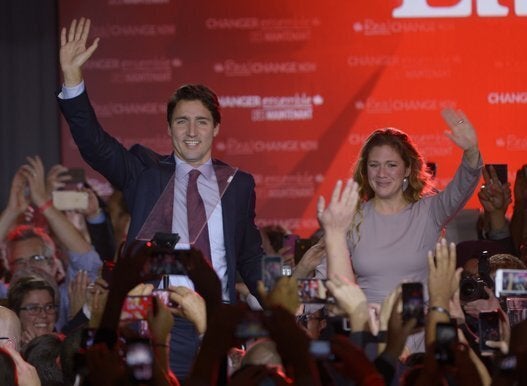 In Photos: Canada Election 2015