Outing occurs when someone's gender or sexual identity is disclosed without their consent, which in the case of the voter cards resulted in individuals having to reveal they are trans to election officers, also putting them at risk of being outed to others, a situation that activists say can be painful, embarrassing, and potentially dangerous if the person is not living in a supportive community.
The error brought into focus some of the serious systemic challenges trans Canadians face. Although limited, the studies that have been done on trans Canadians find that a majority are experiencing multiple crises in health-care barriers, harassment, assault, homelessness, and poverty at higher rates than average.
Ontario, Saskatchewan, Nova Scotia, Prince Edward Island, Newfoundland and Labrador, and the Northwest Territories amended their human rights legislation to protect trans citizens. But national legislation meant to protect trans Canadians has been thwarted in the election year.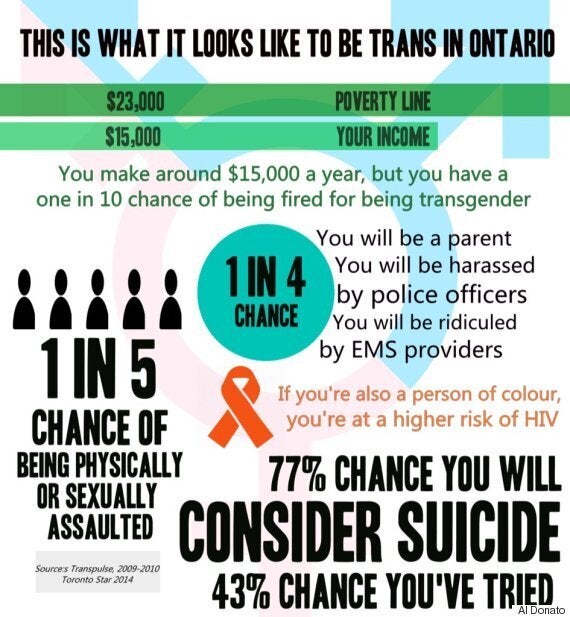 Bill C-279, also known as the Gender Identity Bill and disparagingly nicknamed the "Bathroom Bill," was a private member's bill sponsored by NDP MP Randall Garrison. The bill would have changed the Human Rights Act and the Criminal Code to prohibit gender identity and expression as grounds for discrimination, protecting trans Canadians from hate crimes.
In June, the Senate delayed debate on C-279 and allowed the bill to die in the upper chamber, a turn of events that contrasted sharply with the increasing awareness of transgender issues this year; in July, Caitlyn Jenner's debut on the cover of Vanity Fair marked a high point for trans visibility in mainstream culture.
And yet, on the campaign trail, trans issues have had minimal airtime in general.
During a town hall with VICE and when confronted on the lack of platforming for transgender access to health care, Liberal party Leader Justin Trudeau did state his support for trans rights, saying the Liberals will "take on the kind of leadership that is needed from the federal government around health care, and trans rights will certainly be part of that."
NDP Leader Thomas Mulcair went public with his own statement on transgender health care, six days before voting day Oct. 19, saying he would provide federal leadership on the issue of access. "It's not a provincial issue any more than abortion is a strictly provincial issue," he said.
We asked transgender Canadians from across the country their perspectives on the federal election, and what issues were important to them: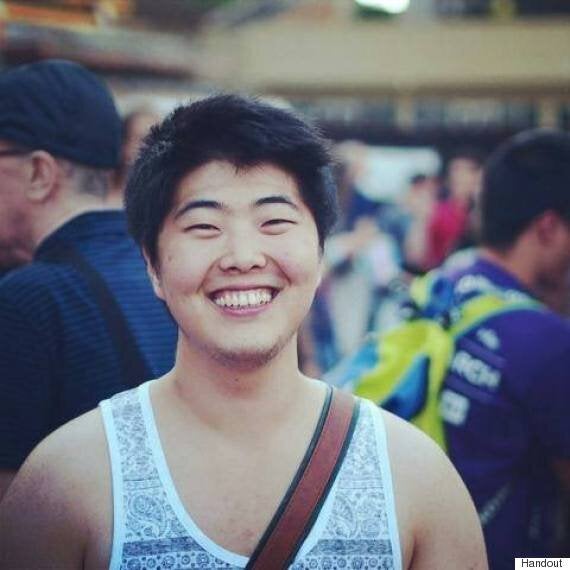 Euan Hwang, 26, immigrated from South Korea to Canada 15 years ago. He is a youth program coordinator at Asian Community AIDS Services (ACAS) in Toronto. [Full disclosure: the writer is a member of ACAS' youth program.]
I feel like none of the current political parties reflect my visions. I feel like none of the political parties are truly interested and invested in the health and well-being of trans Canadians. Even if they have come up with promises, I feel like none of them are feasible promises, but only gestures to get more votes.
What are the most important issues for trans and gender non-conforming Canadians?
Personally, the forgotten issue in the community is the procedure that immigrants/permanent residents/refugees have to go through in order to change their legal documents. There is only a clear instruction for people who are born here, so people who are born outside of Canada are placed in a weird service gap.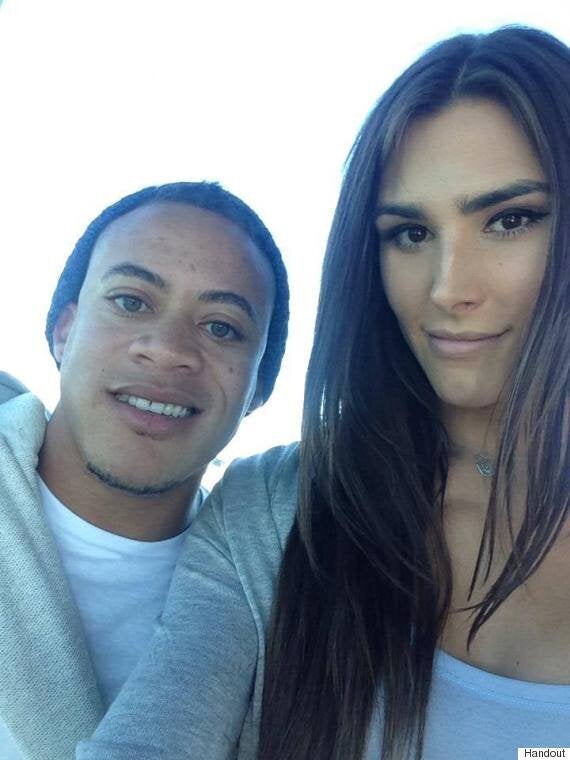 Pina Newman, 26, (shown above, right) is a nursing student from Winnipeg. She works as a support group facilitator in Toronto.
What are the most important issues for trans and gender non-conforming Canadians?
As someone working in health care, I am of the stance that access and equality in health care are vital to trans Canadians. This includes social supports such as supportive housing, equality for those with disabilities, supporting mental health, and less financial burden with regards to medical transition. However, I think employment is also a crucial issue faced by trans people. Our unemployment rate is astronomical and we need to know our rights are being reinforced but also need to know we will be able to get jobs regardless of our identities and expressions. Trans people disproportionately live in poverty and all of the above and more plays into that statistic.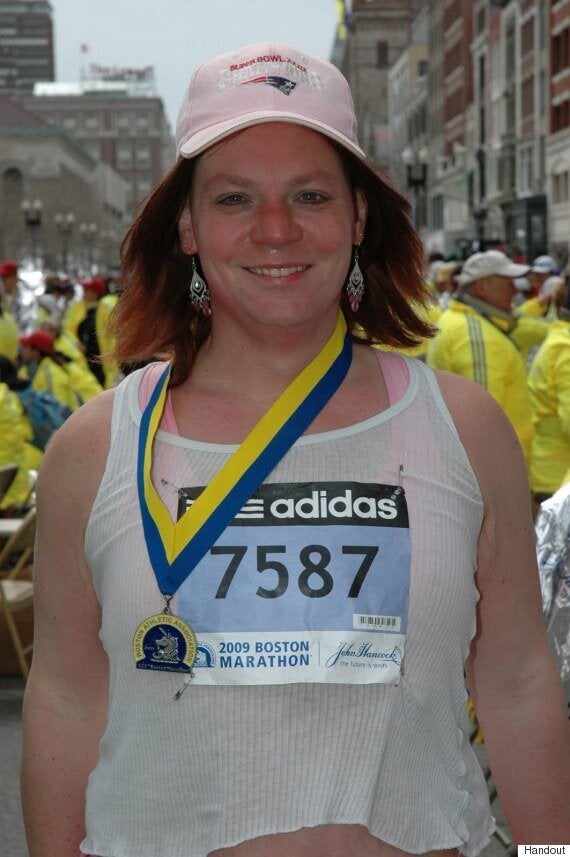 Jennifer McCreath is the Strength With Democracy candidate in Avalon, N.L. A former NDP supporter, she says she left the party because of how it approached Bill-C279.
I'm seeing lots of Newfoundlanders forced to work in St. John's. I've never seen so many for sale signs and empty houses, it's kind of sad. I want to help these small towns keep afloat. There's definitely some personal reason and excitement to get involved with politics because of my classification as a trans woman, someone who's transitioned. It's an opportunity to help get us on the map. There's still a lot of myths and misinformation about what trans people are all about.
Why did you leave the NDP?
When it got time to bring in subject matter experts to testify at the committee meetings, in my opinion their focus was on trying to get a bill passed. They didn't care what the bill said, they were willing to change the wording take out gender expression, throw in definitions and loopholes... they were not bringing in respected trans activists from across the country, they were bringing in gay [and] lesbian activists from Toronto and Ottawa.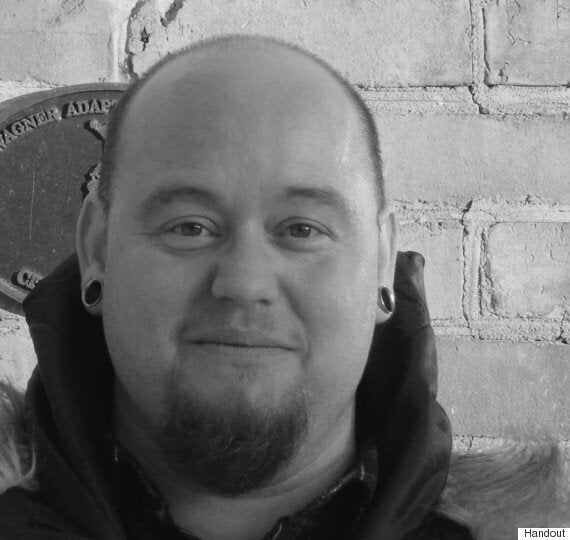 Wesley Austin is from Kitchener, Ont. and works customer service for an insurance company.
In general I lean to the left, though on many issues I have a strong conservative bent. There is no party I can even think of that would be even remotely mediocre at catering to trans Canadians. I have no intention of voting in this election. I cannot, in good conscience, support a system that encourages toddler-style name calling and finger pointing and is structured as an oligarchy that's masquerading as a democracy.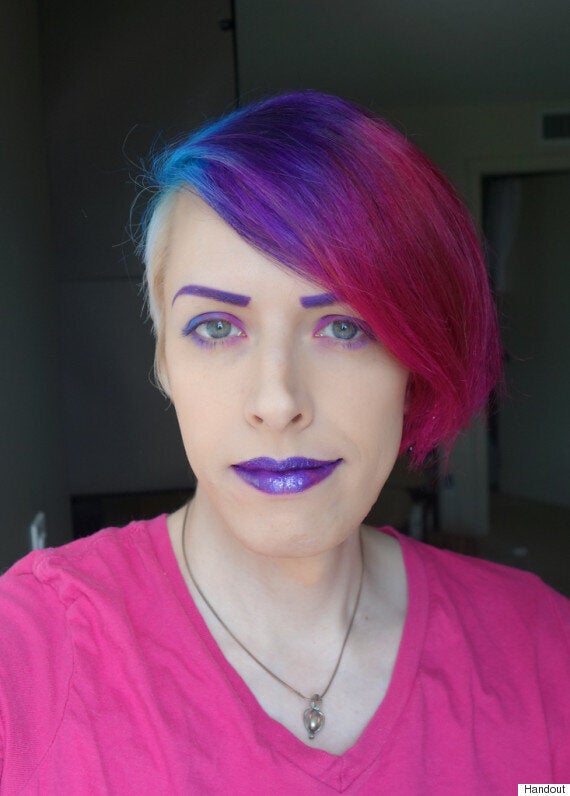 Aria Ehren is a community activist in Calgary, Alta. She started Voting While Trans, a non-partisan website which provides resources to aid trans Canadians reach and participate at polling stations.
Why did you decide to start Voting While Trans?
I saw there was a lack of resources for trans voters, especially with the new election laws that were put in to prevent vouching and restrict the forms of identification that could be used. For trans people, identification is more complicated than for many others.
Is there a federal party out there right now that best serves trans Canadians?
I would say in my personal opinion, both the Liberals and NDP are pushing forward quite well for trans rights. NDP perhaps a little more than the Liberals in terms of inclusion of trans people in their formal platform, but I think either of the two progressive options.
In your community, are your friends politically active?
Many are, by necessity. For those of us who can afford to be out… I feel that personally, I have a responsibility to be vocal and active. If we don't do it, others won't do it for us.
Gender Mosaic is a social and support group for trans Canadians, based in Ottawa. We spoke to Amanda Ryan, the outreach committee chair and a 63-year-old trans woman.
What are the most important issues to you?
Personally, I am a one issue voter this year. I have been appalled by the way the prime minister has allowed, if not encouraged, his MPs and Senators to block or derail the Gender Identity Bill. In four and a half years, this bill never made it to a vote in the Senate at third reading. This is undemocratic, un-Canadian and unconscionable. All we wanted was for the bill to get to a vote. There was enough support all the way through the Parliamentary system to pass the bill. Including Conservative support. I have completely lost trust in Prime Minister Harper. Not even the prime minister of this country should be able to dictate Canadian law.
"Kent" is a 27 year-old man who identifies as (dis)abled and transsexual. He lives in Nova Scotia and works in education. Out of concern for his safety, he went by an alias.
Will you be voting in this election?
Despite having changed my name many years ago (and filing taxes under my current name), I received a voter card under my birth name. Having to go through a process where I am required to disclose my trans status to strangers is traumatizing, especially when it is on top of the daily experiences of transphobia and cissexism on an interpersonal and systems level. If there is a day when I feel up for subjecting myself to that, I will fix my registration. Otherwise, I will not be able to vote.
With files from Lisa Yeung
CORRECTION - Oct. 18, 2015: A previous version of this story misidentified Jennifer McCreath as a former NDP candidate. She was a party supporter. This version has been corrected.