Courtesy Rudsak
Evik Asatoorian thinks Metric's Emily Haines is the "Depeche Mode of today's world."
That's why the Rudsak creative director and designer, who often cites the popular '80s band as one of his biggest inspirations for the brand, chose the Canadian songstress to collaborate on a limited-edition leather jacket for spring/summer 2016. The coat will be unveiled at Rudsak's show during World MasterCard Fashion Week this week, and will be available for purchase starting March 2016.
To kick off the collaboration, Haines also designed four custom pieces for four lucky fans to win in September, all of which are the perfect blend of the Canadian brand's rebel aesthetic, with Emily's indie touch.
Featuring lyrics from Metric's new album, "Pagans in Vegas," scribbled on the back, artwork representing each band member and a snakeskin leather collar for that extra pop, the jacket is badass, cool, and one-of-a-kind, just like Haines and Rudsak.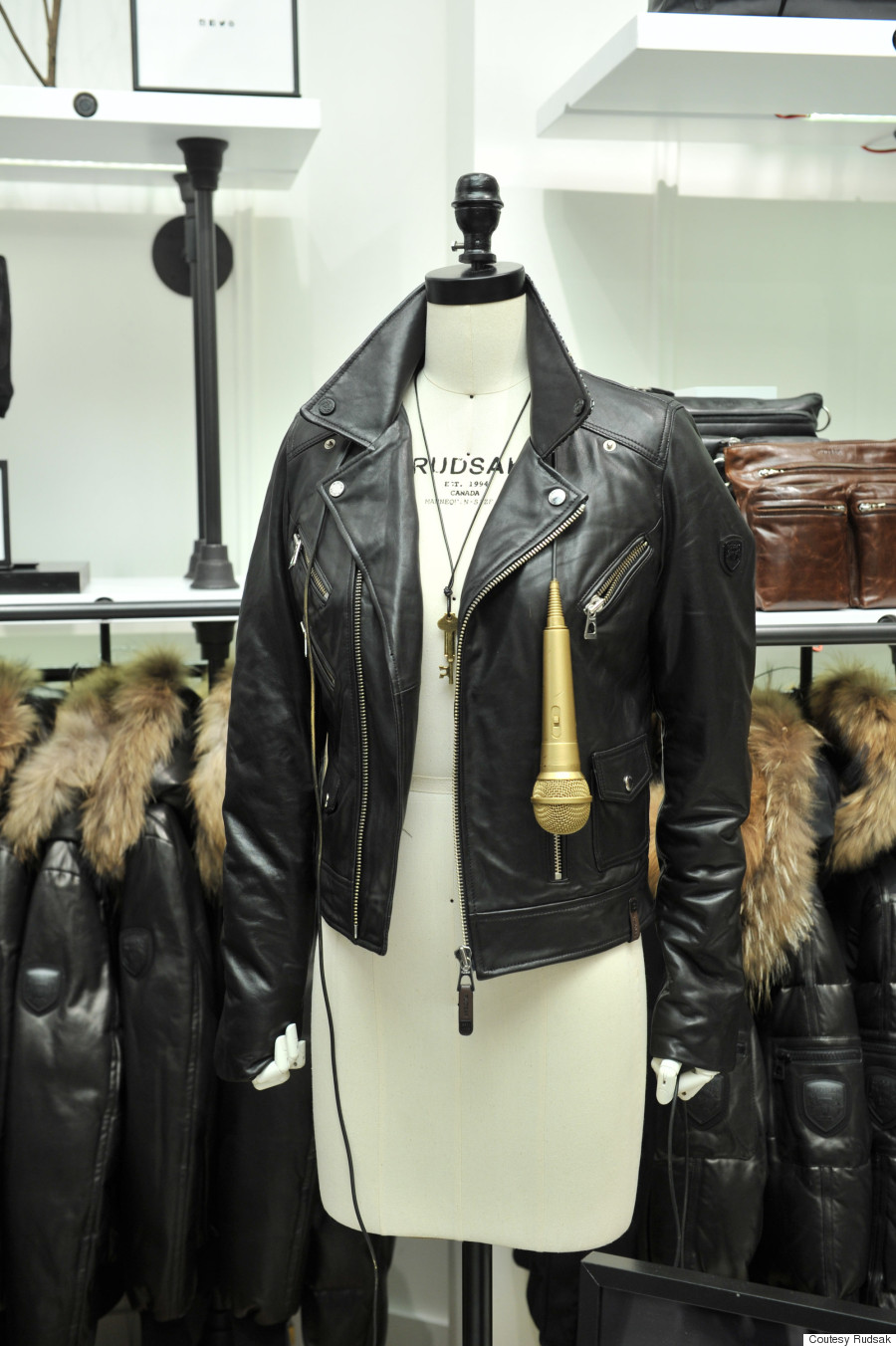 "She's so naturally perfect for what we wanted to do," Asatoorian tells us during the media event for the jacket in Toronto. "We were looking for an iconic image of a girl who has that rebel, cool factor and all that, and who can wear a garment to perfection. So it was a no-brainer."
Emily found the collaboration with the Montreal-based brand to be "really natural."
"I don't have a normal career where there's things I have to do, I just kind of can do what I want, so I say no to a lot of things, but this one, it just felt really good," she tells us. "As soon as I started looking at the ethos behind the products they're making, just craftsmanship and timelessness, I knew those were the things I'm into. And the design team is just really intuitive and let me run with it."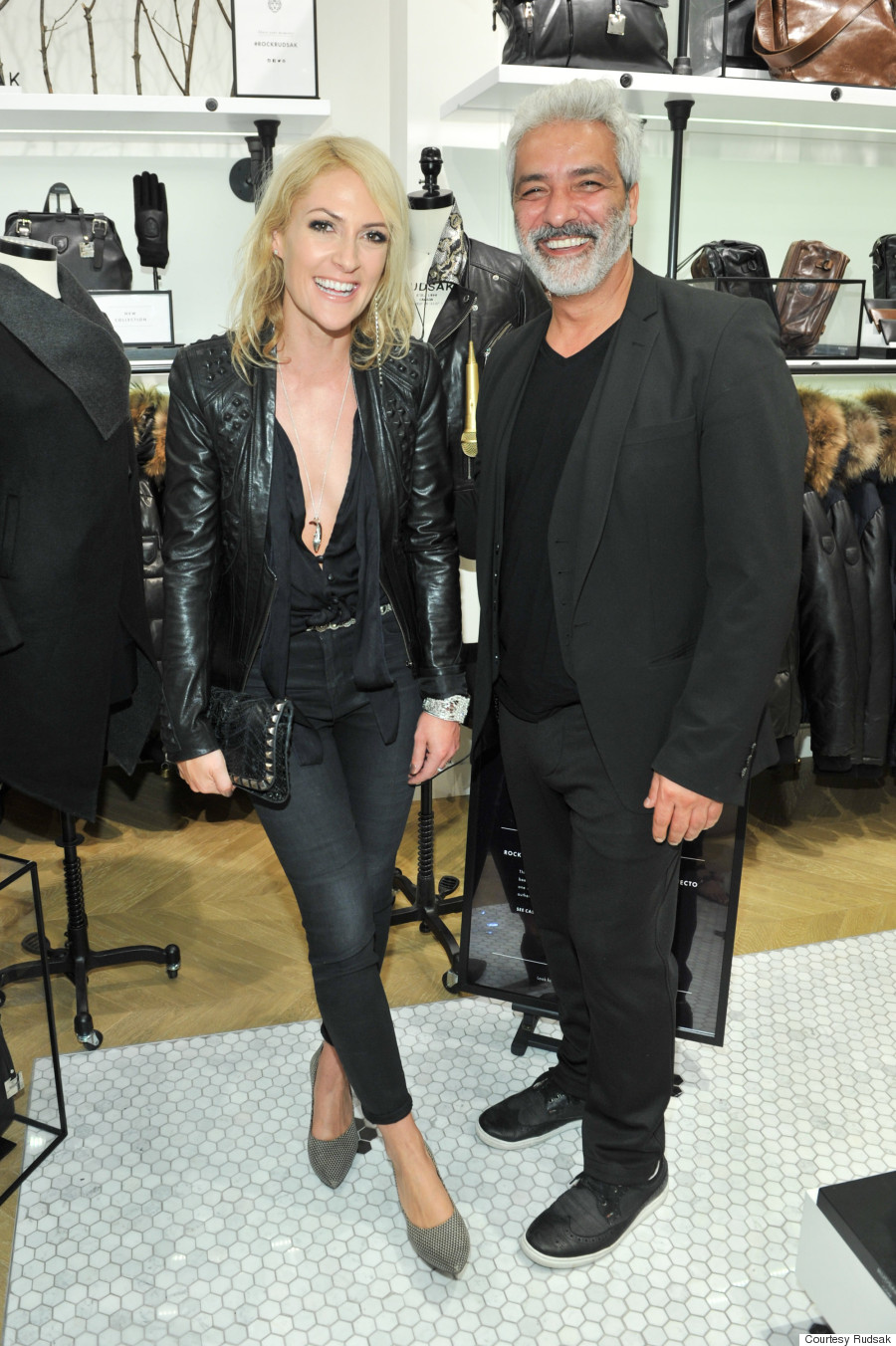 And the jacket is not only stylish, but it's practical, too.
"It's the kind of jacket that has enough elegance that you can carry it, even when it's cold out," she explains. "It has quilted lining, so you can wear it out and not be the person who's an idiot shivering in stilettos and a leather jacket."
When I admit that I have definitely had one of those "idiot" moments, Emily reassures me she has too.
"But I'm like, 'No more!'" she exclaims. "Like the high shoes? No problem, as long as they're comfortable. But NOT shivering."
Emily also excitedly points out the one part of the jacket that she believes "is gonna make every woman everywhere love me": an inner pocket.
Sadly, it's not in the model being shown during the event, to which Emily admits, "I got really upset, but I didn't want to have a tantrum. I keep talking up this pocket but it's not there!!"
(The PR rep assures us it will be on the finished product.)
But it's those little details -- the inner pocket, the snakeskin popped collar, that make the jacket really stand out.
"It's that ethereal thing of finding a something, a detail, to make it special, but making sure it doesn't then overshadow the person that's wearing it," Emily says. "It should be you. It's all about you."
And Evik has a similar mantra when it comes to the woman wearing his clothes.
"I'm a backstage guy -- I love designing, and nothing gives me more happiness when I see a girl wearing [my designs]. If she's enjoying it, and she's confident, then I'm like 'Okay, job well done.'"
We say in this case, job well done, indeed.
Follow Huffington Post Canada Style on Pinterest, Facebook and Twitter!
Also on HuffPost