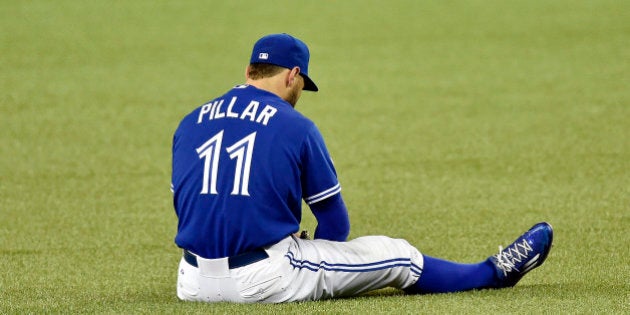 TORONTO — A dream season for the Blue Jays could end short of its destination Wednesday, with Toronto once again on the verge of post-season elimination.
Ben Zobrist and Alex Rios homered as Kansas City roughed up Toronto starter R.A. Dickey early and a depleted bullpen late en route to a lopsided 14-2 victory Tuesday that pushed the Blue Jays to the playoff precipice.
The Royals lead the best-of-seven American League Championship Series 3-1, meaning Toronto now faces its fourth must-win game of the post-season.
Game 5 goes Wednesday at the Rogers Centre with Toronto's Marco Estrada facing Edinson Volquez in a rematch of Game 1 at Kauffman Stadium.
"We'll be fine (Wednesday) if we get a good outing by Marco. We expect to," Toronto manager John Gibbons said hopefully.
"And it was ugly today, no doubt about that. That's all I can say."
How ugly? Their bullpen in tatters, the Jays sent in infielder Cliff Pennington to pitch with two outs and two one in the ninth.
Pennington, who pitched in college, gave up two runs on back-to-back singles in a seven-pitch cameo before Russell Martin saved him with a foul catch at the Jays dugout.
The Rogers Centre crowd of 49,501 had little to cheer about. Pennington offered welcome relief, albeit while adding to the smackdown. He arrived to an ovation that grew louder with a 90 m.p.h first strike.
Pennington is the first position player to pitch in a post-season game, according to Sportsnet Stats and ESPN Stats.
"Trying to save an arm down there," said Pennington, who talked with Gibbons talking in the eighth about pitching. "We've got to win three in a row and we need everybody healthy and fresh for (Wednesday). Figured I'd try and go in there and help."
With the game a lost cause, Gibbons tried to keep Mark Lowe, Aaron Sanchez and Roberto Osuna - his top three relievers - out of the fray to fight another day. But he had to use Lowe for an inning.
The 14 runs allowed matched the Jays' post-season record for most runs against them, a mark set 22 years to the day in a 15-14 win over the Phillies in the 1993 World Series.
The World Series is where these Jays seemed headed after a remarkable second-half surge.
The Jays strutted their way into the playoffs after a 22-year absence, an offensive juggernaut that topped the majors in runs and home runs among other categories.
But the bats have gone quiet and the bullpen has been suspect outside Lowe, Sanchez and Osuna.
After reloading in the off-season by acquiring Martin and Josh Donaldson, GM Alex Anthopoulos rolled the dice in acquiring David Price, Troy Tulowitzki, Ben Revere and Lowe at the trade deadline.
The Royals pitchers have shut down the free-swinging Toronto bats in three of four games. The Jays, who led the majors with 891 runs in the regular season, have scored zero, three, 11 and two against Kansas City.
The Jays slugged 232 homers during the season. While they homered three times in Monday's 11-8 win, they have failed to find the fences in the other three games.
And while the Royals homered twice off Dickey, it has largely been death by a thousand cuts for the Jays. Kansas City scored four of its runs off sacrifice flies Tusday and has filled the bases with runners, finding a myriad of ways to bring them home.
The opportunistic Royals went 8-for-11 with runners in scoring position. Toronto was 1-for-6.
"Defensively we played well. Offensively we played even better," said Rios.
The Jays, who rallied from an 0-2 hole to down Texas in the best-of-five ALDS, are trying to become just the third team to overcome multiple 0-2 deficits in a single post-season, according to Elias Sports. The Dodgers (1981) and Royals (1985 when they trailed the Blue Jays in the ALCS) both did it.
They have their work cut out for them, needing to win three straight. There is no margin of error.
"Right now it's win or go home,'' said Martin. "I don't feel like going home yet so we might as well just win three in a row and get to the World Series.''
Added Dickey: "We've been here before, where we've had to win three games. Hopefully (Wednesday) Marco can keep us in it. Win one, win another one and we'll see where we stand."
Estrada has thrown the Jays a lifeline once already, keeping them alive with a win in Game 3 of the ALDS in Texas.
Dickey lasted five outs, with Kansas City was up 5-0 when he left after dispatching just five of the 12 batters he faced in the shortest start in Jays' playoff history.
The first four Royals got on base and ultimately scored, including Zobrist who hit a two-run homer. The four runs in the top of the first were an ALCS record, with Rios adding a solo shot off Dickey in the second.
Martin said Dickey didn't do anything out of the ordinary. The Royals just had some good swings
"I had a hard time catching it, so it was dancing around pretty good," he said. "The thing with a knuckleball is if you throw one that doesn't do enough, it can be a home run."
Liam Hendriks stemmed the flow with 4 1/3 innings of sparking shutout relief. Then LaTroy Hawkins and Ryan Tepera went up in flames, giving up seven runs in 1 2/3 innings.
Lowe gave up another two in one inning.
Kansas City scored four insurance runs in the seventh, sending eight to the plate. There were three more runs in the eighth as Gibbons watched another eight Royals hit.
In contrast, Royals relievers Luke Hochevar, Ryan Madson, Kelvin Herrera and Franklin Morales blanked the Jays.
An they have more in reserve, in the form of Wade Davis and Danny Duffy.
"We feel good," said manager Ned Yost. "We like the way we're playing right now. Our offence has been really, really good. We have Volquez coming back tomorrow, our defence is always spectacular, and our bullpen is primed to go tomorrow, too."
With left-hander Aaron Loup called away during the game due to a family matter, Gibbons ran out of pitchers. Hence Pennington.
"We were in a bind," he said.
Dickey was the first knuckleballer to start an ALCS game since Boston's Tim Wakefield in 2008. The last knuckleballer to win an ALCS game was Wakefield in 2003.
Toronto was counting on the former Cy Young winner to befuddle the Royals with his dancing pitch.
Instead they couldn't wait to get to the plate.
The Jays got two runs back in the third, backed by Hendriks' terrific outing in relief of Dickey.
While Dickey struggled, Chris Young got the job done for the Royals in his first post-season start since 2006 with the Padres. The six-foot-10 255-pounder was working on 12 days of rest, having worked four innings out of the bullpen in Game 1 of the ALDS.
He worked 4 2/3 innings, giving up two runs on three hits. He had two walks and four strikeouts in a 78-pitch outing before giving way to the Royals excellent bullpen.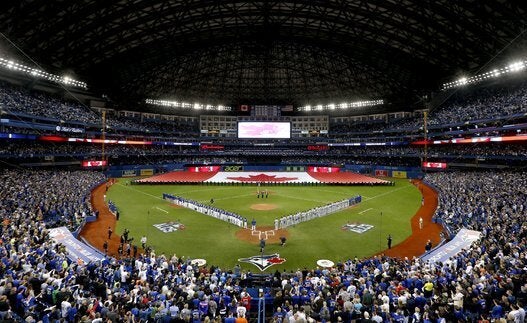 Blue Jays ALCS 2015 Game 3