"They say necessity is the mother of invention! We had the loft beds already, but they weren't being used since the kids were sleeping on our floor. So we tried fitting them all in the same room and making it look like one bed," Boyce told A Plus.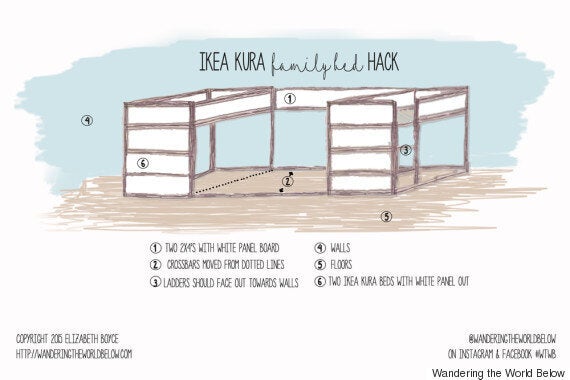 On her blog "Wandering the World Below," Boyce posted a tutorial of her family's super bed and shared a photo showing the different sections and sleeping arrangements.
By attaching a headboard to two Ikea Kura beds, Boyce was able to create two bunk beds on either side of her and her husband's king mattress. This is where her four oldest kids – Zach, 11, Izzy, 9, Ben, 7, and Owen, 3 – now sleep. Her youngest, one-year-old Elijah, then sleeps in the middle bed with mom and dad.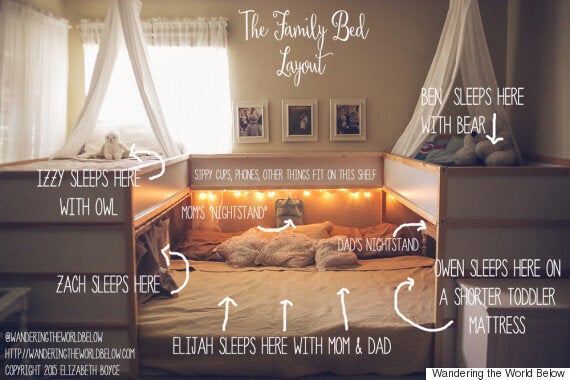 Since revealing her family's new sleeping arrangement on Facebook, Boyce's bed hack has been viewed over 30,000 times. However, Boyce has received a number of questions regarding her and her husband's decision to co-sleep.
The mom-of-five then took to her blog to explain that all it really came down to was sleep: "We just needed sleep. Tom is disabled and is often sick or needs care at night. I was up helping him, nursing a baby, putting kids back into their own beds, soothing a toddler woken by other kids... it was a mess!"
Since the family created the new bed, dad Tom told People that the kids are "having a blast."
"I don't expect this to be a long term solution but it's what works for us right now," he said. "And everybody is getting the rest they need, so we're going to run with it."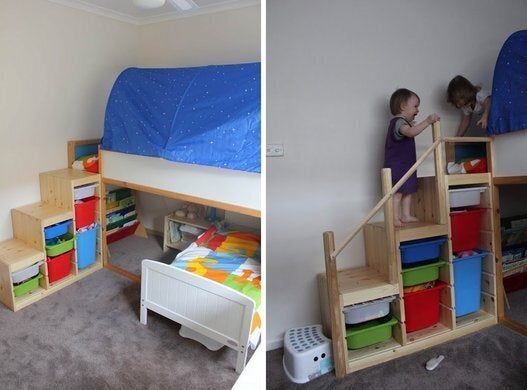 Ikea Hacks For Toddler Beds