Roughly a year ago, the parliamentary secretary to the prime minister rose in the House of Commons — and started crying.
Paul Calandra, a member of Parliament since 2008, was often called upon to field inquiries on behalf of Stephen Harper in question period. Calandra quickly built a reputation for attacks and obfuscation.
In a few memorable moments, for example, he talked about his daughters' lemonade stand, flowers, Santa Claus, and his father's old pizza shop rather than answering questions from those on the Opposition benches.
In the eyes of some paying attention, Calandra made question period seem like a pointless exercise. But there was one key moment where he seemingly went too far.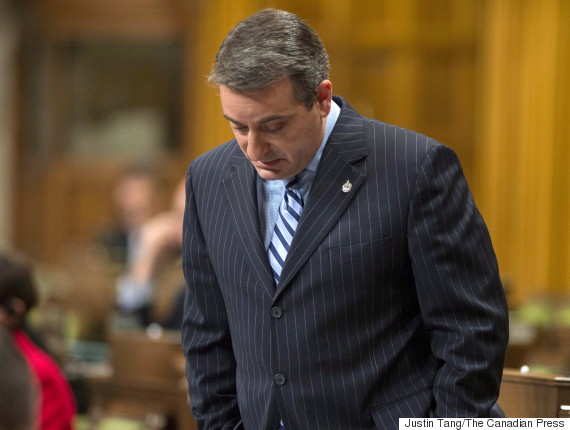 Paul Calandra speaks in the House of Commons. (Photo: Justin Tang/CP)
Last September, Calandra replied to a question from NDP Leader Thomas Mulcair on Canada's mission in Iraq with a bizarre non-sequitur about Israel, essentially accusing New Democrats of not supporting the Jewish state.
Though he initially defended his remarks online and on TV, Calandra offered a tearful mea culpa days later.
"I would like to unconditionally and unreservedly apologize to this House for my behaviour the other day," he said, choking up.
On Monday night, Calandra was defeated in the Ontario riding of Markham-Stouffville. Liberal Jane Philpott, a physician, bested him by roughly 4,000 votes.
Former Liberal leader Stephane Dion campaigned with Philpott and dubbed Calandra a symbol of Canada's damaged democracy, according to the Your York Region news website. The Tory incumbent fired back by accusing Philpott of running a "nasty and malicious" campaign.
And while the defeat of high-profile cabinet ministers like Joe Oliver, Chris Alexander, Julian Fantino, and Leona Aglukkaq sparked plenty of headlines, a handful of other controversial Tory backbenchers also went down in defeat.
Here are a few names readers may recognize:
John Williamson, New Brunswick Southwest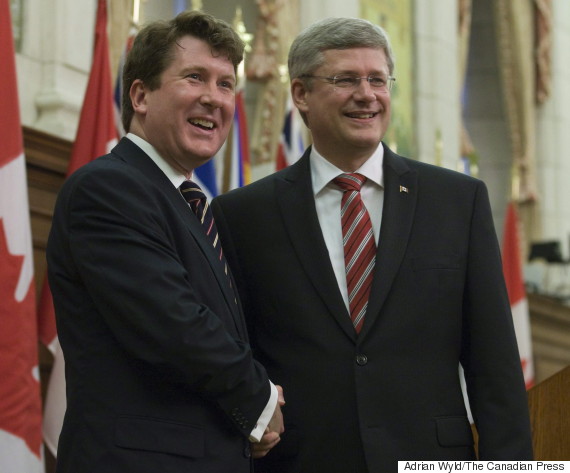 Stephen Harper welcomes new MP John Williamson at the start of caucus meetings in 2011. (Photo: Adrian Wyld/CP)
John Williamson, who previously served as Harper's director of communications, was first elected in 2011. He lost Monday to Liberal Karen Ludwig by almost 2,000 votes as Grits swept Atlantic Canada in a crimson wave.
While perhaps not a household name, Williamson sparked major controversy last March while discussing the temporary foreign workers program at a conservative conference in Ottawa. He told delegates it made no sense to pay "whities" to stay home while companies bring in "brown people" to work.
Though he apologized on Twitter, Williamson resisted calls to do the same in a House of Commons speech. At least two of his Conservative colleagues publicly blasted him for the remarks.
Though the Liberals called on Harper to expel Williamson from his caucus, the Tory leader dug in and rode out the storm. Mulcair blasted Harper during leaders' debates for allowing Williamson to run again.
The New Brunswick legislature passed a motion condemning Williamson's "demeaning" comments.
Brad Butt, Mississauga -Streetsville
Stephen Harper and Brad Butt participate in a roundtable discussion at a Mississauga Canadian Tire. (Photo: Chris Young/CP)
Brad Butt, first elected in 2011, went down in defeat to Liberal Gagan Sikand by more than 4,000 votes.
Butt is perhaps best known for claiming in the House last year that he personally witnessed voter ID cards being collected from garbage cans and used by scammers. Weeks later, he rose in the House to say that those comments — made during a debate on the controversial Fair Elections Act — weren't truthful.
"I made a statement in the House during the debate that is not accurate, and I just want to reflect the fact that I have not personally witnessed individuals retrieving voter notification cards from the garbage cans or from the mailbox areas of apartment buildings," he said at the time.
CBC comedian Rick Mercer blasted Butt in a memorable rant for "lying" about voter fraud.
Butt also raised eyebrows during the campaign with an interview in which he used Mulcair as an example of a Canadian who could theoretically be deported under controversial changes to the Citizenship Act.
Butt told Tag TV the NDP leader, who is a dual Canadian and French citizen, could have his citizenship revoked if he "committed some act of treason or something."
Mark Adler, York Centre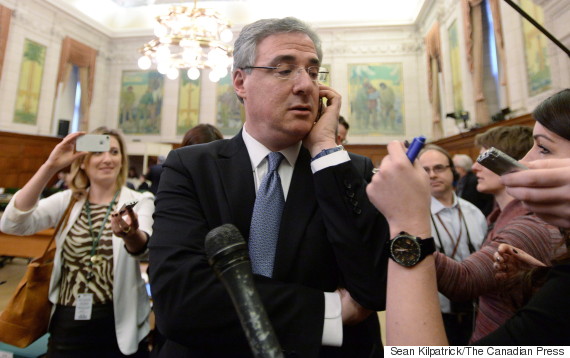 Mark Adler is followed by journalists as he leaves a commons privacy and ethics committee. (Photo: Sean Kilpatrick/CP)
Liberal Michael Levitt unseated Mark Adler by less than 2,000 votes in the Toronto riding of York Centre.
Adler, first elected in 2011, was famously caught on camera pleading to get in a photo with Harper at the Western Wall in Jerusalem during the Conservative leader's trip to Israel in 2014.
"It's the re-election! This is the million dollar shot," Adler could be heard saying to Harper aide. Though Adler said he was just joking around, the incident proved embarrassing for him.
At the start of the campaign in August, Adler raised eyebrows with campaign signs noting he was the "son of a Holocaust survivor." He later dropped the reference in his campaign materials.
But former Liberal MP Raymonde Folco also took exception to Adler's assertion on his campaign website and other materials that he was "first child of a Holocaust survivor to ever be elected as an MP."
Folco, an MP from 1997 to 2011, told The Canadian Jewish News that she was actually the first child of a Holocaust survivor to be elected as an MP.
Folco called it "disgusting" that Adler would "use the Holocaust in this way, for personal ends."
Lawrence Toet, Elmwood-Transcona
Lawrence Toet, first elected in the Manitoba riding of Elmwood-Transcona four years ago, was defeated by New Democrat Daniel Blaikie in a nail-biter — just 51 votes separated the two.
Toet made national news last March with a taxpayer-funded mailout dealing with Bill C-51, the government's controversial anti-terror legislation.
Toet invited constituents to take a survey on the issue, but the options left little middle ground.
Recipients could either check a box saying they agreed with Toet that "additional action" is needed to combat terrorism, or one saying they disagree, as "terrorists are victims too."
Mulcair called the mailout an example of the "ludicrous, divisive approach" of the Harper government.
Joyce Bateman, Winnipeg South Centre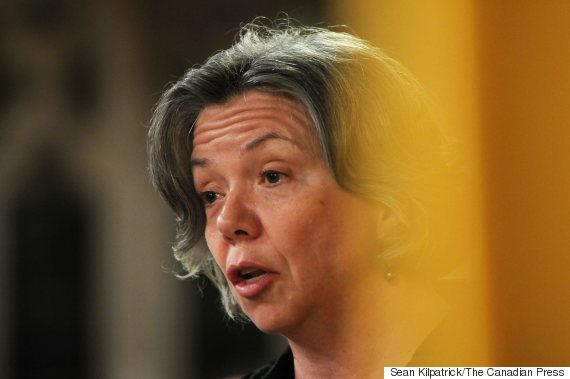 Joyce Bateman responds to a question during question period (Photo: Sean Kilpatrick/CP)
Joyce Bateman, first elected in 2011, was beaten in a rout by Liberal Jim Carr, who took nearly 60 per cent of the vote.
Bateman sparked controversy weeks ago at a debate, hosted by Jewish advocacy group B'nai Brith, when she rhymed off a list of Liberal candidates and volunteers she identified as anti-Israel. Among them: Andrew Leslie, the retired Canadian Forces lieutenant-general who commanded troops during the war in Afghanistan.
The moment sparked jeers and chants of "shame."
Leslie, a star Liberal recruit, was elected in the Ottawa riding of Orleans. He took out Tory incumbent Royal Galipeau.
* * *
At least two other Tories who sparked controversy did not face repercussions at the ballot box.
Larry Miller, Bruce-Grey-Owen Sound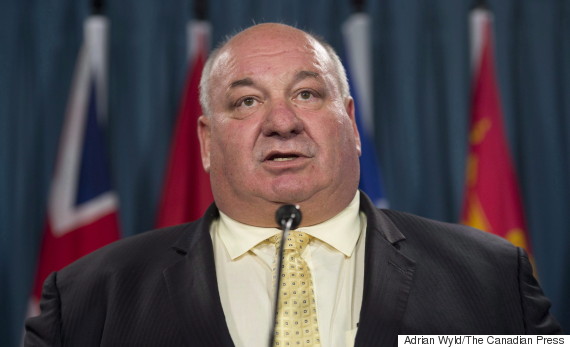 Larry Miller speaks to media. (Photo: Adrian Wyld/CP)
Larry Miller, first elected in 2004, was re-elected with almost 5,000 votes despite contentious remarks he made about the niqab face veil last March.
Miller apologized for stating on the radio that Muslim women who do not want to remove the face-covering veil while taking the oath of citizenship should "stay the hell where you came from."
Miller was discussing the Harper government's appeal of a Federal Court ruling that overturned a ban on the wearing of the niqab during citizenship ceremonies.
"I'm so sick and tired of people wanting to come here because they know it's a good country and they want to change things before they even really officially become a Canadian," he said at the time.
Miller later issued a statement acknowledging his remarks as "inappropriate," but made it clear he stood by the view that anyone sworn in as a new citizen should reveal their face.
"However, I apologize for and retract my comments that went beyond this," he said.
The Prime Minister's Office also released a statement saying the opinions Miller expressed went beyond the government's "clear position."
Mulcair used the incident as fodder for an attack on Harper at the first federal leaders' debate in August.
"(Harper) has a backbencher who said that Muslim women should get the hell back where they came from, and he's about to sign that person's nomination papers," Mulcair said at the time. "I find that reprehensible and beneath the dignity of a Canadian prime minister."
Bob Zimmer, Prince George-Peace River-Northern Rockies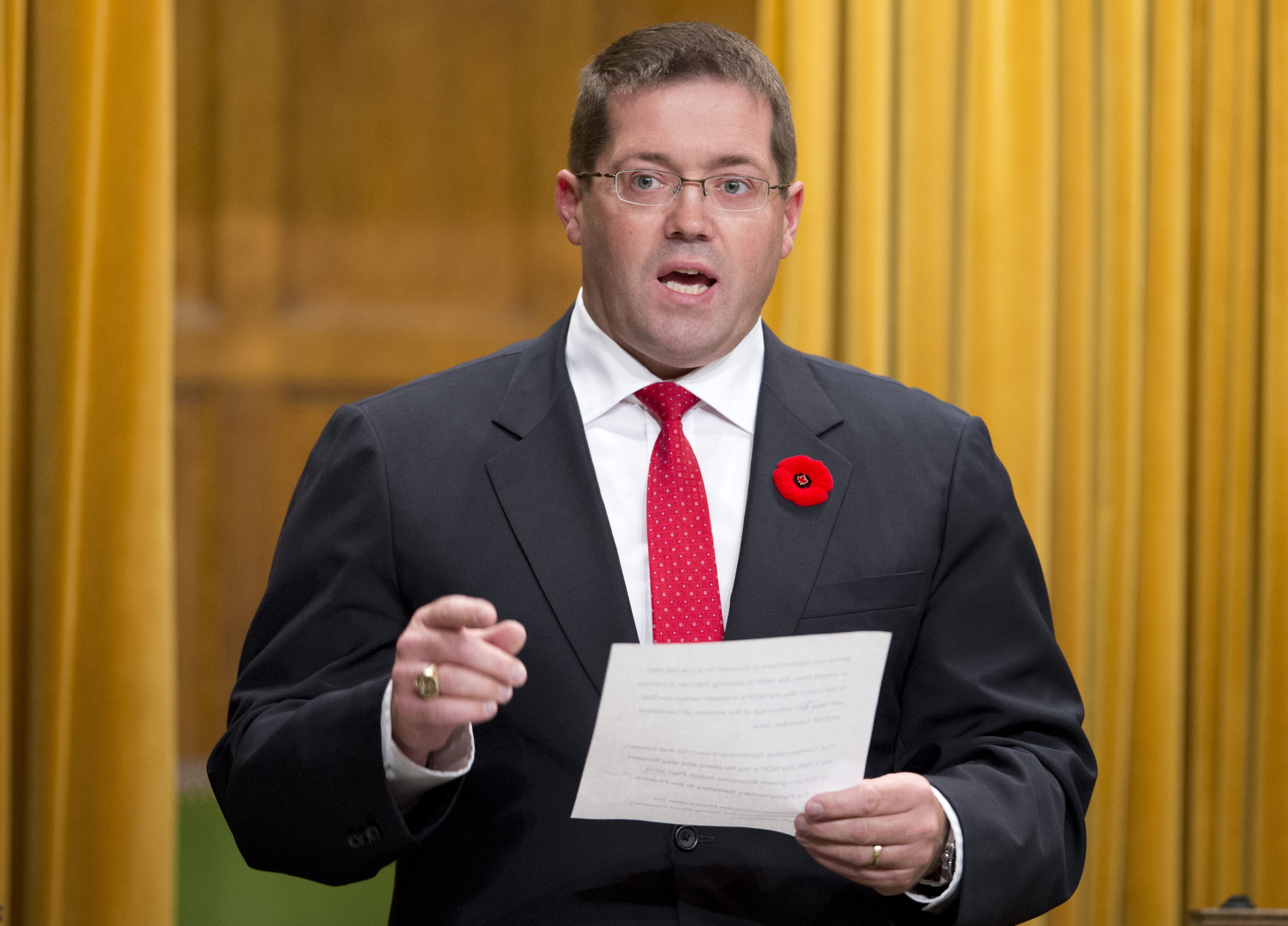 Bob Zimmer rises during question period. (Photo: Adrian Wyld/CP)
Bob Zimmer, first elected four years ago in the British Columbia riding, had two controversial moments during the campaign that evidently did little to slow his momentum. Zimmer captured more than 52 per cent of the vote Monday.
First, Zimmer said those seeking to receive Employment Insurance benefits should have to pass a drug test, The Tyee reported.
Then, at a debate, Zimmer said a "lack of a job" is one of the reasons for Canada's missing and murdered aboriginal women.
"Ultimately, when people have a job, they're not in despair and they can stay on reserve and that's where we want them to be," he said. "We want them to be happy where they live. And go from there with their families."
The remark left his NDP opponent Kathi Dickie "flabbergasted."
"So we had almost 1,200 women murdered because they didn't have a job? And if they wouldn't stay on the reserve?" she asked.
The Tory incumbent, whose riding includes the Highway of Tears, also defended the Harper government's decision not to call a national inquiry into the crisis.
With earlier files, files from Andree Lau
Also on HuffPost