Warning: this is not a tutorial for the diehard Halloween fan (you know, the one who knows exactly what they're going as before pool season has even ended).
This is for the girl who, up until the night before All Hallows eve, has no clue if she's even going out. If that's you and you're suddenly scrambling for a last-minute costume, we have a few little makeup tricks that might help your cause.
To help us dream up some Halloween makeup looks that are surprisingly easy to execute, we recruited the assistance of celebrity makeup artist, Tami El Sombati. She's been entrusted with the faces of Drake, Jane Lynch and The Weekend, amongst others, so she kind of knows what she's talking about.
Besides the fact that we're about to show you how to transform yourself into the most darling little deer, the best part is, you can create these looks with cosmetics you likely already own:
DEER
What you'll need:
• White eyeliner
• Black eyeliner
• Eyebrow pencil
• Foundation
• Dark bronzer
• Brown eye shadow
• Highlighter
• Fake eyelashes (optional)
Step 1: Apply foundation as you normally would. Once you have a nice, even canvas, create an outline under your eyes (refer to image) using your black eyeliner and a winged liner look on your upper lashes. Use the same black eyeliner to colour in the tip of your nose to resemble a dainty little nose.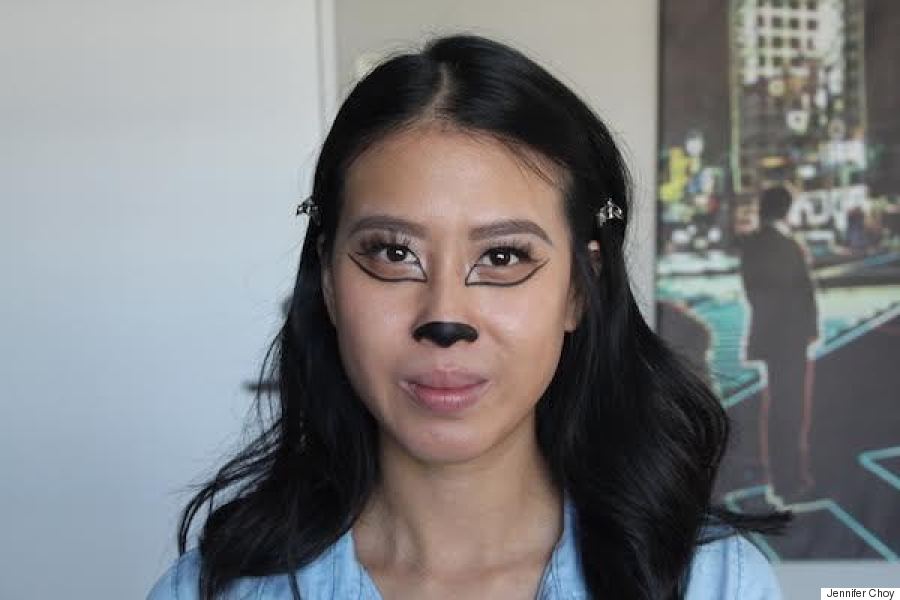 Step 2: Fill in the outline you created under your eyes with your white eyeliner.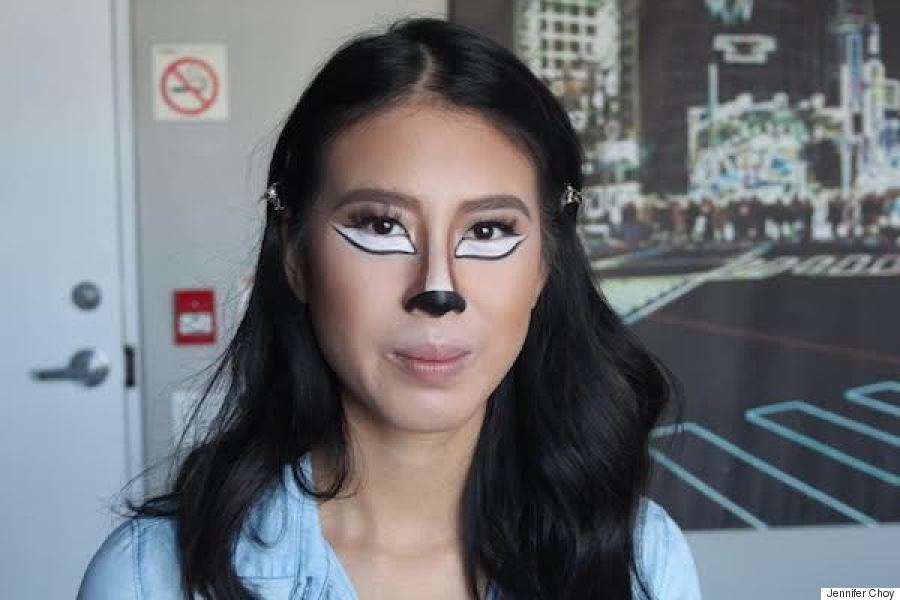 Step 3: Contour your nose heavily using white liner, blending it out as you move up your nose. Use a dark brown eye shadow to contour the sides of your nose, also blending it out into the eyebrows. The contour lines should look a little harsh here so don't be alarmed or assume you're doing something wrong.
Step 4: Contour your cheeks using your dark bronzer and add highlighter on the area just under your eyes, forehead and right above the cupid's bow (above your lip).
Step 5. Finish your look using white eyeliner to create a few spots on either side of your temples and cheekbones.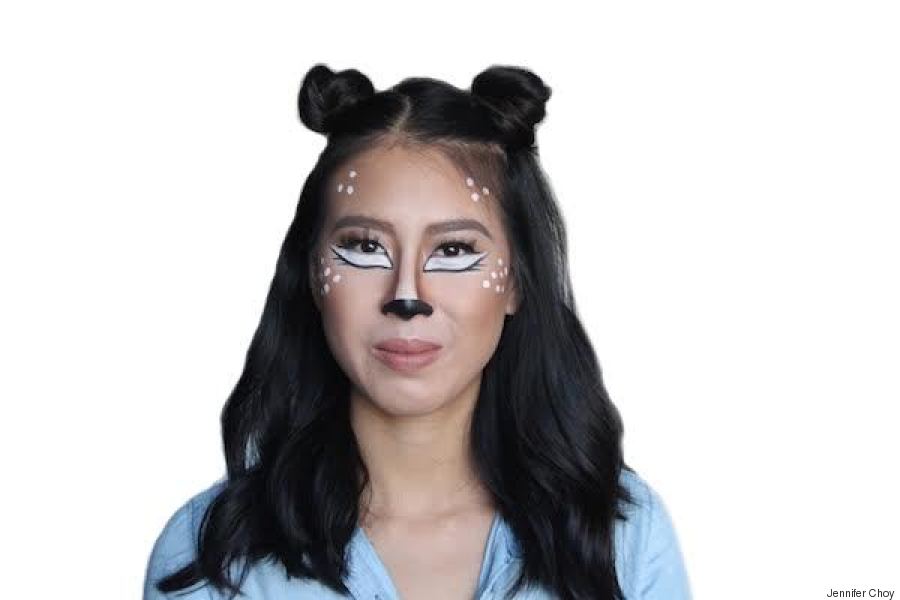 CAT
What you'll need:
• White eyeliner
• Black eyeliner
• Foundation
• Highlighter
• Bronzer
• Blush
• Fake lashes (optional)
Step 1: After you've applied your foundation, create a winged liner or a cat eye using your black eyeliner. Line your lower lashes and extend the liner a little past the inner corner of your eye for a more dramatic shape.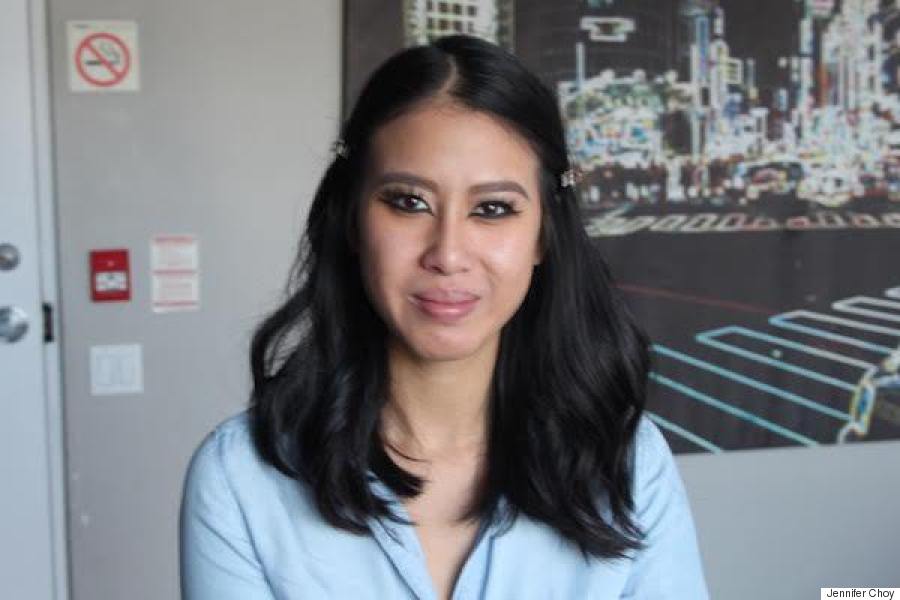 Step 2: Contour your cheeks using bronzer, highlighter and blush.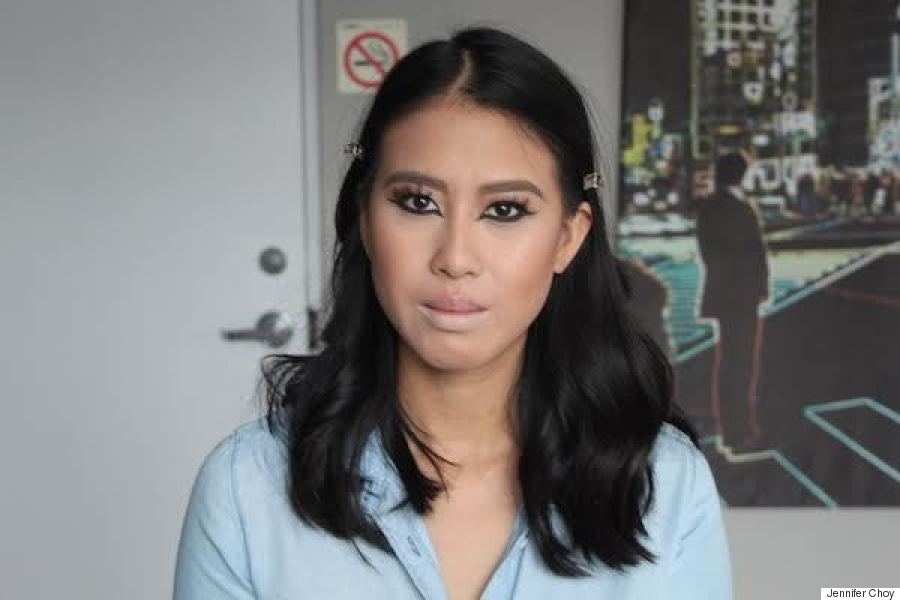 Step 3: Apply foundation on your lips so they almost blend in with your skin tone.
Step 4: Use black eyeliner to fill in the tip of your nose to resemble a cat's muzzle. Fill in your upper lip using black liner and draw a thin black vertical line to connect it to your nose . Complete your feline look with a few black dots on either side of your upper lip to mimic whiskers.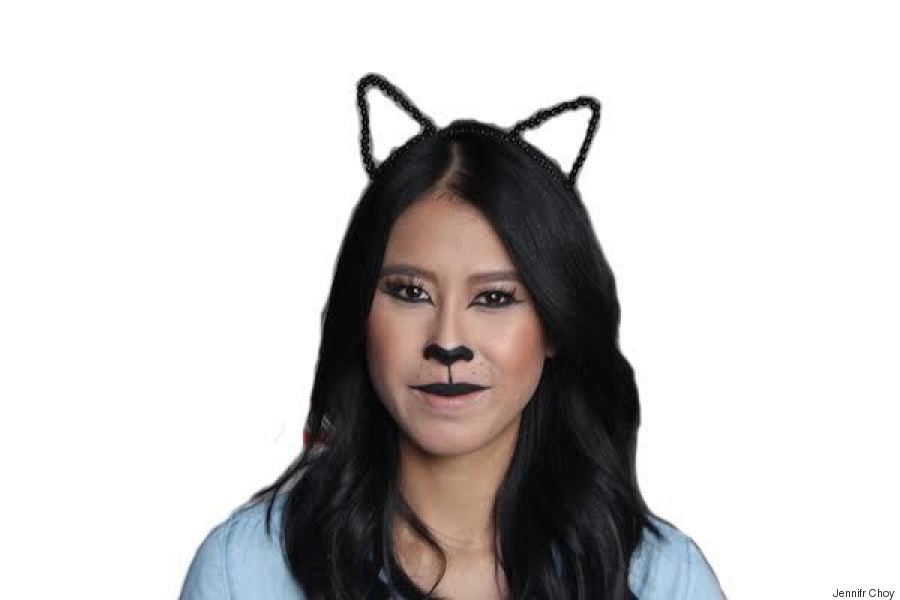 DOLL
What you'll need:
• White eyeliner
• Black eyeliner
• Foundation
• Bright pink blush
• Pink lipstick
• Fake lashes
Step 1: Draw two half circles directly under your eye using white eyeliner. Line the half circles with your black eyeliner and draw in four or five faux lower lashes. Create a winged liner on the upper lashes - much like we've done for the previous looks.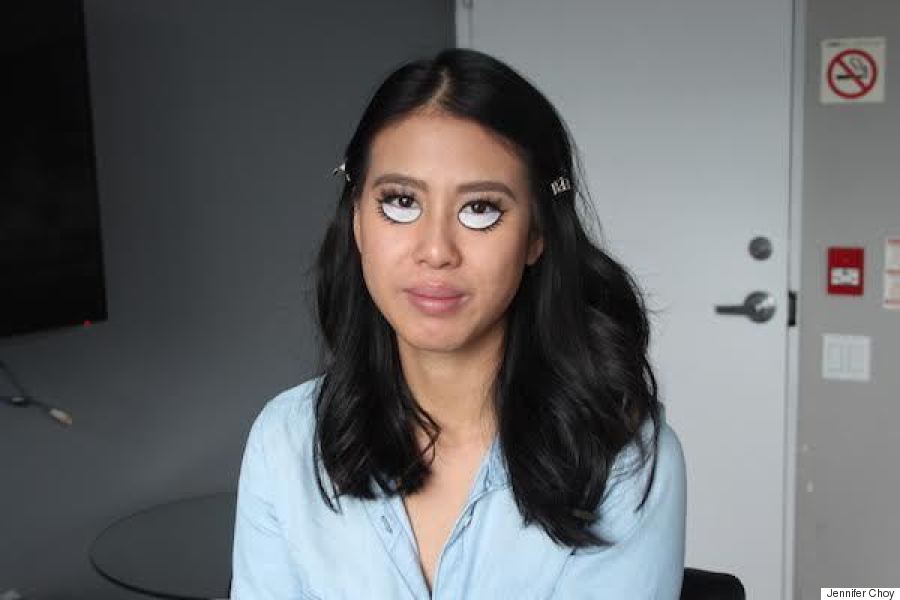 Step 2: Apply foundation and highlight cheeks with a bright pink blush. You want to use a shade that really stands out here.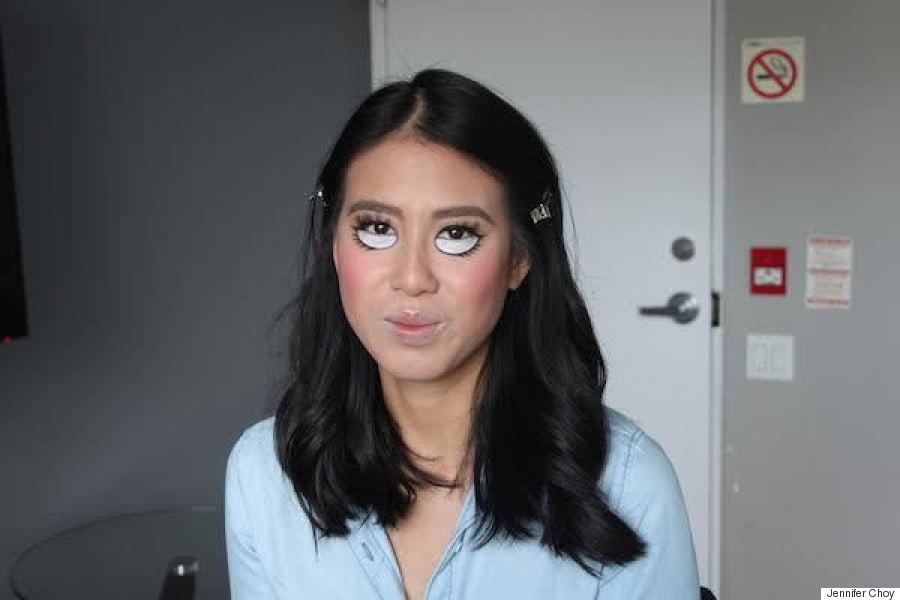 Step 3:. Select a bright pink lipstick and apply it to the center of your lips to create a puckered look.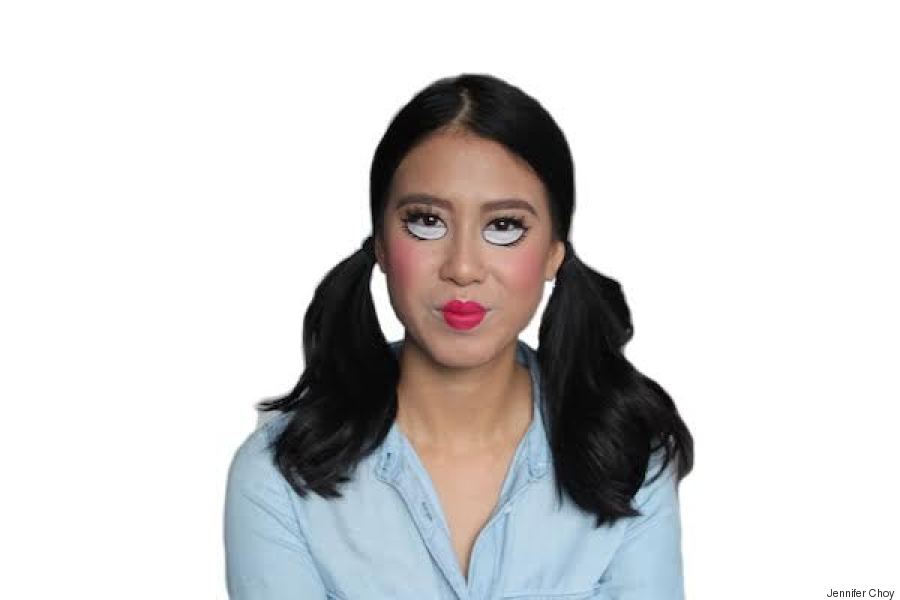 CARTOON
What you'll need:
• Black eyeliner
• White eyeliner
• Light blue pigmented eyeliner
• Red lipstick
• Foundation
• Fake lashes
Step 1: As always, apply your foundation so you have an even canvas to work with. Start by drawing in thick eyebrows that hook upwards.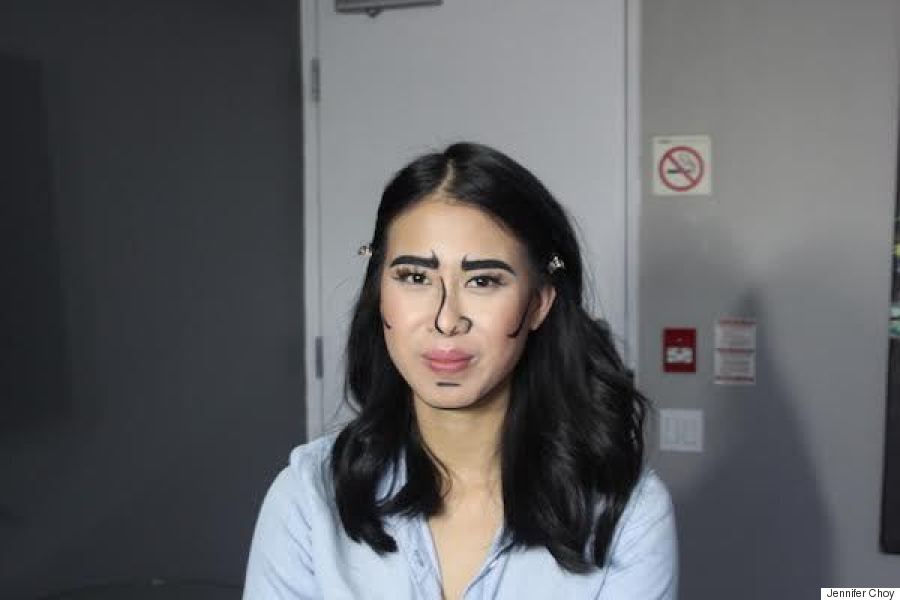 Step 2: Use black liner to create the desired markings on the nose, cheeks, chin and lip. You also want to line your entire jaw from ear to ear.
Step 3: Apply lipstick and use your white liner to create accents within your lip to imitate a glossy lip.
Step 4: Draw in teardrops using black liner and fill them in with a heavily pigmented blue liner, using your white liner to mimic shine.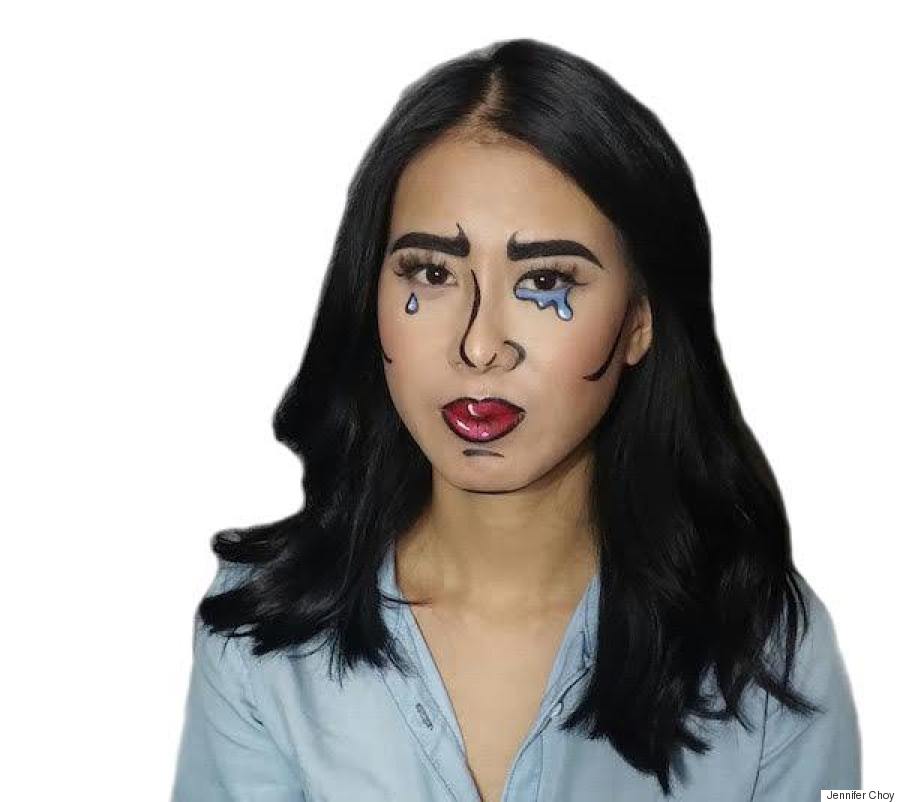 Follow Huffington Post Canada Style on Pinterest, Facebook and Twitter!
Also on HuffPost
Last-Minute Halloween Makeup Ideas