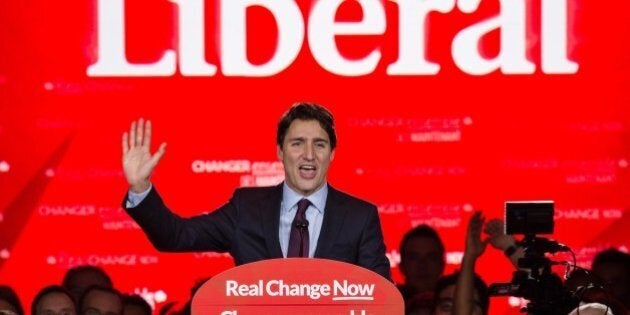 On Monday night, Prime Minister-designate Justin Trudeau gave a moving victory speech to a jubilant Liberal crowd. However, he saved his most powerful message for the very end.
Trudeau began his nearly 25-minute acceptance speech in French, thanking his supporters, family, friends and, of course, his wife. He talked about his opponents, his vision for Canada and then, toward the end, he shared a story that tugged at everyone's heartstrings.
"There are a thousand stories I could share with you from this remarkable campaign," Trudeau told the hushed crowd. "But I want you to think about one in particular. Last week, I met a young mom in St. Catharines, Ont. She practices the Muslim faith and was wearing a hijab. She made her way through the crowd and handed me her infant daughter. And as she leaned forward, she whispered something to me that I will never forget. She said she's voting for us because she wants to make sure that her little girl has the right to make her own choices in life and that the government would protect those rights."
At that moment, the crowd erupted in applause, cheers and began chanting "Justin, Justin, Justin."
And on Tuesday, Trudeau's Principal Advisor Gerald Butts tweeted a photo of that very moment in St. Catharines with the hashtag #RealChange.
By sharing this anecdote, Trudeau was referring to the niqab issue, which plagued the campaign. Former Prime Minister Stephen Harper had attempted to ban women from wearing the niqab during citizenship ceremonies, which the Supreme Court overturned.
Trudeau continued his speech: "To her I say this: you and your fellow citizens have chosen a new government. A government that believes deeply in the diversity of our country. We know in our bones that Canada was built by people from all corners of the world who worship every faith, who belong to every culture, who speak every language. We believe in our hearts that this country's unique diversity is a blessing bestowed upon us by previous generations of Canadians."
During the federal election, many Canadians across the country displayed their displeasure over the niqab debate by arriving at polling stations to vote with their heads covered. One man was even wearing a pumpkin.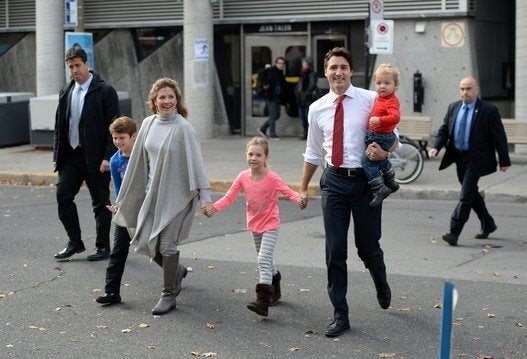 Justin Trudeau's Kids Cheer Him On To Victory