The NDP incumbent who lost Jack Layton's former seat took to Facebook with a message of "frustrated frankness" after a sweeping victory by Justin Trudeau's Liberals.
Craig Scott, first elected in a 2012 byelection months after Layton's death, was defeated Monday in the riding of Toronto Danforth. Liberal Julie Dabrusin ousted Scott by more than 2,000 votes as Grits won the entire city en route to a majority victory.
In the aftermath, Scott wrote a lengthy post that bashed Conservatives, but also targeted the Liberals who won big thanks to what he called a "broken" electoral system.
"The best I have to offer right now besides the standard 'them's the lumps' is that we can at least celebrate that we are rid of a truly reprehensible regime (I do not say "government" because that sugar-coats what the Harper era had come to be all about)," Scott wrote.
After thanking constituents and volunteers, Scott lauded NDP Leader Thomas Mulcair and suggested Tories would have won another majority if not for the NDP's performance in opposition.
He also mentioned other high-profile NDP incumbents, like deputy leader Megan Leslie and foreign affairs critic Paul Dewar, who were "treated like cannon fodder in the anti-Harper convulsion that was (Monday's) election."
Then Scott moved to some thoughts about Liberals that he conceded were "bitter."
He wrote while New Democrats fought the Tories on C-51, the anti-terror legislation, and Bill C-23, the "Unfair" Elections Act, many of his colleagues on the Liberal bench were lethargic.
"Liberal MPs (not all but far too many) were fundamentally lazy, sitting passively in their corner of the House (assigning the same MP to do almost all their speaking for the other 35 for four straight years) and arrogantly waiting for the messiah to take them back to the promised land of power (and they were proven 'right' in that calculation)," he wrote.
Scott wrote he was "grudgingly" willing to concede there is reason to be optimistic after Trudeau's win, as elements of the Liberal platform are progressive.
BUT, let me direct and blunt here: arising from the combination of odium for Stephen Harper and his gang and the distorted seat count in relation to the popular vote under our winner-take-all system, Canadians must also be aware of the result 'they' have produced. That is to say, 39.5% of us have handed a majority government (well over 50% of the seats) to a party that, alongside the Conservatives, brought us Bill C-51 and the Barbaric Cultural Practices Act (yes, the Liberals voted for BOTH), and a party that will try to bring us the transnational-corporate-rights charter known as the Trans Pacific Partnership (TPP) with the support of their Conservative fellow travellers who are now the Official Opposition.

The same two parties that agree that no greenhouse gas emissions targets (let alone mandatory ones under a pan-Canadian carbon pricing system) need to be set before Canada goes to the Paris Climate Change Conference in several weeks where the fate of a world on the ecological brink will be decided. The same two parties that are united in not wanting to see proportional representation as part of our electoral system. And to take a longer view of the de facto Liberal-Conservative Alliance, the same old parties that over the last decades collectively -- as if they were in a relay 'race' handing the baton back and forth to each other -- left a legacy of gutted transfers to the provinces for such crucial collective goods as affordable housing and gutted funding to Aboriginal communities for such basics as equal education for First Nations kids.
Scott's rant ends with a metaphor about Canadians needing to be the "watchtower" for Canada's new Parliament because the "decimated and reeling NDP" now have just 44 seats in the House of Commons.
"Positive change will be lost if you leave it to this House of Commons as generated by this election," he wrote.
"Be hopeful but also be vigilant, be engaged."
Dewar says he was hit by 'big, red truck'
While admitting he was still coming to grips with his surprising 3,100-vote loss to Liberal Catherine McKenna in Ottawa Centre, Dewar was able to joke around.
"Did you get the number of the truck that hit me?" Paul Dewar asked. "It was a big, red truck."
He told the newspaper that Canadians wanted change and went with the "red horse" to deliver.
That was much the same message Oliva Chow delivered Monday night after the ex-federal politician's comeback bid in the Toronto riding of Spadina-Fort York fell short. Chow, an MP from 2006 to 2014, former Toronto mayoral candidate, and Layton's widow, lost to Liberal incumbent Adam Vaughan by almost 15,000 votes.
"Even a joyful life is not without sad moments," she said. "And even a successful race is not with setbacks."
Chow shared a lesson she embraced with her late husband's help.
"But I have also learned, from life and from Jack, after each of our partial victories and each of our temporary setbacks, we start over."
And in Winnipeg Centre, where always-quotable Pat Martin was unseated by Liberal Robert-Falcon Ouellete in a big upset, the New Democrat was still able to find something to smile about.
Martin raised his beer when he found out Harper is resigning as Tory leader.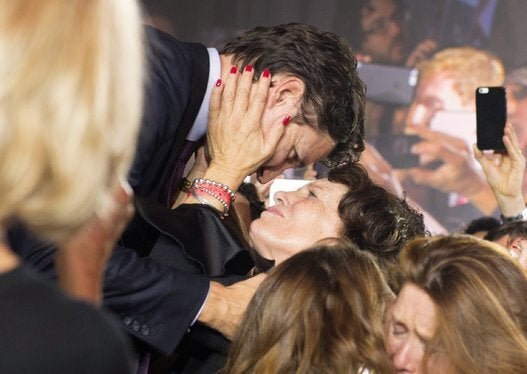 Canada Election Night 2015