Tuesday night marked a major milestone for the Duke and Duchess of Cambridge as they attended a state banquet together, for the very first time.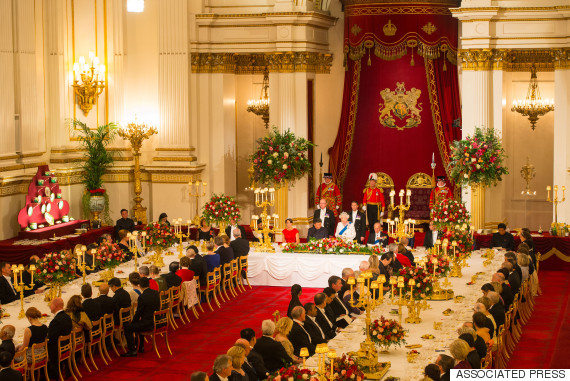 Due to the absence of Prince Charles and the Duchess of Cornwall, Prince William and Duchess Kate took seats of honour at the head table. The Duchess of Cambridge was seated on the righthand side of the guest of honour himself, Chinese President Xi Jinping. Prince William was seated next to the president's wife, Madame Pang Liyuan, while The Queen and Prince Philip sat at the head of the table between China's first couple.
The Duchess looked radiant in a stunning full-length red dress by designer Jenny Packham, complete with the Lotus Flower Tiara she first donned in 2013.' Red is considered a lucky colour in the Chinese culture, and is often worn for important occasions, such as weddings.
Leading up to the event, the British Monarchy shared numerous photos of preparation taking place in Buckingham Palace's ballroom.
Take a look at our behind-the-scenes photos from tonight's State Banquet preparations https://t.co/JbcJSi8mKK pic.twitter.com/uFXEhqU09Y

— BritishMonarchy (@BritishMonarchy) October 20, 2015
The official royal account even tweeted a photo of the menu, which featured vintage wine valued at £1,000 a bottle, the Daily Mail reports.
The menu for tonight's State Banquet, which includes Venison from Balmoral and West Coast Turbot #ChinaStateVisit pic.twitter.com/iTxBo18AAR

— BritishMonarchy (@BritishMonarchy) October 20, 2015
Over the course of her record-breaking reign, the Queen has hosted 110 state banquets, TIME reports.
At the start of the dinner, the Queen welcomed the 170 guests with a speech that gave a nod to some of the "unforgettable memories" she had from her trip to China 30 years ago. She also spoke of Prince William's first trip to China earlier this year, noting that she hopes the friendship between the United Kingdom and China can be taken to "new heights."
Also on HuffPost
Chinese President Visits England