We're used to hearing stories of heroes rescuing cats from trees, but what about from oncoming traffic?
Well, that was the case for one motorcyclist who abandoned her bike to save a kitten that fell into the middle of a busy intersection.
The entire incident was caught on the female driver's GoPro. The unnamed woman later posted the footage to YouTube under the username E511.
The video starts off harmlessly enough with the driver waiting for a green light. It's at the 14 second mark of the video where things get hair-raising. It's unclear where the video was shot but The Guardian reports it was filmed somewhere in north-west Oklahoma.
As a red sedan passes by, the woman notices something fall out. Then it starts to move. A tractor trailer whizzes by seconds later prompting the kitten to scurry around the pavement.
"Stop! Stop! Stop!" shouts the motorcyclist.
She eventually scoops up the kitten and delivers him into the arms of a bystander on the sidewalk. The driver's actions caught the attention of the company GoPro, who've since approached her with a care package to thank her for her heroics.
But that's not all she's walking away with.
In a video update posted to her page, the driver says she's since adopted the kitten. And she's naming him "Skids".
That's short for Skidmarks.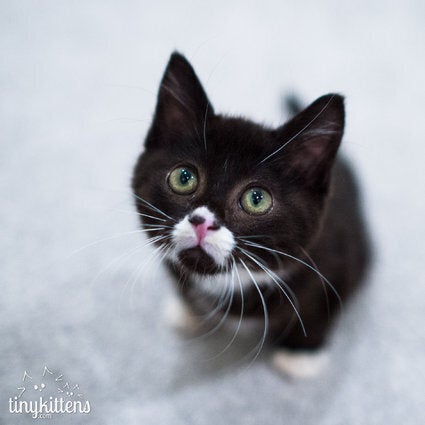 Two-Legged B.C. Kitten Gets 3D Wheelchair