QUEBEC — The new federal government's promise to legalize marijuana is raising concerns among Quebec's political class.
Some cabinet ministers didn't hide their discomfort when asked Wednesday about the prospect of legalized pot in the near future after the Liberal victory in this week's federal election.
Public Security Minister Lise Theriault says questions of public safety are paramount and must prevail, adding that many people share that concern.
"We should be worried, definitely, it's something that can really upset a lot of people, including me," Theriault said.
While it hasn't rejected the idea outright, the Couillard government wants to see detailed plans from the new Liberal government in Ottawa.
Justin Trudeau, the prime minister-designate, has promised to legalize cannabis by selling and taxing it much like alcohol, but hasn't said how quickly that might happen.
The federal Liberals argue legalization means the drug will be less accessible to minors and will snuff out the ability of criminal groups to profit from the pot trade.
Theriault said she's never used marijuana, preferring "dinners with friends with a nice bottle of wine" and travelling south to escape the daily grind.
Asked if he'd consumed marijuana, Finance Minister Carlos Leitao let on he had.
"We were all 18 once," Leitao said. "It brings back memories."
But the finance minister didn't dwell long on whether legalization could mean added revenue for the province, noting the U.S. state of Colorado has run into various obstacles since it legalized cannabis last year.
Health Minister Gaetan Barrette said he's never touched a joint — smoke of any kind is not something he tolerates — while junior health minister Lucie Charlebois said the provincial government would eventually adopt a position based on "scientific evidence." She refused to say if she's ever smoked it herself.
Education Minister Francois Blais wasn't worried that schoolyards might turn into pot points of sale overnight, noting the federal government had a lot "loose strings to tie up" on its marijuana bill.
But Parti Quebecois member Jean-Francois Lisee says Quebec is a "little bit behind" on the issue.
"Like cigarettes, we shouldn't promote it, we should control sales, tax it, control its potency and get revenues from it," Lisee said, adding the position is his own. "We should ensure that organized crime doesn't make money off it anymore."
PQ Leader Pierre Karl Peladeau said he's smoked marijuana in the past but that he wouldn't commit to a party position before taking time to discuss it.
Francois Legault, leader of the Coalition for Quebec's Future, rejected the idea of legalizing marijuana, saying he's never touched it in his life.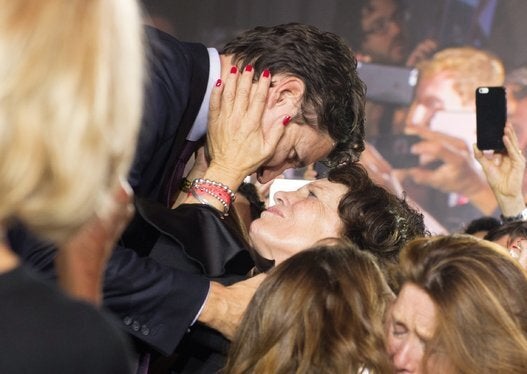 Canada's Election Night Photos 2015