Toronto Blue Jays, we have something important to tell you.
The post-season may be over, but your fans are not leaving empty-handed, and it's all thanks to you.
When we first got an inkling you might make the MLB playoffs, we remembered the glory of '92-'93: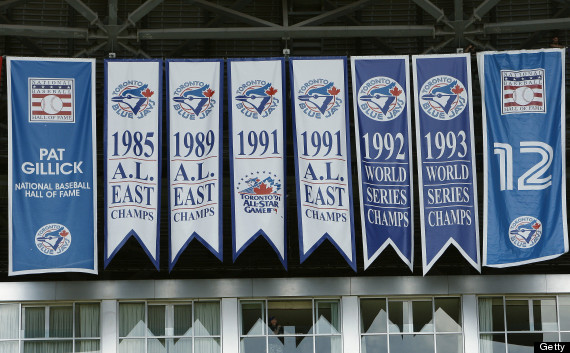 And then got down to business, because y'all were ready to STIR THINGS UP.
We always knew you were great in the regular season:
And then you made the playoffs, and it was like:
Lol Bautista bat flip pic.twitter.com/QIyVdlakeA

— Lyra Pappin (@lyrapappin) September 27, 2015
A sign of bat flips to come.
We couldn't wait to see more of this:
YES, DONALDSON.
And then you won the AL East:
We were so proud! We wore our goggles right along with you:
I absolutely had to take this picture. @bluejays pic.twitter.com/LFYVMy3g95

— Stephen R Brooks (@sbrooksbaseball) October 1, 2015
We did the Edwing:
We hung on your every move:
Sure, there were some rough patches:
TAYLOR SWIFT, DON'T YOU CURSE OUR JAYS.
Oopsie, Collabello.
Watching this hit on Donaldson makes us cringe every time.
Mark Buehrle confirmed he is not on @BlueJays playoff roster. http://t.co/VqtuhUrMa6 @Sportsnet @morninglive #sportschat

— Tim Bolen (@timbolen) October 5, 2015
Sad to see you go, Mark Buehrle.
But they only made us love you more.
And then came this:
This was us, freaking out:
Yonge and Dundas right now #LetsGoBlueJays pic.twitter.com/OBPaodDzzO

— Sunny Freeman (@SunnyFreeman) October 15, 2015
This little guy became our new BFF:
The @BlueJays can thank Mini Bautista for his magic timing his HR swing with @JoeyBats19 pic.twitter.com/tVwUKhTzHs

— Matt Lisle (@CoachLisle) October 15, 2015
And Kawasaki's wise words became our mantra: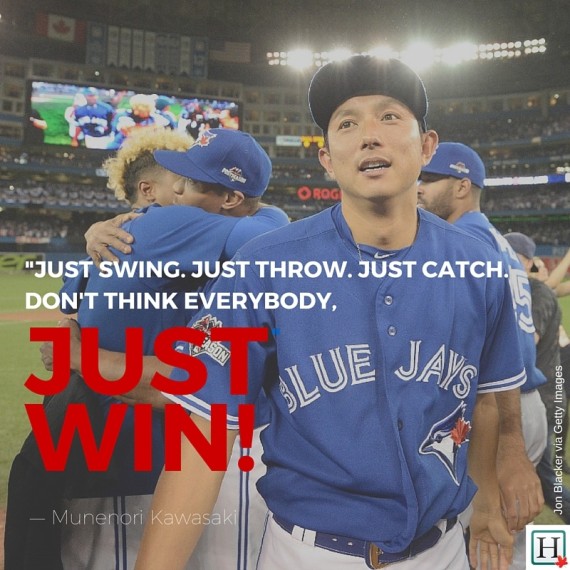 Yes, the final game against the Royals was full of drama:
#GottaSeeIt: Ben Revere makes an amazing leaping catch at the wall in left field. https://t.co/eJluzg5gFj #postseason

— Sportsnet (@Sportsnet) October 24, 2015
Is Revere even human?!
Jose freakin' Bautista #BlueJays pic.twitter.com/imX2yYAdS9

— Faizal Khamisa (@SNFaizalKhamisa) October 24, 2015
JOEY BATS TIES IT UP.
But even though you're not World Series-bound, you've changed us for the better, dear Jays.
Thank you for the home runs

Thank you for the bat flips

Thank you for the AL East

See you in the spring, #BlueJays pic.twitter.com/GB8DXyazow

— HuffPost Canada (@HuffPostCanada) October 24, 2015
Until next year, we say: Goggles up, gentlemen.
Also on HuffPost