TOLEDO, Ohio — The Coast Guard says contractors will search for the source of what appears to be a petroleum leak coming from a sunken barge found recently in Lake Erie near the U.S.-Canadian border.
Crews are planning to dive around the wreckage Monday to see if they can find and seal the leak.
Shipwreck hunters think the leaking solvent is from a tanker barge that went down during a storm 80 years ago near Ohio's Kelleys Island.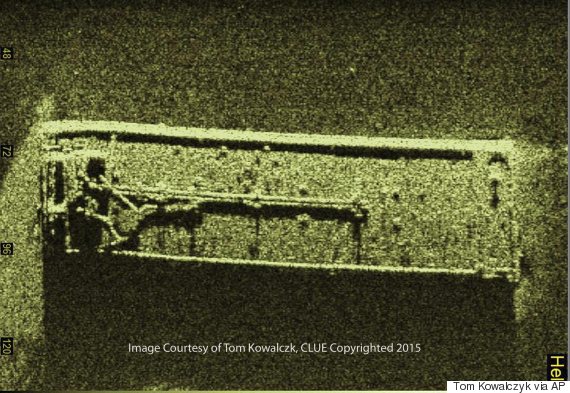 A sonar image of a sunken barge sitting in Lake Erie.
The Coast Guard said Sunday it appears the leak is a petroleum-based solvent that evaporates quickly once it reaches the surface.
But what they don't know is whether it's an ongoing leak. A Coast Guard helicopter crew sent to the site on Sunday didn't detect any discoloration on the surface.
ALSO ON HUFFPOST:
Lake Erie Algae Is Terrifying