There's nothing like a democratic change of government to make people feel hopeful about the future, and last week's Canadian election was no exception, if the latest Bloomberg-Nanos Consumer Confidence Index numbers are to be believed.
Consumers' confidence in the economy spiked to its highest level this year following last week's Liberal election victory, according to the survey from Nanos Research.
"We're seeing a post-election halo effect from Justin Trudeau's win," said Nanos Research head Nik Nanos, as quoted at Bloomberg. "Not only is there political optimism but the research suggests there has been a spillover of optimism related to the economy."
Some 25.6 per cent of respondents said they felt positive about the economy, up from 21.3 per cent in the poll right before the election. A smaller group — 21.3 per cent — said they expect the economy to get worse, while 38 per cent saw no change. It's the first time this year that optimists have outnumbered pessimists in the poll.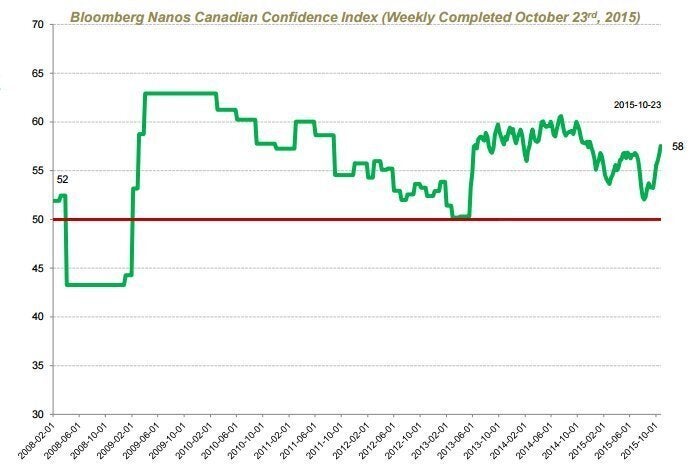 But other economists question what impact $10 billion in stimulus could have in a $2-trillion economy such as Canada's.
"The Liberal victory does provide a bit of upside to GDP. (But) it's temporary for a country that is fundamentally struggling," BofA Merrill Lynch senior economist Emanuella Enenajor told the Financial Post.
"It will help growth in 2016 — the latter half. It will help growth in 2017. And then the impact begins to be less noticeable in the … data."
Canadians will get their next view of Canada's economy on Friday, when StatsCan releases GDP data for August. Economists expect the economy grew at a moderate pace of 0.1 per cent in the month, having emerged from a recession that lasted the first half of the year.