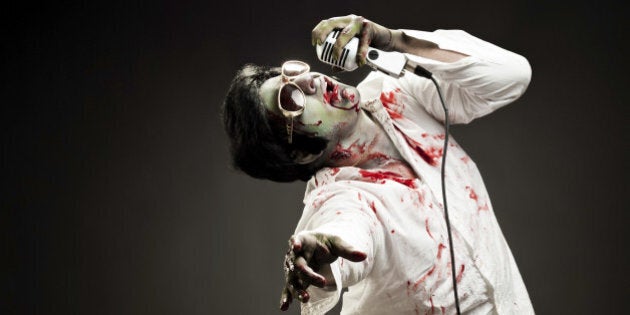 Anyone who's ever watched a horror movie knows that music enhances the thrills and chills. So what would Halloween be without a scary soundtrack to spook your night up?
But nobody wants to hear the "Monster Mash" again, at least not unless it's the Misfits version. So we've put together a list of spooky Halloween songs to play at your parties or while waiting for kids to trick-or-treat.
We open with our favourite scary song "In the Room Where You Sleep," which is by Dead Man's Bones, a surprisingly genius collaboration between Canadian actor Ryan Gosling, his buddy Zach Shields and the Silverlake Children's Choir. From there we range from Will Smith's goofy Fresh Prince-era Freddy tribute "Nightmare of my Street" and Screamin Jay Hawkins' chilling "I Put a Spell on You" to Pink Floyd's self-explanatory "Careful With That Axe, Eugene" and Nick Cave's murder ballad "Red Right Hand."
There's also scary songs from Flaming Lips, David Bowie, Donovan, Tool, Harry Belafonte, Black Sabbath and, of course, Marilyn Manson's cover of "This is Halloween." Oh, and we have a whole sub-list of just vampire songs.
Oh, and here's an Spotify playlist version so you can soundtrack your party or play it while the trick-or-treaters are coming for candy.