Canada, feast your eyes on this.
Ontario burger chain The Works Gourmet Burger Bistro, has come up with three new burgers for their stuffed menu collection. And when we say stuffed, we mean seriously stuffed.
From The Burgeroni (stuffed with sausage) to the Loaded Lucy (stuffed with cheese), the joint has also bravely decided to stuff one burger with Reese's Peanut Butter Cups called the Reese PBC.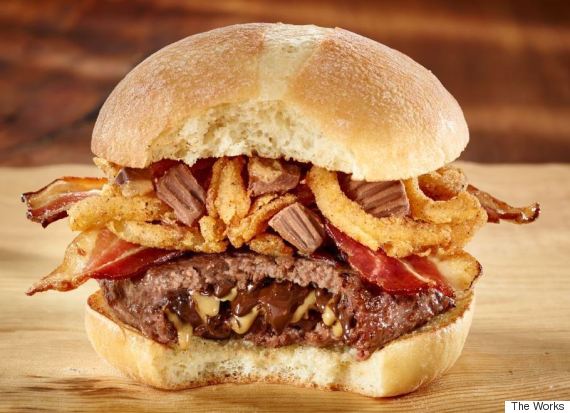 And besides a stuffed beef patty, the burger is topped with onion rings, smoked bacon and Reese's peanut butter candy.
Bruce Miller, co-owner of The Works, says the company first introduced peanut butter burgers on their menus in 2001, and this year the team brainstormed some new ideas — including a stuffed peanut butter beef burger.
"We've been pushing the envelope for new burgers for 15 years now and we're always looking for new ideas," he says. "We brainstormed a bunch of them and tested it at two locations."
The two test locations were in Oakville, Ont. and one in Ottawa, and quickly, Miller says, the burgers ended up being the top sellers at each joint.
The $15.98 burger also comes with a choice of a side. And for anyone who has visited the location before, you know there are over 50 gourmet burgers to choose from, including everything from a Kraft dinner burger and two more with peanut butter.
And what do the fans say? We've seen comments from "food coma" to "I feel like I was in the CNE all over again. So much chocolate."
And because all three burgers are part of a promotion, Miller says they will only be available until Jan. 16, 2016. So let us know, will you be grabbing one?
Also on HuffPost
Sodium In Frozen Beef Burgers