Mark Cuthbert via Getty Images
Prince William And Kate Middleton may have gotten married more than four years ago, but that hasn't stopped the world from talking about their wedding day like it was yesterday.
We all remember the dress, the cake and the kiss on the balcony, but now we are learning what the couple ate on their big day, thanks to a menu card that is available at auction. The menu card, which hasn't attracted any bids as of yet, is emblazoned with Prince Charles' badge of three white ostrich feathers emerging from a gold crown. The three-course menu card also dons a small stain which we can only assume is from one of the delicious dishes.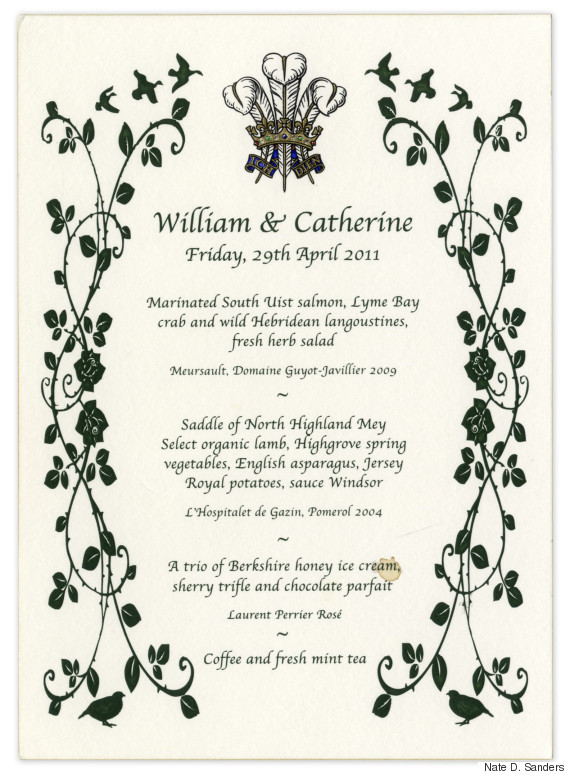 The Duke and Duchess of Cambridge were married on April 29, 2011 in front of 1,900 people at Westminster Abbey. Following the ceremony, Queen Elizabeth hosted a wedding day breakfast for the couple and 600 guests, while Prince Charles hosted the final dinner with a more intimate group of 300 guests, People magazine reports.
According to the menu card, the guests dined on South Uist salmon, Lyme Bay crab, wild Hebridean langoustines and an herb salad, while sipping on a 2009 Meursault, Domaine Guyot-Javillier wine.
For their second course, the party feasted on organic lamb and spring vegetables served with a 2004 L'Hospitalet de Gazin, Pomerol wine.
The dinner was topped off with a classic English dessert of Berkshire honey ice cream, sherry trifle and chocolate parfait accompanied by Laurent Perrier Rose Champagne.
A slice of the couple's wedding cake sold for $7,000 last year, reports the Daily Mail.
Also on HuffPost: