The Elementary Teachers' Federation of Ontario (ETFO), which represents some 78,000 elementary public school teachers in the province, announced last week it would be escalating its ongoing job action.
School support staff, including custodians, school office staff and education assistants, represented by the Canadian Union of Public Employees and the Ontario Secondary School Teachers' Federation, are also part of the job action.
The latest move means all sorts of school programs — from bands to sports teams — will stop. The Toronto District School Board, meanwhile, said in a memo to parents it won't be able to produce Kindergarten to Grade 8 progress reports in early November, as it had planned. And, the TDSB warned, the job action is also leaving schools dirtier.
Parents have been increasingly frustrated with the situation.
"We want them to solve their problems soon and start extra-curriculars soon," said Toronto mother Purvi Shah, whose son, Aman, will no longer be able to practice cross-country running before classes.
Negotiations between ETFO, the Ontario Public School Boards' Association (OPSBA) and the provincial government are ongoing.
Province threatens to dock teacher pay
Premier Kathleen Wynne has threatened to dock teachers' pay if they continue the work-to-rule campaign past Nov. 1, saying last week "children's lives are being negatively affected."
"Schools are increasingly dirty and activities that are important to students and parents such as completion of report cards are not taking place," Wynne told reporters at Queen's Park.
ETFO President Sam Hammond said the union won't respond to threats. The union has several key issues it wants addressed, including class size, hiring practices and teacher preparation time.
Elementary teachers have been without a contract since August 2014.
Previously, teachers had refused to hold parent-teacher meetings or go on class trips as part of the work-to-rule campaign.
Earlier this fall, the province reached deals with other major teachers' unions.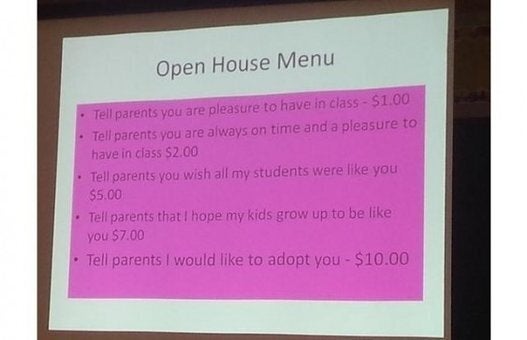 12 Teachers Every Kid Should Have