Conservative MP Candice Bergen wants her party to be more respectful to Justin Trudeau, less than two years after she expressed doubt that he would be able to say "good morning" without reading it from a piece of paper.
Bergen, a Manitoba MP who is running to become the interim Tory boss and Opposition leader, released a video online Wednesday making her pitch.
She said taking on Liberal prime minister-designate Trudeau "in question period and in the media" was a key task for the interim leader.
"We need to be direct, we need to be forceful but we can't be harsh," she said. "We can't be shrill and we have to be respectful."
Bergen said that she has a proven record of taking on difficult issues and making them "softer." Ontario Tory MP Diane Finley, another candidate for the interim leadership, recently suggested that a "softer image" might help the party rebuild.
However, Bergen's appeal for a more polite tone appears to conflict with her words at a 2013 breakfast meeting with the Stormont-Dundas-South Glengarry Conservative Association. The Cornwall Seaway News has a three-minute clip from the event on its website.
Bergen told the group at the time that the Ottawa press gallery does not like Stephen Harper and seeks to protect their "favourites."
"And we know right now who their favourite is," she said. "He's got really nice hair. Although he cannot speak if he's not reading, I'll tell you that."
"Justin Trudeau literally cannot – I don't think he could say 'good morning everyone' if he wasn't reading it," she said to some laughter. "It's quite something to behold."
From there, Bergen slammed Trudeau's support for marijuana legalization and admission that he smoked the drug after being elected. She also criticized his lack of policy proposals.
"I believe that Canadians see through this," she said. "I think that the more Justin Trudeau talks when he's not reading, I think it's clear that he has no ideas."
Bergen said she would not even want Trudeau to be the principal of her child's school.
"Really. Ask yourself that question," she said. "Would you want him to be the principal of your children or your grandchildren's school, much less leading this country?"
Conservatives will pick an interim leader next Thursday, a day after Trudeau and his cabinet are sworn in.
On Friday, Alberta Tory MPs Rona Ambrose and Mike Lake both announced they are joining Finley, Bergen, and Ontario MPs Erin O'Toole and Rob Nicholson in the contest.
"A respectful tone and civil tone and working across the floor with other parties is something our members would welcome, that our caucus would welcome, and that Canadians would welcome as well,'' she said.
With files from The Canadian Press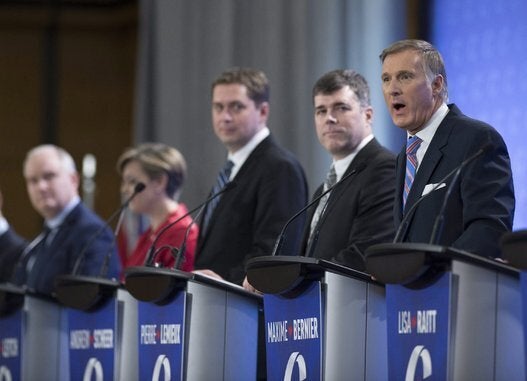 Conservative Leadership Candidates