Trigger warning: This article contains information about sexual violence which may be triggering to survivors.
When journalists Antonia Zerbisias and Sue Montgomery decided to start the Twitter hashtag #BeenRapedNeverReported last year, it came at the perfect moment, if such a thing is possible for a topic as serious as rape.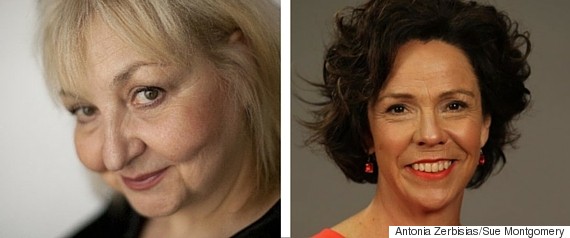 Journalists Antonia Zerbisias and Sue Montgomery
But as to whether there's been a lasting, positive effect, well, that's another matter.
"I think 2014 was a watershed year, in many respects, with regard to gendered violence and sexual violence," Zerbisias told The Huffington Post Canada in an interview.
The hashtag went viral last fall, when Zerbisias and Montgomery used it to tweet support for the women who alleged they were assaulted by former CBC radio host Jian Ghomeshi. The co-creators revealed they had both been raped years before, but had never reported the assaults.
The conversation took off. Countless people joined in to share their own experiences in 140 characters or less. In just a few days, #BeenRapedNeverReported was viewed by almost eight million people online, reaching as far as India and Saudi Arabia, according to The Toronto Star. The hashtag was translated into French as #AgressionNonDénoncée, as well as other languages.
This is our front page for @HuffPostCanada for the next full day.

And this is why.

http://t.co/087EoOFELq pic.twitter.com/a51wv7Vrmc

— yumke (@yumke) November 2, 2014
'A perfect storm'
To understand why the hashtag resonated so strongly, Zerbisias says we have to look back at the events that led up to it, and points to several defining moments.
Awareness about Canada's missing and murdered Indigenous women was increasing. In January 2014, Zerbisias published a story in the Toronto Star about three aboriginal women who had died violently in Toronto. Later in the year, the #MMIW hashtag, which called attention to the more than 1,200 missing or murdered women, started to trend.
In August, #Gamergate erupted — it was an online campaign that targeted certain women in the video gaming industry, including Canadian-American media critic Anita Sarkeesian. Subjected to harassment, and threats of rape and death, Sarkeesian was forced to flee her house and cancel speaking engagements and appearances.
In mid-October, comedian Hannibal Buress was performing onstage and called Bill Cosby a rapist, setting off the series of events that have culminated in dozens of women coming forward with allegations of sexual assault against Cosby.
Later that month, the CBC cut ties with Jian Ghomeshi. The former radio host of "Q" promptly released a statement on Facebook, saying a "jilted ex-girlfriend" was making false allegations of sexual assault against him and that the corporation was dismissing him wrongfully. On Oct. 26, the Toronto Star released a detailed investigative report on the dismissal.
The Star then released accounts on Oct. 29 of eight women who accused Ghomeshi of sexual violence. Others would later come forward with their own accounts.
On Oct. 30, Zerbisias and Montgomery — both reporters for news outlets at the time — took action. Montgomery had previously contacted Zerbisias to discuss the idea of starting a list of names of women who had been raped and never reported it. Instead, they tweeted.
#ibelievelucy #ibelievewomen And yes, I've been raped (more than once) and never reported it. #BeenRapedNeverReported

— Antonia Zerbisias (@AntoniaZ) October 30, 2014
It was 1969 when, if you found you were the only girl in the rec room and no parents were home, it was your fault. #BeenRapedNeverReported

— Antonia Zerbisias (@AntoniaZ) October 30, 2014
He was senior flight attendant. I was summer student flight attendant. Learned later there had been many victims. #BeenRapedNeverReported

— suemontgomery (@MontgomerySue) October 31, 2014
He was my grandfather. I was 3-9 yo. Cops wanted to know why I waited so long to report it. #BeenRapedNeverReported

— suemontgomery (@MontgomerySue) October 31, 2014
"We just hit a perfect storm," Zerbisias says. "By the time #BeenRapedNeverReported came out, it was almost as if the country was ready to discuss this thing." And not only online, but in person.
In the aftermath of #BeenRapedNeverReported, Zerbisias and Montgomery had many survivors of rape reaching out and disclosing their own stories, seeking their support or expertise. Both of them stress they are not professionals in the treatment of sexual assault, but say it's a good thing to see more people talking.
"The more people that come forward, the more people are encouraged to come forward," Montgomery told HuffPost Canada in an interview.
After the hashtag
And yet, when it comes to solutions related to sexual assault, Zerbisias says, "We're still in the talking stage."
The women say they haven't seen much tangible change in the way sexual assault is handled.
"I see a lot of discussion and and a lot of debate and a lot of conversation, which is good, because that opens the door," Zerbisias says, pointing out she hasn't seen any effective solutions.
In 2009, 472,000 sexual assaults were reported to the police by the victim, according to Statistics Canada. It's estimated that 88 per cent of all sexual assaults are not reported to police.
When sexual violence happens, people rarely turn to the criminal justice system, says Farrah Khan, a social worker and advocate for ending gender-based violence.
She says people often stress the importance of speaking up and reporting to the police, "but then what happens after that?"
Khan says the current process for handling sexual assault does not focus on transformative justice, so survivors often return to their communities without receiving the support they need to heal. And perpetrators are perhaps punished, but little emphasis is placed on counselling them to ensure they don't reoffend.
"Rape and sexual violence have deep impacts on the survivor/person subjected to violence," she told HuffPost Canada. "It has an impact on our community and we need spaces to honour these stories."
For survivors, justice can come in different forms and they're all valid, Khan says. Justice could be telling a friend, a parent, or even telling oneself.
These conversations, and those that take place online through social media, create new conversations; Khan says discussions have emerged in the year since the hashtag that address the challenges faced by sexual-assault survivors in different communities, whether ethnic/cultural, socio-economic, LGBTQ or geographic.
"There's an assumption that all women have the same experiences or there's such thing as a 'woman's experience' but it's very different across communities," she says. And survivors also include men and people across the gender spectrum.
People who are marginalized may face barriers to accessing support services after they've been assaulted, or systemic discrimination may affect the way they're viewed in society.
"Just the tip of the iceberg" More Aboriginal women allege abuse by police in Val-d'Or, Que https://t.co/9HH7wN9Rin pic.twitter.com/pRJeuzYAt0

— Connie Walker (@connie_walker) October 23, 2015
Last week, several aboriginal women from Val-d'Or, Que. accused nine police officers of sexually abusing and assaulting them. The allegations were brought forward in May, but the accused officers were not put on leave or transferred until October — when a Radio-Canada investigation featured interviews with some of the women. More have since come forward.
The chief of the assembly of First Nations of Quebec and Labrador has called for an independent inquiry on the allegations, but it's unclear how long the police investigation will take and what will be required of the women moving forward. Quebec's police union has defended its officers in light of the allegations, and unsuspended Val d'Or officers called in sick in solidarity with their colleagues, the CBC reported.
"It's no wonder that people don't go to the police, because this is the kind of treatment they get," Montgomery says.
But although change is slow in treating survivors of rape and preventing sexual assault, Zerbisias says awareness of the topic is heightened and continues to escalate.
Following the peak of the Ghomeshi scandal, several provinces committed to address sexual violence. Last week, the Ontario government tabled an anti-sexual violence bill, which includes the removal of time limits on survivors pursuing civil action against their attackers, among other things.
Saskatchewan and Alberta have both orchestrated social media efforts to raise awareness on how to deal with sexual assault, and Ontario launched a well-publicized "Who Will You Help?" campaign in March as part of its $41 million commitment to enact strategies over three years to end sexual violence.
A Toronto Star investigation last November revealed that just nine universities across Canada had specific policies addressing sexual assault and as a result, many schools, including colleges, have committed to and started drafting strategies.
Zerbisias is confident that social media will remain at the forefront of pushing the awareness of the issue. Starting Monday, a French organization called Je Suis Indestructible will launch a new hashtag — #LoveForSurvivors/#MotDouxPourIndestructbles.
The focus will again be on survivors and honouring those who have spoken publicly about their assaults, and those who haven't, due to the fears, doubts and repercussions that persist.
With files from Lisa Yeung