Nice work, Tim Hortons!
The Canadian coffee chain often puts wintry scenes on its merchandise when the holidays come around, and has featured boys playing hockey.
But this year, Tim Hortons is putting the spotlight on the girls.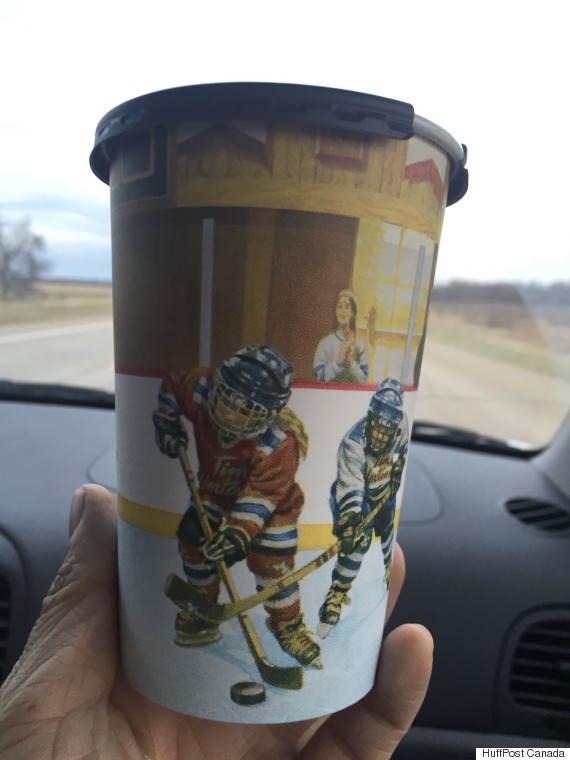 And we love it.
I'm so happy to see that Tim Hortons gets it !! #girlshockey timhortons… https://t.co/2YyWEDLz6K

— Melodie Daoust (@Daoust17) October 10, 2015
Straight to our hockey girls hearts! Nice work @TimHortons pic.twitter.com/01JtGwzPS8

— GHC Midget 1D HEAT (@ghcmidget1d) September 29, 2015
Nothing like a little @TimHortons to get the day started right. We LOVE the new cup design. #hockeygirls pic.twitter.com/q3a0GgJ4WA

— CWHL (@TheCWHL) October 21, 2015
Cute @timhortons cup just in time for hockey season! pic.twitter.com/qaQCVm2T98

— Alison Sandor (@CFRA_Alison) October 7, 2015
Love this tims cup!!! The best time of year #proudcanadian #timhortons pic.twitter.com/6BL4fFQBpt

— Javan Bexson (@bexxx130) October 3, 2015
In 1993, only 15,000 women registered to play on a team in Canada, compared to over 500,000 men.
However, female registration has been on the rise, with over 85,000 players signing up in 2008.
On the the international stage, the Canadian national women's team has dominated since it was founded in the '90s, winning 10 gold medals at the IIHF Ice Hockey Women's World Championship and four Olympic medals -- including one on home soil in 2010.
Way to go, team!
Also On HuffPost:
20 Secret Tim Hortons Menu Items