Some people throw together a Halloween costume in a few minutes. Maybe an hour or two, tops. Joshua Goodine, on the other hand, spent 100 hours over five months on his.
And the result was terrifying.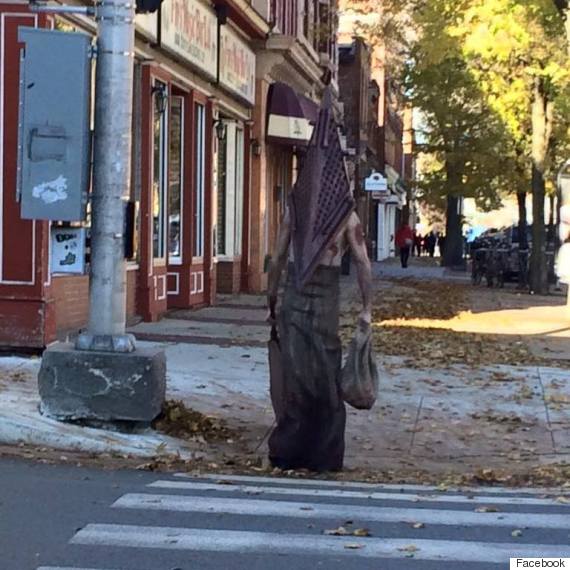 Earlier this spring, the Fredericton student and graphic designer decided he would transform into Pyramid Head from the horrifying "Silent Hill" video games and movie for Halloween.
On Saturday, he unveiled his "beast," wandering the streets of New Brunswick's capital — all 8'2" of him in costume.
"I got many reactions, and I'm proud to say most of them were quite ecstatic (with the exception of a few crying children,)" Goodine told The Huffington Post Canada.
Someone who spotted the monster downtown posted a photo of him as Pyramid Head to Reddit, which earned the admiration of the online community.
However, going out shirtless wearing a burlap skirt in single-digit temperatures turned out to be a bad idea. Goodine ended up with a bad cold.
"I stuck it out and won the costume contest for most original (at the New Brunswick College of Craft and Design) though, so it was kind of worth it," he said.
Goodine shared with HuffPost Canada how he pulled the whole costume together, from the homemade "stilts" to the built-in audio system:
'Silent Hill' Halloween Costume



Goodine is studying at the New Brunswick College of Craft and Design with his sights set on working for a company called Rooster Teeth in Austin, Texas.
"Incidentally enough the company has a props department, so you can bet your bottom dollar this build is going in my portfolio when the time comes," said the industrious designer.
Just as soon as he gets over his monstrous cold.